Business & Management Degrees
At Colorado Technical University, we offer Business & Management degree programs and specialized concentrations based upon the current and expected demand for business and management professionals. Our programs are designed to provide the real-world scenario-based education that is important in the field. Our course content is updated to reflect industry-relevant trends, theories, applications and practices driving successful global business environments.
Colorado Technical University is proud to be a Tier One, Top Ten Global Online MBA School.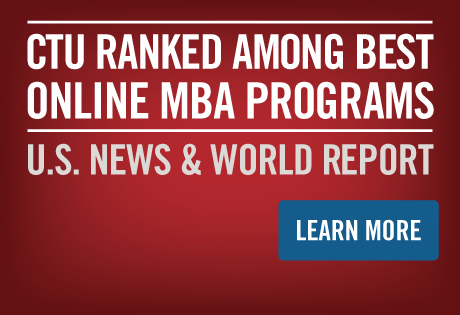 No results were found for the criteria selected. Contact an advisor to help find the right program for you. 855-230-0655
Program details are provided after the form.
Get More Details
Complete the form and:
An admissions advisor will contact you shortly

Get scholarship and financial aid information
Learn about specific degree programs
Accreditation
Most of our business degrees are now accredited by the ACBSP
CTU's Mobile App
Education that's as mobile as you are. Learn more.
CTU MBA & SHRM
The Society for Human Resource Management (SHRM) has acknowledged that CTU's MBA - Human Resource Mgmt fully aligns with SHRM's HR Curriculum Guidebook and Templates.