Security Studies & Criminal Justice
On-Campus and Online Criminal Justice Degree Programs
Colorado Technical University offers on-campus, hybrid, and fully online criminal justice degree program options. The general track and homeland security degree concentrations are offered at both the undergraduate and graduate levels, with three additional concentrations available at the bachelor's level, providing more opportunities for you to find the academic path that best fits your interests. Our on-campus and online criminal justice bachelor's degree and master's degree programs are designed to impart industry-relevant knowledge that can be applied to the criminal justice field.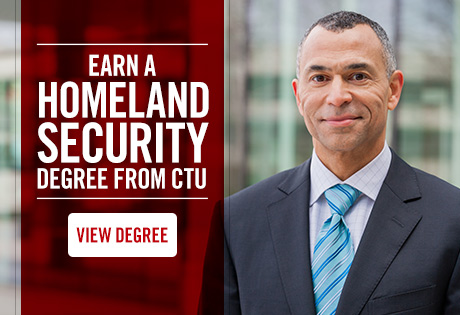 Filter
No results were found for the criteria selected. Contact an advisor to help find the right program for you. 855-230-0655
Program details are provided lower on the page.
Get More Details
Complete the form and:
An admissions advisor will contact you shortly

Get scholarship and financial aid information
Learn about specific degree programs
Fight Cybercrime
Homeland Security careers are becoming more cyber-centric: Cybercrime cost the global economy as much as $600 billion in 2017.**
CTU Makes the Grade
2022 Best Online Master's in Criminal Justice Programs
U.S. News & World Report*
CTU's Mobile App
Education that's as mobile as you are.
Learn more.
**https://www.mcafee.com/enterprise/en-us/solutions/lp/economics-cybercrime.html

The University has decided to amalgamate a number of different academic programs under what we call program verticals and hence Criminal Justice and Homeland Security programs have been brought together under the common umbrella of Security Studies. We believe that this approach will allow us to create greater synergies between the programs as well as help us engage other parts of the university (student services, admissions, faculty, registrar, etc.) to continuously improve services for students in the Criminal Justice and Homeland Security programs. As far as the curricular content is concerned, we are keeping abreast of changes and developments in the Criminal Justice and
Homeland Security fields and update and revise courses to reflect these evolving fields – both from the standpoint of these fields as academic disciplines as well as practitioner enterprises. We are continually striving to ensure that the curriculum stays relevant and challenges students to further develop their research and critical thinking and analysis skills. Ultimately, factual knowledge is something that is continually acquired but the skills to find, process and create outputs from that knowledge are critical and must lie at the core of any educational endeavor.
We hope to have the opportunity to discuss our programs with you soon.
Russell Ford | Lead Instructor
Rhonda Johnson | Lead Instructor
Rhonda Ntepp | Lead Instructor
Homeland Security degrees at CTU strive to offer students a curriculum that focuses on relevant strategy and policy that will prepare them to enter or advance within the larger Homeland Security enterprise. CTU is proud to be one of a handful of universities in the United States to offer a Master's degree in Homeland Security. The Master of Science in Homeland Security, offered exclusively online, provides professionals with the tools to become homeland security decision-makers in one or more areas of the field.
CTU's On-Campus/Online Program Benefits
Students pursuing their bachelor's or master's degree in criminal justice online or at one of our campuses in Colorado have access to a number of benefits, including:
Convenient and flexible learning options designed to fit around your busy schedule, with many concentrations offering a hybrid attendance option, so that you could, for example, take criminology courses online while opting to take other courses in person
CTU's proprietary intellipath® learning tool, which can help identify what you already know and anticipate what you're ready to learn,1 and CTU Fast Track™ exams, which could let you earn course credit for what you already know2
The ability to transfer-in up to 75% of the credits required to complete your on-campus/online security studies program, or any of our other degree programs3
CTU Mobile and CTU's Virtual Classroom, which make it possible to access your courses online, including assignments, our virtual library, live chats, discussion boards, grades, and more, wherever you have an Internet connection
CTU's Master's Advantage™, a program that makes it possible to substitute two courses in your bachelor's program for two master's-level courses
Military education benefits may be available to those who are actively serving or who have served
Current students and alumni have access to career-development resources, networking opportunities, and Student Success Coaches who can offer career-related advice and guidance
Bachelor of Science in Criminal Justice
Colorado Technical University's Bachelor of Science in Criminal Justice program provides an opportunity for students to acquire industry-specific skills and knowledge that apply to a number criminal justice roles. Core courses include Introduction to Homeland Security, American Corrections, Victimology, Juvenile Delinquency, Criminology, The Laws of Evidence, and more. The program offers a general track option as well as four concentrations, and electives vary depending upon which you choose. Our online security studies programs include a fully online cybercrime and security concentration, while those who are able to attend class at either our Colorado Springs or Aurora locations can choose to pursue the on-campus forensic investigation concentration. Our human services concentration is available in multiple attendance formats as well, helping students prepare to pursue human-services related career paths in the criminal justice system.
Master of Science in Criminal Justice
CTU's College of Security Studies offers a Master of Science in Criminal Justice program that is designed for current criminal justice professionals wishing to expand their knowledge of policy development, planning, and decision-making with the objective of pursuing more advanced roles in the field. The homeland security concentration—comprised of courses such as Technology Solutions for Homeland Security, Organizational and Policy Challenges, Vulnerability Analysis and Protection, Homeland Security and Government, and the Homeland Security Capstone—is offered as a fully online master's degree in criminal justice program. The general track—comprised of courses such as Court Services Management, Law Enforcement Management, Corrections Management, Graduate Criminal Justice Capstone, and Operational Human Resource Management—is available in on-campus, online, and hybrid formats.
Admissions Process Overview
Prospective CTU students must complete an admissions interview with an Admissions Advisor and submit a completed application, but no SAT, no GMAT, no GRE, or any other standardized test is a prerequisite for our on-campus/online criminal justice degree programs (or any other degree programs we offer). For bachelor's degree programs, proof of high school graduation (i.e., diploma, transcripts) or its equivalency (i.e., GED) must be provided to CTU. For our on-campus/online master's degree in criminal justice program, official transcripts verifying completion of an accredited baccalaureate degree program must be submitted.
Students may be required to complete a criminal background check to participate in or attend class activities at certain sites or to qualify for certain types of internships. A criminal record may disqualify a student from some class activities, internships, or career choices. See the University Catalog for complete admissions details.
Accreditation, Awards, and Recognitions
Colorado Technical University is institutionally accredited by the Higher Learning Commission (www.hlcommission.org).
U.S. News & World Report has ranked CTU on a number of its "Best Of" lists, including:4
Best Online Degree Programs
Best for Veterans
Best Online Master's in Criminal Justice Programs
Additionally, the Military Times has ranked CTU on its "Best for Vets: Colleges 2021" list, and we have been recognized as a Purple Heart University by the Military Order of the Purple Heart (MOPH) for our support of military members, veterans, their families, and the community.

Ways to Graduate Faster than You Might Think
Typical program duration at CTU is 48 months for a bachelor's degree and 18 months for a master's degree, but many factors can impact overall program length, including:
Ways to Save on Tuition and Fees
The more credit-hours you're able to apply to your on-campus or online criminal justice degree program by transferring-in credits from other colleges, passing CTU Fast Track™ exams, developing a successful Experiential Learning Portfolio, and turning your military experience into course credits, the fewer courses you'll have to take to satisfy degree requirements and the less you'll have to spend on tuition. Members of the military (and their spouses) are also able to take advantage of a reduced tuition rate.
CTU also offers different financial aid resources and tools. Various institutional grants and scholarships may be available that could help you save on out-of-pocket costs.6 Many employers offer tuition reimbursement programs that could help offset the cost of taking criminal justice online classes (or on-campus classes), and your HR manager can assist you in determining your organization's tuition reimbursement policies. To help alleviate some of the guesswork, our tuition and graduation date calculator can help estimate your total tuition and graduation date based on information you supply.
Why CTU?
Going back to school can be intimidating for anyone, but particularly for adults who have families, existing careers, and other personal and financial responsibilities. When you already have very little time, the thought of fitting classes into your schedule might seem impossible, but our online criminal justice bachelor's degree and online master's degree in criminal justice programs are designed to offer the flexibility you want to make your goals a reality. CTU's large network of current and former students is proof that earning a degree, even with a busy life, can be done. Our many attendance options make it possible to fit classes into your existing life, instead of having to put your current responsibilities on hold. And one of the benefits of a CTU education is that you don't have to sacrifice having a supportive network of fellow students and faculty simply because you're taking criminal justice classes online. You can stay connected with your classwork and classmates through our award-winning online tools, while our knowledgeable instructors are available to provide assistance when requested.
---
1 intellipath® is not available for all courses.
2 The ability to reduce time in school and/or reduce tuition depends on the number of CTU Fast Track™ exams successfully passed. Fast Track program credits are unlikely to transfer. Not all programs are eligible for possible 30% reduction in time and money. Courses eligible subject to change.
3 Transfer credit is evaluated on an individual basis. Not all credits are eligible to transfer. See the University Catalog for transfer credit policies.
4 CTU programs are ranked among U.S. News & World Report's 2022 Best Online Programs.
5 https://www.coloradotech.edu/admissions/prior-learning-assessment/fast-track-exams
6 Financial aid is available for those who qualify. University grants or scholarships are based on established criteria as published in the University's catalog and are awarded after verification that the conditions of eligibility have been met.
CTU cannot guarantee employment, salary, or career advancement. Not all programs are available to residents of all states.
REQ1511858 2/2020