Online degree programs make education convenient
Strengthen your current job skills. Study something that interests you. Our accredited online college degree programs, and our onsite programs in Aurora (Denver area) and Colorado Springs, are designed to work around your busy life.
Convenience: At CTU, you can get the education you want without putting your work or personal life on hold. You can attend online classes when and where they fit into your busy schedule. At home, at work, at the library ... wherever there's an Internet connection. If you live in the Denver or Colorado Springs area you may be able to enroll in a hybrid program, which combines online learning with onsite learning.
Read More (+)
No results were found for the criteria selected. Contact an advisor to help find the right program for you. 855-230-0655
CTU Virtual Classroom
Colorado Technical University has adopted industry-current technology and incorporated them into the ways you can:
Access upcoming and archived lectures (live chats)
Interact with instructors and classmates
Track assignments and grades
Access course materials
It's all pretty amazing, and it's better to experience it than simply read about it, so we invite you to experience our Virtual Classroom tour.
Benefits of an Online Program
Maintain a work, life, education balance
Tailor your education with flexible learning options
Connect to courses anywhere you have internet
Industry-current and relevant curriculum
CTU Ranks for Best Online Programs
U.S. News & World Report has named eight Colorado Technical University online degree programs to its 2018 Best Online Programs lists:
Online Bachelor's degree programs
Online Bachelor's degree programs for Veterans
Online Master of Criminal Justice
Online Master of Criminal Justice for Veterans
Online Graduate Engineering Programs
Online Graduate Business Programs (Excluding MBA)
Online MBA Programs
Online Graduate Computer Information Technology Programs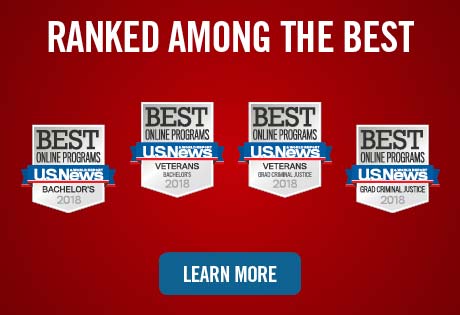 Program details are provided after the form.
Get More Details
Complete the form and:
An admissions advisor will contact you shortly

Get scholarship and financial aid information
Learn about specific degree programs