Classes start January 1, 2019!
2018 Commencement Ceremonies
Congratulations graduates! CTU's 2018 commencement ceremony on June 9th promises to be an exciting time for graduates, guests, faculty and staff. The ceremony will be held in the Bellco Theatre at the Colorado Convention Center in Denver.
Friday, June 8, 2018
Graduates are encouraged to check in at the convention center from 2:00 p.m. to 7:00 p.m.
Meet with Career/Alumni Services, take photos in front of CTU graduation backdrops, purchase class rings or other commemorative items, and much more!
Saturday, June 9, 2018
The master's and doctoral degree/hooding ceremony begins at 10:00 a.m.
The associate and bachelor's ceremony begins at 2:30 p.m.
Students may continue to check in up to an hour before their commencement ceremony.
Theater doors will open for guests 90 minutes before the ceremony, and seating is not reserved.
If you are a graduating student completing your degree program between June 22, 2017 and June 21, 2018, you will receive an email with instructions on how to register for the ceremony by early March. If you do not receive an invitation to register by that time, please contact your Student Success Coach.
Click here to register for the 2018 Commencement Ceremony in Denver, CO
2018 Graduation Speaker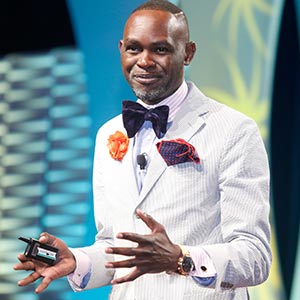 With his trademark panache, Derreck Kayongo inspires and empowers with his courageous story of survival, social entrepreneurship and humanitarianism, and the life lessons he learned along the way.
Derreck is the founder of the Global Soap Project, which recycles used hotel soap and redistributes it to impoverished populations around the world. In creating this global humanitarian initiative, he demonstrated that a simple, yet novel idea has the power to transform the lives of millions. A Top Ten CNN Hero in 2011, his passion for helping others and commitment to innovative thinking earned him his current role as CEO of the National Center for Civil and Human Rights.
From Ugandan refugee to successful entrepreneur and renowned human rights activist, Derreck inspires audiences to dream big as he shares his vision for harnessing the power of observation to identify issues and solve challenges in any community or organization.
With palpable energy and enthusiasm, he brings his personal guiding principles, coined as S.E.L.F. – Service, Education, Leadership and Faith – to life in emotionally-packed presentations that linger long after his speech. Dynamic and empowering on stage, Derreck inspires a spirit of entrepreneurialism and creative problem-solving while spurring audiences to invent their own self-made motto of success so they can create tangible change in the world.