Healthcare Degree Programs
The healthcare industry is booming. With the advent of new technologies, the Affordable Care Act, and exciting advancements in medical science, the healthcare sector is experiencing its biggest job growth in recent years.1 Colorado Technical University offers a robust selection of degree programs in the healthcare area of study. Ranging from the associate level all the way through doctorate, these programs are assembled and taught by industry experts to specifically provide modern, healthcare-relevant education.
Recent reports from the Bureau of Labor Statistics (BLS) note that the employment rate of healthcare occupations is expected to grow "…much faster than the average for all occupations, adding about 2.3 million new jobs."2 Similar growth is expected for health services managers,3 and even more job growth is expected in the rapidly-expanding field of health technology and informatics.4
CTU's healthcare degree programs are designed to provide the essential skills, knowledge, and confidence to flourish in the burgeoning careers mentioned above and many more. The Colorado Technical University healthcare degree programs are:
Highly relevant to the current healthcare job market
Offered online, with on-campus education available in some cases
Taught by instructors with experience in the field
Available with 8 start dates a year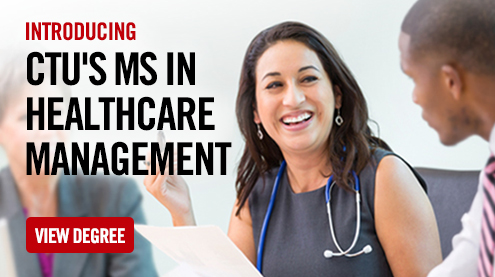 No results were found for the criteria selected. Contact an advisor to help find the right program for you. 855-230-0655
Program details are provided after the form.
Get More Details
Complete the form and:
An admissions advisor will contact you shortly

Get scholarship and financial aid information
Learn about specific degree programs
17% Job Growth
According to the U.S. Dept. of Labor, the job outlook for Medical and Health Services Managers is expected to increase by 17% between 2014 and 2024.**
CTU Makes the Grade
2016 Best Online Bachelor's Programs U.S. News & World Report***
CTU's Mobile App
Education that's as mobile as you are. Learn more.
---
1. Diamond, D. (2015, June 5). Healthcare Jobs Just Grew At Fastest Pace Since 1991. Retrieved March 17, 2016, from http://www.forbes.com/sites/dandiamond/2015/06/05/hospitals-jobs-growth-is-suddenly-booming/
2. 2014 Median Pay. (2015, December 17). Retrieved March 17, 2016, from http://www.bls.gov/ooh/healthcare/home.htm
3. 3Medical and Health Services Managers (2015, December 17). Retrieved March 17, 2016, from http://www.bls.gov/ooh/management/medical-and-health-services-managers.htm
4. Missed Opportunities? The Labor Market in Health Informatics. (2014, December 10). Retrieved March 17, 2016, from http://burning-glass.com/research/health-informatics-2014/
5. http://burning-glass.com/job-market-data/; The career titles are provided by Burning Glass. These results are based upon an analysis of over 7 million current job listings compiled from over 17,000 sources – the world's most comprehensive repository of job openings. Students who earn this degree should not view this list as exhaustive and are not limited to only these options post-graduation. Some career titles listed above may not be entry-level and may require further education or job experience.
*http://bls.gov/news.release/ecopro.nr0.htm
** http://www.bls.gov/ooh/management/medical-and-health-services-managers.htm
***http://www.usnews.com/education/online-education/colorado-technical-university-10148/bachelors