Military Overview
Military Benefits & Financial Aid
Credit for Service
Why CTU for Military?
Active Duty
Veteran
Military Spouse
Patriot Scholarship
Military Benefits & Financial Aid
As a member of the military community, there are a variety of ways for you to finance your education. At CTU, we are committed to assisting you in obtaining the military education benefits for which you qualify. CTU's Military Education Benefits Specialists work with service members, veterans and their spouses, and are well-versed in education benefits procedures.
Are You Ready?
When you are ready to apply for admission, follow the steps outlined below.
Step One
TALK WITH AN ESO
Visit your Base Education Center and talk to an Education Service Officer (ESO) about why you want to attend college and which school you would like to attend. Your ESO can give you the essential paperwork regarding your tuition assistance (TA) and advise you on your eligibility for any military education benefits.
Step 2:
Apply for admission
Step Two
APPLY FOR ADMISSION
Apply online by clicking below. Follow the prompts and fill in the requested information.
Once we've received all required information and documents, we will review your application.
Step 3:
Fill out the FAFSA
STEP THREE
FILL OUT THE FAFSA
After your application for admission is complete, fill out the Free Application for Federal Student Aid (FAFSA) to determine your eligibility for other federal aid resources.
Apply here to create a FSA ID, which allows you to sign and submit your FAFSA online.
When filling out the FAFSA, you will need to input the Colorado Technical University School Code: 010148 . This code will route the completed information to CTU.
Log on to the FAFSA website and complete the application.
STEP FOUR
CONTACT MEBS
Contact a CTU Military Education Benefits Specialist (MEBS) after you've completed your FAFSA. Your Military Education Benefits Specialist, in conjunction with your ESO, will work with you to determine all military benefits for which you may be eligible.
Step 5:
Transcript Evaluation
STEP FIVE
TRANSCRIPT EVALUATION
CTU's Prior Learning Assessment (PLA) Department will review and evaluate your military training — courses, MOS and traditional education for potential credit.*
*Transfer credit is evaluated on an individual basis. Not all credits are eligible to transfer. See the University Catalog for transfer credit policies.
Study Online or on campus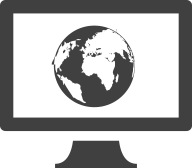 Testimonials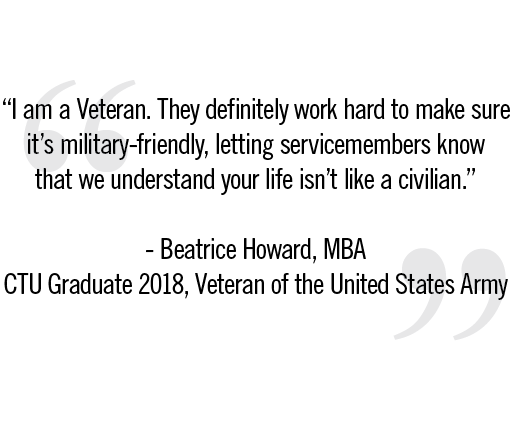 Get More Details
Complete the form and:
An admissions advisor will contact you shortly

Get scholarship and financial aid information
Learn about specific degree programs