Bachelor of Science in Nursing
Bachelor of Science in Nursing
RN to BSN Degree Completion Program
You're ready to earn your BSN degree. And Colorado Technical University has the programmatic accreditation you want along with the flexible schedule designed to fit your needs. There are eight different program start dates and the entire program can be completed in as little as 9 months*. It's focused, rigorous and designed by nurses just like you. CTU's RN to BSN program: Starting at $12,480.*
RN to BSN Completion Program Goals:
Care for complex needs of patients across the healthcare continuum and/or a variety of settings
Be a leader in the profession of nursing
For the fourth year in a row, CTU's online bachelor's degree programs were ranked among the Best Online Bachelor's Programs by U.S. News and World Report.**
*Tuition cost and program length assumes a student will be awarded the maximum credit for transfer, licensure, prior experiential learning, and professional certifications, will be continuously enrolled, and satisfactorily completes all program requirements for graduation. Tuition and timing reflects an accelerated pace for the nursing component of the program. Additional courses, such as general education requirements, may be necessary dependent on credits transferred to CTU. The total tuition cost will increase and program length may change due to academic failure of courses and or withdrawals and drops. CTU cannot guarantee transfer or other credit will be accepted; please see University Transfer Credit policy.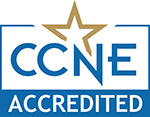 Relevant Institutional/Programmatic Accreditation
CTU is institutionally accredited by the Higher Learning Commission www.hlcommission.org
The Bachelor of Science in Nursing degree program at Colorado Technical University is accredited by the Commission on Collegiate Nursing Education (http://www.ccneaccreditation.org)
Program Outline

As the largest group in the US healthcare workforce, nurses are challenged to make a significant difference in the health outcomes of individuals and populations. Nursing roles range from bedside care delivery to executive leadership in complex health systems.1 The RN to BSN degree completion program at Colorado Technical University is designed to help nurses prepare and develop the knowledge and skills needed to help expand their practice options for a variety of clinical and administrative leadership activities and to manage change in an increasingly complex and diverse environment. Building on a foundation of general education and core coursework, the nursing major courses range from a review of the challenges and trends in nursing care to a nursing capstone seminar that provides students with the opportunity to synthesize and apply prior learning. The Colorado Technical University RN to BSN program furthers the mission of the university to teach real-world nursing that serves the needs of students, the population, and the healthcare industry and is designed to help highly qualified professional nurses prepare for their careers at the bachelor's level.

Degree Requirements

Related Degrees

The Bachelor of Science in Business Administration with a concentration Healthcare Management degree program is designed to help graduates prepare for careers in the healthcare industry. Students will have the opportunity to develop proficiency in healthcare management which includes the legal, ethical, and regulatory issues governing the healthcare field.

The Bachelor of Science in Healthcare Management degree program at CTU is designed to help students obtain the general education, didactic theory, and hands-on training to pursue work in management within a healthcare industry. The program offers instruction in the business and administrative side of the healthcare industry, including, but not limited to, patient access, revenue cycle management, project management, economics of healthcare, and fundamentals of marketing and human resource management.

The Bachelor of Science in Healthcare Management - Health Informatics concentration is designed to provide students with a background in healthcare management and a greater understanding of how information technology is used within the healthcare environment. Emphasis will be placed on business intelligence and data analytics to assist decision makers with the tools necessary to make informed decisions and highlighting useful information for stakeholders.

Estimate Tuition and Grad Date

$12,480*

*Tuition and timing reflects an accelerated pace for the nursing component of the program. Additional courses, such as general education requirements, may be necessary dependent on credits transferred to CTU. View our Tuition Resources.

Estimate your costs, potential savings and graduation date

Ways to Save

Cost of this degree may be reduced based on one or more of the following:

Outcomes

BSN Program Outcomes:

Assess the role of the nurse and the need for open communication, mutual respect and shared decision-making with other healthcare providers in the team's efforts to achieve quality outcomes for patient-centered care
Apply knowledge of healthcare policy, finance, regulation, accreditation and trends in healthcare to active participation in the profession of nursing serving as a patient advocate
Evaluate information and technology resources to communicate, manage knowledge, mitigate error and support decision-making in the delivery of healthcare
Identify patient preferences, values and needs while recognizing the patient or their designee as the source of control in providing compassionate and coordinated nursing care
Design strategies using continuous quality improvement processes to improve the quality and safety of healthcare systems
Analyze strategies to optimize system effectiveness and individual performance that will minimize the risk of harm to patients and providers
Evaluate evidence-based practices within clinical expertise, patient preferences, and values for the integration of those practices in the delivery of quality healthcare
Apply leadership and communication skills to improve the safety, quality, and cost of healthcare

Admission Requirements

Admission to this program requires an unencumbered license to practice as a Registered Nurse (RN) in the United States. Students must have graduated from an Associate Degree in Nursing or a Diploma Registered Nurse (RN) Program, or a graduate-entry educational transition program preparing students for eligibility to become licensed as a Registered Nurse. International students must demonstrate English Proficiency prior to enrollment. Learn more about CTU's English Proficiency requirements.

At this time, Colorado Technical University cannot accept inquiries for the RN-BSN program from residents of the states of Delaware, Louisiana, Massachusetts, Nevada, New York, Tennessee, and West Virginia.

Next Steps

Where do I go from here?

Choosing to continue your education is a big decision and we're here to help. Choose one of the options below to get started.

Submit your details and speak to an admissions advisor within the next day:

Submit a no-fee online application. An advisor will get in touch after your application is received to schedule an interview (required before enrolling):
Classes start February 12, 2019!
Gainful Employment and Other Student Disclosures
Below you can find placement rates and other information tailored to your chosen campus and program. Certain disclosures are published on this website to assist students in understanding the facts about their programs.
Program Disclosure Information for:
Online Programs - Bachelor of Science in Nursing
Employment Rates:
Given the fact that all of the rates reflected below are based on historical data and were subject to varying levels of audit and re-interpretation, students should not rely on them as an implicit or explicit representation or promise of future outcomes or employability following completion of a program of study. Indeed, there are numerous factors that affect a student's ability to graduate and secure employment over which we have little or no control. Therefore, our school cannot and does not guarantee or estimate the likelihood of on-time completion, graduation, or employment for any student.
Commission on Collegiate Nursing Education:
Reporting Period: 1/1/2016 through 12/31/2016
Date Submitted: 11/2017
Campus Rate
NA Actual Rate
Program Rate
92.9% Actual Rate
The partial 2017 employment rate, covering the six month period from 1/1/2017 through 6/30/2017, is 78.8%.
Commission on Collegiate Nursing Education:
Date Submitted: 11/2017
The CCNE reported completion rate for the 2013 calendar year is 77.38%
**Learn more about the U.S. News rankings for Colorado Technical University's online degree programs.
1. http://www.aacn.nche.edu/media-relations/fact-sheets/nursing-fact-sheet (Visited August 2, 2017)