Online RN to BSN
Online MSN
Online DNP
Academics
Accreditation
Admissions
Financial Aid
Transfer Credits
College of Nursing
ONLINE RN-TO-BSN, MSN AND DNP
Filter
No results were found for the criteria selected. Contact an advisor to help find the right program for you. 855-230-0655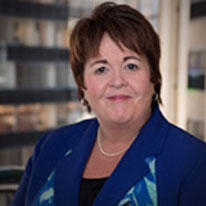 This is an exciting time for nursing education! I am thrilled that Colorado Technical University offers many innovative ways for faculty and students to collaborate as a team while delivering quality, real-world nursing education.
Health care in the 21st century is changing rapidly and nurses are on the front lines of that transformation. Education is crucial in ensuring that nurses have the skills and information they need to lead change and to be effective advocates for patient care. One leading organization, the Institute of Medicine (IOM), is advocating for the number of nurses with baccalaureate degrees to increase from 50% to 80% by 2020, and for nurses to continue on to receive graduate degrees.1
At CTU, we continue to expand our programs and concentrations based on recommendations from our advisory board and nursing industry employers and experts. In 2019, CTU's RN-BSN degree program received a 10-year accreditation from the Commission on Collegiate Nursing Education (CCNE), which affirms that CTU's nursing curriculum, teaching practices, and program outcomes meet the CCNE's rigorous standards for quality, effective nursing education. Our Master of Science in Nursing (MSN) degree program is structured to help nurses navigate current industry challenges and emerging trends in nursing.
CTU faculty, staff, and I are here to help guide you as you advance your expertise and realize your professional goals. If you have any questions, please do not hesitate to contact us.
Sincerely,
Dr. Ruth Tarantine, DNP, RN
Vice Provost | University Dean of Nursing
Nursing Careers Articles
A nursing degree may open the door to a variety of opportunities and diverse career paths. The degree programs offered at CTU will not necessarily lead to the featured careers. This collection of articles is intended to help inform and guide you through the process of determining which level of degree and types of certifications align with your desired career path.
1https://www.nap.edu/catalog/12956/the-future-of-nursing-leading-change-advancing-health
*Tuition cost assumes a student will be awarded the maximum credit for transfer, licensure, prior experiential learning, and professional certifications, will be continuously enrolled, and satisfactorily completes all program requirements for graduation. The total tuition cost will increase due to academic failure of courses and or withdrawals and drops. CTU cannot guarantee transfer or other credit will be accepted; please see University Transfer Credit policy. For a decision to be received within 48 hours the applicant must set up and participate in an admissions interview with an Admissions Advisor and submit a completed CTU application for consideration.
Program details are provided lower on the page.
Get More Details
Complete the form and:
An admissions advisor will contact you shortly

Get scholarship and financial aid information
Learn about specific degree programs