Master of Science in Nursing
Master of Science in Nursing
The U.S. Bureau of Labor Statistics is projecting that through 2024, nursing will add more jobs to the nation's economy than almost any other profession1. That job growth is projected to increase the number of career opportunities for management-level nursing and teaching positions, which often require a graduate degree.
The online Master of Science in Nursing program at Colorado Technical University is your opportunity to earn a graduate-level nursing degree.
Students seeking an online degree in nursing administration or nursing education can:
Pursue an online degree for $17,760*
Finish your degree in as little as 18 - 20 months**
Complete practicum at your own place of work (if available)
Learn with our proprietary Intellipath™ learning system where nurses can quickly move over the content they already know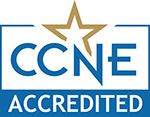 ---
*The above referenced tuition and program length assumes a student will be continuously enrolled, and satisfactorily completes all program requirements for graduation. The total tuition cost and program length will increase due to academic failure of courses and or withdrawals and drops.
**The program length may change due to academic failure of courses and or withdrawals and drops.
Program Outline

Building Your Nursing Knowledge

An active unencumbered U.S. RN license, a bachelor's degree in nursing and a 3.0 GPA is required for acceptance into CTU's MSN program. If you do not have a BSN, CTU also offers an RN-BSN so you can pursue your academic goals in one easy to follow path. Students start the MSN-NA program with courses in the core area of nursing and then build upon that knowledge with coursework specific to the field of nursing administration. The program is 48 quarter credits for their program in all, credits that are divided between both core nursing education and the area of concentration.

Core nursing education. The MSN at CTU teaches leadership skills to students regardless of the specialization chosen. Students complete 24 quarter credits in overall core courses, allowing them to gain more insight into management theory and application, and evidence-based practices. Some of the courses at the core nursing level include:

Healthcare Informatics and Technologies
Advanced Professional Nursing Practices
Policy and Politics in Nursing and Healthcare
Promoting and Preserving Health in a Diverse Society
MSN Capstone

Concentration. After completing their core nursing courses, students can finish their degree by taking six (6) more courses, or 24 quarter credits. These courses are designed to help students learn about the specialty of nursing administration and to apply their newly learned nursing administration theory into clinical practice. Some of these courses include:

Healthcare Finance
Innovations for Quality Care
Strategic Planning
Systems in Healthcare

The two practicum courses included as part of the concentration require 60 hours each, for 120 hours total. In some cases, these practicum hours can be completed onsite at your place of current employment. The capstone course requires students to complete a final project that integrates the knowledge and skills gained over the course of the program.

Degree Requirements

Courses for this degree are dependent upon the concentration chosen. Please see the Related Degree tab for available concentrations.

Related Degrees

Master of Science in Nursing

Tuition

Tuition

Total tuition for this degree program will vary depending on your educational needs, existing experience, and other factors.

View our tuition resources page for links to information on our civilian and military student tuition, books and fees.

Estimate your costs, potential savings and graduation date

Ways to Save

Ways to Save

Cost of this degree may be reduced based on one or more of the following:

Outcomes

MSN program outcomes:

Synthesize knowledge from nursing and a variety of sciences in diverse settings for the purpose of improving nursing care
Apply organizational and systems leadership concepts to promote quality patient care
Evaluate performance improvement processes designed for the purpose of providing quality patient care
Apply research outcomes and evidence-based practice to recommendations for improved patient care
Synthesize health policy processes established for the advocacy of quality healthcare
Integrate interprofessional collaboration to the management of patient and population health outcomes
Apply organizational, client-centered, and culturally appropriate concepts to clinical prevention and population care to identified populations

Admission Requirements

At this time, Colorado Technical University cannot accept inquiries for the Master of Science in Nursing program from residents of the states of Alabama, Alaska, Delaware, Louisiana, Maryland, Massachusetts, Minnesota, Nevada, New Hampshire, New York, Tennessee, Utah, Washington, West Virginia, and Wyoming.

Next Steps

Where do I go from here?

Choosing to continue your education is a big decision and we're here to help. Choose one of the options below to get started.

Submit your details and speak to an admissions advisor within the next day:

Submit a no-fee online application. An advisor will get in touch after your application is received to schedule an interview (required before enrolling):
Classes start October 2, 2018!
Gainful Employment and Other Student Disclosures
Below you can find placement rates and other information tailored to your chosen campus and program. Certain disclosures are published on this website to assist students in understanding the facts about their programs.