Online Associate Degree Programs
On-Campus and Online Associate Degree Programs
Earning your associate degree online or on-campus from Colorado Technical University could be the first step on your college journey, a stepping-stone in your current education, or an opportunity to explore a new career direction. CTU offers traditional, hybrid, and online associate degree programs in a variety of fields so that you can choose which type of program best suits your busy life and your academic goals. Our career-focused, online associate degree programs are designed to provide the type of connectedness and engagement you might expect from on-campus programs, but with the flexibility to take your classes wherever and whenever it's most convenient for you.
CTU's Associate Degree Program Benefits
The following are just some of the benefits of enrolling in one of CTU's on-campus or online associate degree programs:
Our convenient and flexible online associate degree courses are built to fit around your schedule, not the other way around
Transfer-in up to 75% of the program credits required to complete your degree program1
CTU Mobile and CTU Virtual Classroom are secure and convenient ways to help you earn your degree anytime, anywhere you can access the Internet—view assignments and add them to your calendar, use our online library, listen to live chats, read discussion boards, receive push notifications, and track your academic progress, all while on-the-go
CTU's intellipath® learning tool can customize your learning experience by recognizing what you already know and anticipating what you're ready to learn—so you can spend more time focusing on something new2
CTU Fast Track™ exams test your knowledge of key course objectives and can make it possible to earn course credit for what you already know3
Active, Guard, and Reserve members, veterans, and military spouses may be eligible for a variety of military education benefits that could help pay for courses and even textbooks
Career-development resources, tools, and networking opportunities, as well as Student Success Coaches who are available to offer advice and guidance to both students and alumni
CTU Associate Degree Program Options
Accounting
An associate degree in accounting can be earned online, on-campus, or as part of a hybrid program at CTU. Our Associate of Science in Accounting (ASACC) program is designed to teach students the basic accounting skills necessary for entry-level accounting positions, including "soft" skills such as interpersonal and business communication skills. Our accounting curriculum is designed in alignment with the educational standards of the American Institute of Certified Public Accountants (AICPA) and integrates the body of knowledge and competencies covered in the Certified Managerial Accounting (CMA) exam. Core courses include Accounting I through III, Introduction to Tax, Business Law, and Computerized Accounting, among others.
Business Administration
The Associate of Science in Business Administration program is intended to provide students with foundational, industry-relevant general business knowledge in areas such as human resources, accounting, marketing, and management. This degree can be earned as part of an on-campus, hybrid, or fully online associate degree program, with a curriculum that aligns with the first two years of CTU's Bachelor of Science in Business Administration program.
Electronics Technology
The Associate of Science in Electronics Technology (ASET) program is offered at the CTU Colorado Springs campus and is designed so that students can build the critical thinking and analytical skills needed to "think like an engineer." Core courses include Computer Architecture, Circuit Analysis I and II, Introduction to Engineering, and Embedded Microcontrollers, among others. The ASET degree requirements align with the first two years of our Bachelor of Science in Electrical Engineering and the Bachelor of Science in Computer Engineering programs, giving students who decide to pursue their bachelor's degree at CTU the ability to choose the program that best fits their goals.
Health Administration Services
CTU offers a fully online associate degree program in health and administrative services. Students in the Associate of Science in Health Administration Services program study the structure and operation of the U.S. healthcare system, work to develop an understanding of ethical and legal principles as they relate to healthcare administration services, build their repertoire of medical terminology, and refine their communication skills. Reimbursement strategies, software applications used in healthcare, management fundamentals, and issues of cost, quality, and access to health care are some of the topics covered in the online curriculum.
Information Technology
In our Associate of Science in Information Technology program, available at our Colorado Springs and Aurora campuses, students have the opportunity to develop the technical skills and specialized knowledge needed to support an organization's operational goals in the real world. The ASIT degree requirements align with the first two years of the Bachelor of Science in Information Technology program, and core courses cover topics such as Unix fundamentals, and introductory courses on IT, computer security, website development, and programming logic.
Management
Students who may be interested in earning a traditional or online associate degree in management may consider our Associate of Science in Management program. This program provides introductory exposure to various management theories and their applications with the goal of helping students prepare to manage their own teams and projects in the real world, and it covers foundational business topics, including financial statement analysis, business law, and contemporary trends in business. The ASM degree curriculum aligns with the first two years of CTU's Bachelor of Science in Management program.
Associate Degree Programs—Admissions Overview
All prospective Colorado Technical University students are required to complete an interview with an Admissions Advisor and submit a completed application as part of the admissions process for both our on-campus and online associate degree programs. No SAT or other standardized test is required for acceptance. Proof of high school graduation or of high school equivalency, such as a high school diploma or GED, respectively, must be submitted to CTU before the first day of the second quarter or term in the program of study. Once received, CTU must review and confirm the documentation prior to official acceptance. See the University Catalog for complete details.
Accredited Degree Programs
Colorado Technical University is institutionally accredited by the Higher Learning Commission (hlcommission.org), an accreditation agency recognized by the U.S. Department of Education. Our traditional/online associate degree in business administration and accounting programs are programmatically accredited by the Accreditation Council for Business Schools and Programs (ACBSP). And for those students interested in pursuing a bachelor's degree down the line, many of our BA and BS degrees are programmatically accredited by recognized accrediting organizations.
Colorado Technical University has been recognized by a number of third-party reviewers. U.S. News & World Report recently ranked various CTU degree programs in its lists of Best Online Programs. CTU was recognized as a Purple Heart University in 2018 by the Military Order of the Purple Heart (MOPH) for our support of active military members, veterans, military families, and the community. The Military Times has also ranked us in its Best Colleges 2022 annual survey, which is a comprehensive school-by-school assessment of veteran and military student services and rates of academic achievement.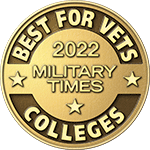 Ways to Save Time …
Associate degree programs at Colorado Technical University require between 91.5 and 97.5 credit-hours (depending on the program selected) and can typically be completed in 24 months, although the amount of time it may take any individual student to graduate can vary. You may be able to finish earning your traditional or online associate's degree faster—possibly up to 30 percent faster—by taking and passing CTU Fast Track™ exams, allowing you to "test out" of classes.* There is no additional cost for these exams and no penalties for not passing. Students with prior professional or hands-on experience have the option to document and demonstrate how this prior non-collegiate experience meets the objectives of a particular course within their chosen academic program by submitting an Experiential Learning Portfolio (ESP), which can allow them to earn experiential credit that can be applied toward completing their degree.
CTU also offers a generous transfer credit policy, permitting qualifying students to transfer-in up to 75 percent of the credits required to complete their on-campus or online associate degree program.1 We offer additional transfer credit programs for active and former military members that effectively translate military experience into educational credit that can be applied toward a given degree program. Professional certifications and/or standardized exams (e.g., AP Exams, CLEP tests, DANTES Subject Standardization Tests) could further reduce the number of courses required for program completion.
… And Money
The same programs that can save you time may also help you save on tuition, too. Earning credits by passing CTU Fast Track™ exams, creating a successful Experiential Learning Portfolio, converting military experience into educational credit, or transferring-in credits from other accredited institutions means fewer courses and lower overall tuition costs.
Colorado Technical University also offers various institutional grants and scholarships that can help offset the cost of our traditional and online associate degree programs. Our Net Price Calculator can help you get an idea of what financial aid you might qualify for, and our financial aid page can provide more information on the various grants and scholarships available to eligible students.3 Please reach out to one of our Financial Aid Advisors for additional questions and details.
Advantages of a CTU Education
Colorado Technical University's students come from all walks of life. Working adults, veterans, adults who never completed their college degree, recent high school graduates—all types of people with all types of backgrounds comprise our diverse student community, each with their own unique experiences and reasons for wanting to earn a degree. Perhaps you've been hesitating to pursue your AS or AA degree online because you're not sure whether there are in-person requirements that might conflict with your schedule. But with so many online associate degree attendance options at CTU, you might find it's easier than you may think to earn a degree without putting the rest of your life on hold. From our experienced faculty, to our virtual platforms that allow for greater student engagement, to our programs that make it possible to earn your degree faster and at a lower cost than you may have thought possible, CTU offers various resources to help you succeed. Learning about our traditional and online associate degree programs is a big first step on the path to pursuing your academic and career goals, and we'll be here when you're ready to take the next step.
---
1 Transfer credit is evaluated on an individual basis. Not all credits are eligible to transfer. See the University Catalog for transfer credit policies.
2 intellipath® is not available for all courses.
3 Financial aid is available for those who qualify.
CTU cannot guarantee employment, salary, or career advancement. Not all programs are available to residents of all states.
REQ1489183 12/19
Program details are provided lower on the page.
Get More Details
Complete the form and:
An admissions advisor will contact you shortly

Get scholarship and financial aid information
Learn about specific degree programs