CTU's Online Project Management Degree Program
Students pursuing a bachelor's degree in Colorado Technical University's online project management degree program have an opportunity to explore and acquire the foundational knowledge, skills, and know-how that can be applied to a range of industries in the real world. And what's more, studying project management online at CTU means having the flexibility to fit your coursework around your busy life, and not the other way around. Our project management degree program is globally accredited by the Global Accreditation Center for Project Management Education Programs (GAC), which is the accrediting body for the Project Management Institute (PMI).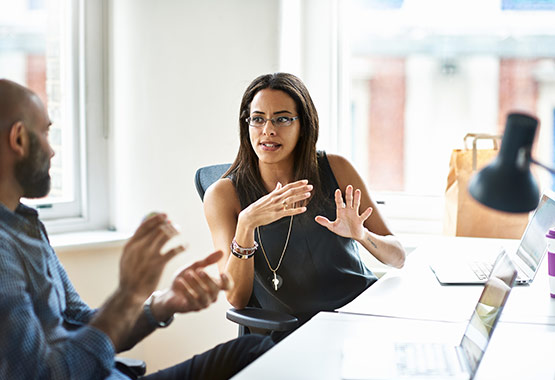 Program details are provided lower on the page.
Get More Details
Complete the form and:
An admissions advisor will contact you shortly

Get scholarship and financial aid information
Learn about specific degree programs
PMI Accredited
CTU offers six project management degree programs and concentrations that are Globally Accredited by GAC (The Global Accreditation Center for Project Management Education Programs is the accrediting body for PMI).
PMP Prep Support
CTU understands the importance of taking and passing the PMP® exam. We can support you in your prep for the PMP® exam through Velociteach, a team of industry experts who have taught nearly 200,000 project managers.
Welcome to Project Management at Colorado Technical University!
CTU has a rich history with the Project Management Institute and was one of the first universities in the nation to earn accreditation from the Global Accreditation Center for Project Management Education Programs at PMI. In doing so, the GAC Board recognized the commitment to project management educational excellence that has been demonstrated by Colorado Technical University throughout the GAC accreditation process. Students that earn a project management degree from the university can be assured that their education meets high-quality standards set by PMI for preparing students for success in project management careers.
We offer a number of Project Management degree options for students at both the undergraduate and graduate level. Students have the option to take their courses online, on campus, or as hybrid (in-class and online).
What is PMI?
The Project Management Institute is the world's leading not-for-profit project management professional association. PMI has over 500,000 members worldwide, providing global leadership and developing standards of practice for project management professionals.
Since 1984, PMI has developed and maintained a rigorous, examination-based professional certification program to help project managers reach the peaks of their professions.1
Your next employer may be familiar with PMI. At CTU, you can identify the degrees that are PMI recognized by looking for the PMI designation. When you earn one of these degrees at CTU, you can be recognized as a career-motivated professional who recognizes the importance of earning an industry-relevant education.
Project Management Institute Global Accreditation Center
The following degree programs at CTU are accredited by the PMI Global Accreditation Center for Project Management Education Programs (GAC). The PMI-GAC serves two fundamental purposes—to ensure the quality of academic degree programs in project management and to assist faculty and universities in the improvement of degree programs. Using a thorough review process, the GAC helps ensure the scope and quality of academic programs. As a student, you can be assured these programs meet the high standards set forth by the GAC.
PMI Global Accreditation Center - CTU Degree Statistics
External links related to our accreditation and degree programs:
Why is PMI important?
The Project Management Institute has taken the lead in establishing accreditation standards for post-secondary degrees and master certificates in programs primarily focused on project management.
The graduate and undergraduate content offered by CTU has been reviewed by PMI and found to be relevant to project management and consistent with the knowledge and process areas described in A Guide to the Project Management Body of Knowledge (PMBOK® Guide).
The PMBOK® Guide is a globally recognized standard for managing projects in today's marketplace. The PMBOK® Guide is approved as an American National Standard (ANS) by the American National Standards Institute (ANSI). PMI is committed to the continuous improvement and expansion of the PMBOK® Guide, as well as the development of additional standards.

* CTU does not guarantee third-party certifications. Certification requirements for taking and passing certification examinations are not controlled by CTU but by outside agencies and are subject to change by the agencies without notice to CTU. Therefore, CTU cannot guarantee that graduates will be eligible to take certification examinations, regardless of their eligibility status upon enrollment.
1 The Project Management Professional, PMP, PMBOK, Project Management Body of Knowledge, CAPM, PgPM are registered marks of the Project Management Institute, Inc. For a full list of PMI's legal marks, please contact the PMI Legal department.
Benefits of CTU's Online Project Management Degree Program
Students pursuing their bachelor's or master's degree in project management online or at one of our campuses in Colorado have access to a number of benefits, including:
Earning a project management degree online at CTU means being able to take courses that are built to fit in around your schedule, when it's most convenient for you
CTU Fast Track™ exams, which make it possible to earn proficiency credit for what you already know, could make it possible to graduate up to 30% faster*
CTU's proprietary intellipath® learning tool—which identifies what you already know and anticipates what you're ready to learn—can offer a more efficient and personalized learning experience1
CTU's transfer credit policy could allow you to transfer-in up to 75% of the credits required to complete your bachelor's in project management2
Current and former students have access to various career-development resources, networking opportunities, and CTU Student Success Coaches
CTU Mobile and CTU's Virtual Classroom make it easy to access your online classes—including assignments and grades—as well as the virtual library, live chats, discussion boards, and more, wherever you're connected to the Internet
Active duty and former members of the military may be able to take advantage of military education benefits, such as reduced tuition rates and the ability to convert military experience into course credit2
Bachelor of Science in Project Management
CTU's Bachelor of Science in Project Management program is designed to help students prepare to pursue project management career paths across a wide array of industries. In this program, you'll have the opportunity to explore how leadership and management influence project team and stakeholder engagement, learn to apply best practices based on the text A Guide to the Project Management Body of Knowledge (PMBOK® Guide)—Sixth edition, and identify and analyze project scopes. Students pursuing their project management degree through our accredited program will take courses in Risk Management, Contracts and Procurement, Project Performance and Quality Assurance, Project Cost and Scheduling, Human Resources in Project Management, The Evolution of Project Management, Project Management Tools, and the Project Management Capstone, in addition to general education and core courses.
Explore Other CTU PM Degree Programs
In addition to CTU's bachelor's degree in project management program, those looking to earn a degree in project management should explore our other project management programs:
These on-campus/online project management degree concentrations are also programmatically accredited by the GAC, just like our bachelor's in project management program.
Admissions Process Overview
All prospective CTU students must complete an admissions interview with an Admissions Advisor and submit a completed application. No SAT, no GMAT, no GRE, or any other standardized test is required for acceptance.
For baccalaureate degree programs, proof of high school graduation, i.e., high school diploma and transcripts, or high school equivalency, i.e., GED, must be submitted to Colorado Technical University before the first day of the second quarter or term in the program of study. See the University Catalog for further information about CTU's admissions process and for more specific details about our bachelor's-level online project management degree program.
Accreditations and Awards
Colorado Technical University is institutionally accredited by the Higher Learning Commission (www.hlcommission.org). CTU's bachelor's in project management program (as well as five other programs with concentrations in project management topics offered through our business and management degree programs) are globally accredited by the Global Accreditation Center for Project Management Education Programs (GAC).
U.S. News & World Report has ranked CTU on various U.S. News & World Reports "Best Of" lists,3:
Best Online Bachelor's Programs
Best Online Bachelor's Programs for Veterans
Best Online MBA Programs
Best Online Graduate Business Programs—Excluding MBA
Additionally, the Military Times has ranked CTU on its "Best for Vets: Colleges 2022" list for online and nontraditional schools.
Graduate Sooner than You May Think
Time to graduation varies based on many factors, but the typical length of bachelor's degree programs at CTU, which includes the bachelor's in project management program, is 48 months. To help decrease overall program length, eligible students may be able to take advantage of additional resources and programs:
CTU's tuition and graduation date calculator can help give you a better idea of the estimated cost and program length based on the information you provide.
Ways to Help You Save
The programs that can help you graduate sooner may also help save on tuition, but there are ways to save on out-of-pocket costs, too. Institutional grants and scholarships are available to eligible students.4 Students may be eligible for tuition reimbursement through their employer, so you should speak with your HR manager to assist in determining your company's tuition reimbursement policies. CTU Admissions Advisors can assist in determining eligibility for a Corporate Alliances Grant. And all students are encouraged to research their eligibility for federal financial aid, and can get started on this by filling out the Free Application for Federal Student Aid (FAFSA).4
Why Pursue a CTU Project Management Degree?
Today's busy adults often have personal and professional responsibilities that can't be set aside while they work toward earning a degree. For many, deciding to go back to school can seem intimidating if not impossible, especially if you're striving to achieve some semblance of a work-life balance. But at Colorado Technical University, our globally accredited, online project management degree program (and our online degree programs generally) is designed to provide flexibility in how and when you attend class, making it more manageable to pursue your academic goals without disrupting your life. Our knowledgeable faculty, award-winning proprietary online platforms,3 career development resources, and more, are designed to provide an accessible academic experience—one in which students can pursue a project management undergraduate degree without sacrificing their current responsibilities—and our large community of alumni are living proof that achieving your educational dreams can be achieved. If you're ready to take the next step, reach out to a CTU Admissions Advisor who would be happy to assist you.
---
1 intellipath® is not available for all courses.
2 Transfer credit is evaluated on an individual basis. Not all credits are eligible to transfer. See the University Catalog for transfer credit policies.
3 CTU programs are ranked among U.S. News & World Report's 2022 Best Online Programs.
4 Financial aid is available for those who qualify. University grants or scholarships are based on established criteria as published in the University's Catalog or on its website and are awarded after verification that the conditions of eligibility have been met.
CTU cannot guarantee employment, salary, or career advancement. Not all programs are available to residents of all states.
REQ1511859 2/2020
*The ability to reduce time in school and/or reduce tuition towards the full cost of a degree program depends on the number of CTU Fast Track™ exams successfully passed. Fast Track program credits are non-transferable. Not all programs are eligible for possible 30% reduction in time and money. Courses eligible are subject to change. Students should not rely on potential Fast Track savings or eligibility when making an enrollment decision.