MSN - Family Nurse Practitioner
MSN - Family Nurse Practitioner
Are you interested in becoming a family nurse practitioner, working to develop your skills in taking patient history, physical examination, diagnostic testing, diagnosis, and treatment?
Employment of advanced practice nurses, including nurse practitioners, is projected to grow 45 percent from 2019 to 2029, according to the Bureau of Labor Statistics (BLS).1 These opportunities for NPs are expected to help bridge the gap of the primary care shortage facing America by offering high-quality, cost-effective, patient-centered health care.2
CTU's Master of Science in Nursing-Family Nurse Practitioner (MSN-FNP) program is designed to help you advance your skills in this fast-paced field.
The program integrates a foundation of evidence-based practice, population health, policy, informatics and nursing theory with concentration courses in pathophysiology, pharmacology, and assessment. Students will receive hands-on instruction during weekend labs in Colorado at the start and end of the program.
The MSN-FNP prepares nurses for advanced licensure and to sit for the national certification exam. Certification exam applicants may be denied exam eligibility based on a past criminal record.
Highlights of the CTU's MSN-FNP program:
Can be completed in as little as 24 months
Tuition starting at $36,720
Complete your 630 direct-care clinical hours in your community (if available)
Aligned to nursing industry standards and competencies
Programmatically Accredited3
Ranked Among the Best Online Nursing Programs
CTU's online Master of Science in Nursing degree programs are ranked among the Best Online Master's in Nursing Programs by U.S. News & World Report for the fifth consecutive year.*
1 Bureau of Labor Statistics, U.S. Department of Labor, Occupational Outlook Handbook, Nurse Anesthetists, Nurse Midwives, and Nurse Practitioners, at https://www.bls.gov/ooh/healthcare/nurse-anesthetists-nurse-midwives-and-nurse-practitioners.htm (visited February 08, 2021). This data represents national figures and is not based on school-specific information. Conditions in your area may vary.
2 https://www.aanp.org/all-about-nps/what-is-an-np#why-nps-are-important
3 The Master of Science in Nursing degree program at Colorado Technical University is accredited by the Commission on Collegiate Nursing Education (www.ccneaccreditation.org).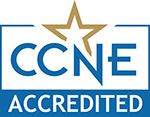 Nursing Program FAQs
CLASSES START
April 04, 2023
May 09, 2023
June 13, 2023
Estimate Tuition and Grad Date

Total tuition for this degree program will vary depending on your educational needs, existing experience, and other factors..

Estimate your costs, potential savings and graduation date

Degree Requirements

| Course Title | Course Description | Credit Hours |
| --- | --- | --- |
| NRSG612 | Integrating Theory and Research for Evidence-Based Practice | 4 |
| NRSG615 | Healthcare Informatics and Technologies | 4 |
| NRSG617 | Policy and Politics in Nursing and Healthcare | 4 |
| NRSG625 | Promoting and Preserving Health in a Diverse Society | 4 |
| | Total Credit Hours: | 16 |

Courses - Concentration

Credits

| Course Title | Course Description | Credit Hours |
| --- | --- | --- |
| NRSG650 | Advanced Pathophysiology for the Nurse Practitioner | 4 |
| NRSG651 | Advanced Pharmacology for the Nurse Practitioner | 6 |
| NRSG652 | Advanced Physical Assessment for the Nurse Practitioner | 4 |
| NRSG653 | Advanced Physical Assessment for the Nurse Practitioner Lab | 2 |
| NRSG654 | Role of the Nurse Practitioner | 3 |
| NRSG655 | FNPI Advanced Nursing Practice: Care of the adult, geriatric and frail elderly | 6 |
| NRSG656 | FNPII Advanced Nursing Practice: Women's Health | 2 |
| NRSG657 | FNPIII Advanced Nursing Practice: Pediatrics | 2 |
| NRSG660 | FNPI Practicum: Advanced nursing care of the adult, geriatric and women patients | 8 |
| NRSG661 | FNPII Practicum: Advanced nursing care of the pediatric patient | 6 |
| NRSG662 | FNPIII Practicum: Advanced nursing care across the lifespan | 7 |
| NRSG663 | FNPIII Advanced nursing care across the lifespan, Lab | 2 |
| | Total Credit Hours: | 52 |

Total Credit Hours: 68

Compare Related Areas of Study

Compare up to three additional degrees

Ways to Save

Cost of this degree may be reduced based on one or more of the following:

Outcomes

MSN Program Outcomes

Synthesize knowledge from nursing and a variety of sciences in diverse settings for the purpose of improving nursing care.
Apply organizational and systems leadership concepts to promote quality patient care.
Evaluate performance improvement processes designed for the purpose of providing quality patient care.
Apply research outcomes and evidence-based practice to recommendations for improved patient care.
Synthesize health policy processes established for the advocacy of quality healthcare.
Integrate interprofessional collaboration to the management of patient and population health outcomes.
Apply organizational, client-centered, and culturally appropriate concepts to clinical prevention and population care to identified populations.

MSN – Family Nurse Practitioner concentration outcomes:

Integrate technology in patient care management to improve health outcomes.
Operate as an independent practitioner in the management of healthcare for patients across the lifespan.
Formulate ethical plans of care which incorporate knowledge from current research, clinical guidelines, practice and assessment to improve health outcomes.
Employ complex and advanced leadership skills in guiding change to improve health outcomes.

Admission Requirements

Admission to this program requires an unencumbered license to practice as a Registered Nurse (RN) in the United States. All students must maintain this licensure throughout the program of study.
Students must have graduated with a Bachelor of Science in Nursing (BSN) degree from a regionally accredited institution. A cumulative grade point average (CGPA) of 3.0 for the last 90 quarter (60 semester) hours of study undertaken for full acceptance into the program.
Prior to starting the nursing program all applicants must submit an unofficial or official copy of a college transcript from their BSN degree for review. Applicants to the Master of Science in Nursing degree program who meet all general admission requirements, but who have a CGPA for the BSN degree between 2.75 to 2.99 for the last 90 quarter (60 semester) hours of study, may be granted provisional admission. Students must successfully complete their first two MSN courses with a minimum of 3.0 GPA to be granted full admission to the nursing program or be administratively withdrawn.
Students in the MSN-FNP concentration must successfully complete NRSG612 first before advancing to other courses in the MSN program. No other program courses may be taken prior to NRSG612.
Students must have a minimum of one year of recent direct care nursing experience prior to admission to the program.
Provide a current résumé.

At this time, Colorado Technical University cannot accept inquiries for the Master of Science in Nursing - Family Nurse Practitioner program from residents of the states of Alabama, Alaska, Arizona, California, Delaware, Louisiana, Massachusetts, Minnesota, Nevada, New Hampshire, New York, North Dakota, Oregon, South Dakota, Tennessee, Utah, Washington, West Virginia, Wyoming.

Next Steps

Where do I go from here?

Choosing to continue your education is a big decision and we're here to help. Choose one of the options below to get started.

Submit your details and speak to an admissions advisor within the next day:

Submit a no-fee online application. An advisor will get in touch after your application is received to schedule an interview (required before enrolling):
Program details are provided lower on the page.
Classes start April 4, 2023 *
*Start dates may vary by program and location.