Convenient Online Graduate Degree Programs
If you're looking for online graduate school programs that combine convenience, academic rigor, and the ability to connect with fellow students and faculty from across the country, then you've come to the right place. Colorado Technical University offers online graduate degree programs that are built to be flexible so that busy adults can fit classes and coursework into their existing lives. CTU offers online graduate programs at both the master's and doctoral levels, and many of our programs allow you to choose a concentration and/or preferred attendance option (online, hybrid, or on-campus), providing a number of opportunities to pursue an online graduate degree that fits your unique interests and goals.
Program details are provided lower on the page.
Get More Details
Complete the form and:
An admissions advisor will contact you shortly

Get scholarship and financial aid information
Learn about specific degree programs
Benefits of CTU's Online Graduate Degree Programs
Colorado Technical University's online graduate degree programs are fully accessible via our proprietary Virtual Classroom and CTU Mobile platforms, which help ensure you're never more than a few clicks away from accessing the latest class announcements, your to-do lists, lectures, assignments, grades, and more. Our programs offer even more benefits, such as:
Convenient and flexible online graduate degree programs designed to fit around your schedule
Our intellipath® learning tool that can help identify what you already know and anticipate what you're ready to learn, letting you instead focus on something new1
Transfer-in up to 75% of the credits required to complete your graduate degree program2
Our Master's Advantage™ and Doctoral Advantage programs can allow students to substitute two courses in their current level of study (i.e., bachelor's or master's) for two higher level courses (i.e., master's or doctoral)
Career development tools and resources, the opportunity to build your network, and Student Success Coaches who are available to offer advice and guidance to current and former students
Military education benefits are available to eligible individuals and their families, helping you save money on earning your graduate degree
CTU's Master's and Doctoral Programs
Earning a graduate degree could help open up opportunities in the real world that might not otherwise be available. Colorado Technical University offers online graduate degrees in an array of subject areas and concentrations:
Business Administration
CTU's Master of Business Administration program is accredited by the Accreditation Council for Business Schools and Programs (ACBSP), is offered in 12 concentrations and a general track, and can be completed in as few as 12 months. Concentrations in accounting, data analytics, finance, global leadership, logistics management, and technology management are offered in fully online formats. Online, hybrid, and traditional attendance options are available for concentrations in entrepreneurship, healthcare management, human resource management, marketing, operations supply chain management, project management, and the general track.
Computer Science
CTU offers fully online graduate degree programs in computer science at the master's and doctoral levels. For those with a background in computer science, our Master of Science in Computer Science program provides an opportunity to study operating systems, network architecture, and software system engineering processes. The concentration in cybersecurity engineering is available online, while the concentration in software engineering and the general track may be taken as traditional, hybrid, or online graduate programs. Students in this master's program may be able to participate in CTU's Doctoral Advantage program, which makes it possible to earn your doctoral degree in computer science—offered in two concentrations and a general track—in less time.
Criminal Justice
Current professionals in the field of criminal justice who would like to broaden their knowledge of policymaking, planning, and decision-making in order to help them pursue more advanced leadership roles should explore our Master of Science in Criminal Justice program. The concentration in homeland security is offered as a fully online program, while the general track offers the option to take your graduate classes online or at one of our Colorado campuses.
Healthcare Management
CTU's online Master of Science in Healthcare Management program is designed help students hone their strategy-development skills as well as lay the foundation for utilizing healthcare management and leadership principles to impact the delivery of quality health care. This online graduate degree program covers a range of industry-relevant topics, from human capital to strategic planning to policymaking, and beyond, and can be pursued as a general track or with a concentration in informatics.
Information Technology
CTU's Master of Science in Information Technology program exposes students to the challenges, and the management of those challenges, that are faced by modern enterprises. Online graduate courses may vary depending on whether the general track or a concentration in network management or security management is chosen, but in all cases, this master's program is built to allow students to develop the required strategic and technical skills for designing, building, integrating, and managing IT systems.
Management
If you're interested in developing the skills needed to pursue careers in modern technical management roles, then CTU's online graduate programs in management could be right path forward for you. Our Master of Science in Management curriculum aligns with the American Management Association's professional standards and is offered in a general track and six concentrations. Our online Doctor of Management program is designed for management professionals and is offered in 10 concentrations and a general track. This online doctoral program provides an opportunity for students to enhance their strategic-thinking skills and existing management capabilities with the aim of developing a more robust leadership style suited to taking on higher levels of responsibility in their fields.
Nursing
CTU's online graduate programs in nursing are designed by nurses and are open to actively licensed Registered Nurses (RNs). Our Master of Science in Nursing program is an online graduate program and is programmatically accredited.3 Students pursuing their MSN must already possess a bachelor's degree in nursing. This program is offered in three concentrations (family nurse practitioner, nursing administration, and nursing education) and can be completed in 18 to 24 months. We utilized the American Association of Colleges of Nursing's The Essentials of Doctoral Education for Advanced Nursing Practice (2006)4 in the development of our practice-focused, online doctoral program in nursing, which is designed to help students build the skills and know-how they'll need to pursue more advanced leadership roles in nursing administration. Similar to our master's program, those pursuing the Doctor of Nursing Practice must already possess a master's in nursing. This fully online doctorate program can be completed in 21 to 27 months.5
Online Degree Programs—Admissions Overview
All students applying to Colorado Technical University's graduate programs must participate in an interview with an Admissions Advisor and submit an online application. CTU accepts bachelor's degrees earned with a minimum cumulative GPA of 2.0 (on a 4.0 scale) and master's degrees earned with a minimum 3.0 GPA (on a 4.0 scale) from accredited U.S. institutions of higher education. For Doctor of Management and Computer Science programs, official transcripts must be submitted that verify completion of an accredited master's degree program in a related discipline. A resume containing at least five years of work experience and an essay are also required. CTU's online graduate degree programs have no GRE or GMAT requirements. Complete details can be found in the University Catalog.
CTU's online graduate programs in nursing have their own distinct requirements for admission—please refer to the Specialized Admission and Graduation Requirements section of the University Catalog for specific requirements and details.
Accredited Graduate Programs
Not all graduate school online programs are the same, and it can be important to know whether your school is accredited. Colorado Technical University is institutionally accredited by the Higher Learning Commission (hlcommission.org). We offer on-campus/online graduate programs in business, which are accredited by the Accreditation Council for Business Schools and Programs (ACBSP), and our Master of Science in Nursing is programmatically accredited by the Commission on Collegiate Nursing Education (http://www.ccneaccreditation.org).
CEO Magazine has ranked CTU as a Tier One North American MBA School and Top Ten Global Online MBA School. U.S. News & World Report has ranked Colorado Technical University's online graduate degree programs on many of its "Best" lists,* including:
Best Online Master's in Criminal Justice Programs (9th consecutive year)
Best Online MBA Programs (8th consecutive year)
Best Online Master's in Business Programs—Excluding MBA (8th consecutive year)
Best Online Master's in Computer Information Technology Programs (9th consecutive year)
Best Online Master's in Nursing Programs (5th consecutive year)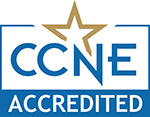 Ways to Complete Your Graduate Degree Program in Less Time
CTU's Master of Business Administration program can be completed in one year or less, and many of our master's degree programs can be completed in 18 months. Doctorates in computer science and management are typically earned in three years, while the doctorate in nursing is typically completed in 21 to 27 months. Multiple factors can affect program length, however, including transfer credits, and work, life, and military experience.
Transferring-in credits is one way to cut down on the time needed to complete your online graduate degree. Students can transfer-in up to 75% of eligible credits toward a degree program.2 Current and former military members can translate their military experience into course credit. Students who submit a successful Experiential Learning Portfolio (ELP) to demonstrate how their prior, non-collegiate experience meets the objectives of a particular online graduate course can also earn course credit to help them graduate sooner. And with our Doctoral Advantage Program, CTU master's program students may be able to substitute up to two doctoral courses for two master's courses, allowing them to complete their doctoral program up to 10 weeks faster.
Spend Less on Your Degree Program
We understand that many students are concerned about the costs of online graduate school programs, which is why we offer programs that can help you save time and money. Colorado Technical University offers institutional scholarships and grants, which do not need to be paid back, and many students may qualify for outside sources of financial aid. Transferring-in credits, creating an Experiential Learning Portfolio, and receiving online graduate course credit for military experience are great ways to help you save on the cost of your education. Our tuition and graduation date calculator can show you how various credit programs could affect your total tuition and expected graduation date.
Why Graduate Students Choose CTU
Going back to school can be a scary prospect, but Colorado Technical University's flexible online graduate programs are built to be accessible and convenient. Students at CTU have many different motivations for pursuing their graduate degree programs online. Many are working adults with families and financial responsibilities who want to pursue more advanced professional roles or a new career path without necessarily giving up their current career or upending their entire life. Others may have pursued online graduate certificate programs to learn more about a particular field of study and have decided to take the next step and pursue a full-fledged graduate degree. No matter what the reasons for going back to school, students in our graduate programs have a number of resources and a strong support network of faculty and students to help make it easier to stay the course. Even though your classes don't necessarily take place in a physical classroom, we offer award-winning online tools that make it possible to stay connected to your online graduate courses, fellow students, and faculty, so that you don't feel like you're out there on your own. At CTU, it's possible to go back to school and pursue a graduate degree online without sacrificing the life you've built.
---
1 intellipath® is not available for all courses
2 Transfer credit is evaluated on an individual basis. Not all credits are eligible to transfer. See the University Catalog for transfer credit policies.
3 The Master of Science in Nursing degree program at Colorado Technical University is accredited by the Commission on Collegiate Nursing Education (http://www.ccneaccreditation.org).
4 http://www.aacnnursing.org/Portals/42/Publications/DNPEssentials.pdf
5 This doctoral degree program can be completed in 21–27 months, depending on the number of clinical hours that need to be completed; however, many factors will impact your time to completion, including course loads, proficiency and/or, transfer credits and breaks.