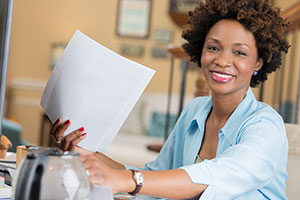 Returning to school as an adult student can be a significant life event. This new phase has the potential to move your career in a new direction or to help transition your current job into a new role. However, during this change, you may need to make adjustments in your life to commit to your studies, whether you study online or on-campus.
As you prepare to further your education in your chosen field and build new connections with people from different backgrounds, consider the following tips to help support the transition:
1. Establish realistic goals.
There is nothing wrong with setting high expectations for yourself. But, there are factors you should consider as you define your educational goals. As an adult student, you may balance a job and family obligations while completing your degree. Each responsibility can consume your time and attention. To help prevent added stress or disappointment, set achievable and measurable goals to facilitate your academic progress. At the start of a new session, establish daily, weekly, and monthly goals, and rank any tasks you must complete within those timeframes. At the end of a session, reassess your goals to identify and resolve any problems you encountered.
2. Form a system and make a schedule.
As you plan your weeks, be mindful of how much time you need for reading, research, and assignment preparation along with work and family commitments. A visual aid, such as a calendar on your phone, whiteboard, or spreadsheet, can help you organize and track due dates for assignments, quizzes, and exams, as well as your work schedule and family or social commitments. Once you have a system in place, you may find you're less likely to forget an obligation and can also plan ahead.
3. Fine tune your study skills.
Effective note-taking and organizational skills are fundamental elements of academic growth. Note-taking encourages you to actively listen to your instructor during a lecture or to read and organize text material. The act of taking notes via pen and paper can even support your ability to recall and understand information better.1
Outlining is one note-taking method you might use when learning, studying or researching a topic that covers several details. Outlining can also help you build connections between topics and subtopics.2
The SQ3R comprehension strategy is another studying technique you might use as you read and review course material. SQ3R, which means survey, question, read, recite, and review, challenges you to think about what you're reading and to check your understanding of the material as you read.3
Not every method works for every person. So, during your journey as a student, try different study strategies to determine which one works best for your learning needs.
4. Learn how to locate information.
To enhance your understanding of your field of study, your class instructor may assign work that requires further analysis and investigation of a topic. As part of the research process, and to differentiate between popular and scholarly sources, you will need to pinpoint main ideas, use keywords to find information related to your topic, and examine the information you find. If you aren't familiar with online research tools or the databases used to get access to library resources, consult a librarian, peer, or instructor for help. When you know how to find research materials and identify keywords, you may be able to curb moments of procrastination and frustration.
5. Establish a peer network.
You can grow your social network through the connections you make as an online or campus student. Virtual students, for example, might foster relationships in online learning programs by engaging with classmates in class discussion boards. When you develop a network of peers, you also develop a support system of people with whom you can discuss assignments, collaborate on challenging discussion thread topics, share references or swap notes. You might even exchange personal contact details to communicate via email text messages or social media platforms.
6. Persist with an "I can-do-it" attitude and seek help when needed.
College success requires confidence, dedication, and a strong work ethic—all qualities you have as an adult student with work and life experiences. But, if times get tough, remember the university's student advising team is available to help. Advisors are available to help you manage your educational pursuits while balancing work and family life, and can offer you academic skills guidance to support your transition.
Are you interested in finding out more about enrolling at CTU? Contact our admissions advisors at 855-230-0555.
---
1. Muller, Pam A., and Oppenheimer, Daniel M. "The Pen Is Mightier Than the Keyboard: Advantages of Longhand Over Laptop Note Taking." SAGE Journals. Published April 23, 2014. Accessed February 18, 2019. https://journals.sagepub.com/doi/abs/10.1177/0956797614524581
2. "How to Take Study Notes: 5 Effective Note Taking Methods." Oxford Learning. Accessed February 18, 2019. https://www.oxfordlearning.com/5-effective-note-taking-methods/
3. "SQ3R: Survey-Question-Read-Recite-Review." AdLit.org. Accessed February 18, 2019. http://www.adlit.org/strategies/19803/