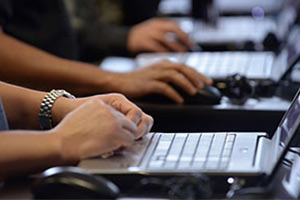 Online learning has surged in popularity over the last decade in response to growing demand from a 21st century workforce for quality, flexible degree programs. Findings from a recent study on online learning showed a thirteenth consecutive year of growth in online enrollments.1 Students across the world are connected 24/7 in online classrooms and are benefitting from lower program costs and more flexible schedules that tend to come with online learning programs than those offered at traditional brick-and-mortar education. Also, the cost of providing online programs tend to be lower than on-campus programs. According to Clayton Christensen of Harvard Business School, online learning programs are a "disruptive technology" that could eventually impact the viability of inefficient brick-and-mortar education programs.2
A popular misconception is that students in an online environment lack interaction with their classmates, but the reality is that just as we can take advantage of convenient, technological advancements to communicate and build relationships in our daily lives so can students in their online courses. Online students are simply behaving in sync with this paradigm shift made possible by new technologies such as smartphones, webcams, synchronous conferencing apps and more. While a lack of physical proximity may hinder the "instant" attachments students may form in an on-campus, face-to-face setting, with a little effort and good communication habits, online students can form relationships that could serve them well both while they're in school and after they graduate. Here are a few tips on how to build relationships while taking online courses.
Get personal.
At the beginning of a course, there are usually online introductions. It's okay to let your guard down a little bit and share some personal information. Challenge yourself to be authentic. Appropriate posts about your background, hobbies, interests, career aspirations, work experience and family can spark interest from your classmates; and of course be sure to express an interest in your classmates in return. Keep in mind too that if other students seem hesitant, your lead might help others feel more comfortable posting, which could ultimately lead to a more dynamic course experience.
Be respectful.
Start your online class with a positive, professional attitude, especially toward your fellow classmates. When students are respectful of each other, they can help encourage open, responsive postings. Here are some suggestions:
Address classmates in a reply post by leading with their first names to personalize your communication.
Remember, your instructor and classmates do not know you in person; you want to ensure your words clearly communicate your intent — avoid sarcasm, dark humor or other nuances that could be misconstrued without the aid of body language and facial expressions.
Don't use emojis and exclamation points, which can make your responses seem unprofessional and/or cause your comments to be misinterpreted.
Engage with your peers.
During the course, set up message boards and email lists with your classmates. Sometimes your instructor will include information on how to do this since participation on course message boards can be part of course grade requirements.
Find something interesting about the coursework, ask a question or share an opinion. This demonstrates your willingness to interact with others and can keep the momentum going. Most online students report the course experience is greatly enhanced by student participation. Also, according to a recent review of research studies on the impact of discussion board use in higher education courses, the level of familiarity and relatedness students have with their peers, environment and discussion topics leads to higher-level peer interactions.3 In such higher-level interactions, students feel a sense of community and devote time to the discussion and engaging with their peers.
Another good idea: take advantage of life online. Thanks to technology, you can create multiple opportunities to communicate with your classmates via social media, email and any number of internet platforms such as Google+ Hangouts and Facebook groups. Many students take advantage of Skype and form study groups online where communication is in real time. All of these tools can help make it easy to sustain lasting relationships with your classmates, and these relationships may come in handy when you're networking after graduation.
Keep in mind that one of the nice things about forming relationships online with your fellow students is that relationships can grow. Over time, those initial interactions may result in more and more students participating, increasing the sense of connection between classmates.
Participate daily.
Schedule time to log in daily within each course and look for new information. Instead of completing all discussion board posts in one day, spread your initial posts and replies throughout the week. This facilitates continuity and mimics the natural exchange and relationship-building that would occur during an in-person conversation. In addition, make sure you're posting quality questions and engaging in dialogues in a meaningful way. You want your fellow students (and your professor) to take you seriously.
Be active outside of the classroom.
Due to the growth in online education programs, many colleges and universities are now offering online activities outside of the classroom such as debate clubs, book clubs and other discussion groups. Find something that sounds interesting and join. It's easier to make friends within a like-minded group of people.
Create the experience you want.
The main factor in your online learning experience is you. When you actively participate and create relationship opportunities, you'll be working to meet your learning goals and building a meaningful network along the way.
Learn about what online courses are like.
See CTU's online degree programs offerings.
---
1. Online Learning Consortium. (2016 February 9). "Babson Study: Distance Education Enrollment Growth Continues." Online Learning Consortium. Retrieved from https://onlinelearningconsortium.org/news_item/babson-study-distance-education-enrollment-growth-continues-2/ (Visited 4/12/17).
2. "The Digital Degree." Retrieved from http://www.economist.com/news/briefing/21605899-staid-higher-education-business-about-experience-welcome-earthquake-digital (Visited 4/14/17).
3. Zhou, Hong. "A Systematic Review of Empirical Studies on Participants' Interactions in Internet-Mediated Discussion Boards as a Course Component in Formal Higher Education Settings." Retrieved from https://olj.onlinelearningconsortium.org/index.php/olj/article/download/675/163 (Visited 4/14/17).