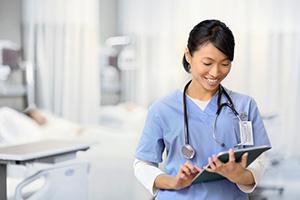 The three top nursing degrees include an Associate in Nursing (ADN), Bachelor's in Nursing (BSN) & Master's in Nursing (MSN). Different types of nursing jobs will require different levels of education.

What exactly is the difference between an LPN license, an RN license, and a BSN degree? If you're looking into a possible career in nursing, you've probably realized that there are several different types of nurses, each of which has their own set of common responsibilities and educational requirements.

Different types of nursing jobs don't just qualify you to administer varying levels of medical care—LPNs, RNs, and BSNs all have their own average salary ranges and projected growth, as well as distinct advantages depending on the type of work you want to do. Below we outline the key differences between LPNs, RNs, and BSNs, the different credentials and certifications required by each, and any relevant job projection data from the Bureau of Labor Statistics.
LPN (Licensed Practical Nurse)
Licensed practical nurses (also called licensed vocational nurses in some states) help registered nurses and physicians by measuring vital signs, monitoring patient conditions (and changes in condition), and providing basic bedside care for sick or injured patients. This may include collecting samples for lab tests, administering injections or other medications, dressing wounds, bathing, and feeding. Experienced LPNs may help supervise nursing assistants and other LPNs, as well as assisting physicians with delivery and subsequent newborn care.
Education/Degree Required
No college degree is required to get a position as an LPN, but you must first obtain a license by passing the National Council Licensure Examination for Practical Nurses (NCLEX-PN) in your state. In order to take this exam, you are required to complete a state-approved training program, which typically takes about 1 year and involves some level of clinical experience.
Experienced LPNs can enroll in LPN-to-RN bridge programs in order to get their registered nurse certification.
Advantages/Job Outlook
In 2012, the median annual pay for LPNs was $41,540. Projected job growth was faster than the national average, with employment expected to grow by 182,900 jobs through 2022 (an increase of 25%). Many of these jobs are expected to be in nursing/residential care facilities and home health care.1
RN (Registered Nurse)
Registered nurses are often more involved in gathering information on patients' medical histories, performing and analyzing lab work and other tests, and administering various treatments and medication. In addition to providing enhanced patient care, RNs often work with patients and their families to educate them about various health conditions and treatment plans.
Some RNs work closely with physicians to aid in the creation of treatment plans, while others specialize in a particular area of treatment or patient demographic. The key difference between an LPN and an RN is that a registered nurse is more involved in determining the course of care for a patient, and in some cases, RNs will supervise LPNs.
Education/Degree Required
At minimum, you need an associate degree in nursing (ADN) or a diploma from an approved nursing program in order to become a registered nurse. These programs typically take 2-3 years to complete and should include a supervised clinical component (usually in a local hospital). Following completion of one of these programs, you must obtain your license by passing the National Council Licensure Examination for Registered Nurses (NCLEX-RN).
Many RNs decide to go back to school to get their bachelor of science in nursing (BSN). These RN-to-BSN programs can qualify you for additional positions, including some administrative and research work.
Advantages/Job Outlook
In 2012, the median annual pay for a registered nurse was $65,470, and the Bureau of Labor Statistics projected jobs in the field to grow by 19% over the next 10 years. At the time of that data collection in 2012, 61% of existing RN jobs were in hospitals, though smaller percentages of positions worked in nursing and residential care facilities, doctors' offices, and in home health care settings.2
BSN (Bachelor of Science Degree in Nursing)
A BSN is not technically a different nursing position, but rather a higher-level degree leading to a position as an RN. While you can become a licensed RN after successfully passing NCLEX, you can only earn a BSN at an accredited college or university. A Bachelor of Science in Nursing typically takes 4 years to complete, though there are RN-to-BSN programs for those who are already working as licensed RNs.
Advantages/Job Outlook
The advantages of pursuing a BSN from the start—or going back to school if you already have your ADN—typically involve the types of positions and responsibilities for which you qualify. Registered nurses with a BSN are often able to move into higher administrative positions, work alongside physicians conducting research, and sometimes hold clinical teaching positions. Holding a BSN also enables you to pursue a number of advanced nursing positions with additional schooling and certification, including clinical nurse specialists (CNS) and nurse practitioners.
The Institute of Medicine recommends that the number of registered nurses with BSNs increases to 80% by 2020, citing an increase in patients seeking care and an older patient base.3
Considering going back to school for a BSN? Learn more about how to receive credit for prior experience: Download our sample Experiential Learning Portfolio.
---
Colorado Technical University cannot guarantee employment or salary. Find employment rates, financial obligations and other disclosures at https://www.coloradotech.edu/financial-aid/student-disclosures. Financial aid is available for those who qualify.