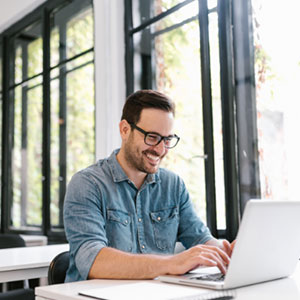 Here are some big numbers: According to the National Center for Education Statistics, more than 1 in 10 postsecondary schools offer primarily online courses, 15% of all college students attend schools mostly online,1 and, in 2020, 5.4 million students took at least one online course.2
If you're among this ever-increasing number of students, you've undoubtedly noticed some differences between online classrooms and in-person ones. In an online setting, for example, rather than verbally answering questions, students often do so via text in a discussion board accompanying the lecture. And, of course, students are participating from different locations, which, while offering tremendous flexibility, also opens up the possibility for more background distractions.
Because of these differences, participating in online learning sometimes takes a little getting used to. The following are some science-backed3,4 tips explaining how to practice proper online classroom etiquette to foster engagement, respect, and effective communication.
Act Like You Do in Person



Since you may be logged on from a more casual setting like your kitchen or home office, and because you're not face-to-face with your instructor and other students, it's easy to forget that the rules of in-person interaction apply. In other words, things that are inappropriate in a regular classroom are probably inappropriate online too.

For example, if your phone rang in a traditional classroom, you'd probably quickly silence it, not answer it like you might be tempted to at home. Also, eating in class is often frowned upon in person, so try not to do so online either as it can be distracting. In addition, be appropriate with your attire. Wearing pajamas, for instance, can make it seem like you're not taking the class seriously.

It's also important to always use respectful language and tone. When interacting in person, gestures, tone of voice, and facial expressions help clarify your message. When posting text on a discussion board, that's not the case and it may be easy for others to infer meaning that you didn't intend. Choose your words carefully, and, if in doubt, use the more polite option. No one will fault you for being too nice.

Lastly, just like you would in person, use your real name. Logging in with a casual online handle, can make it seem like you're taking the class lightly. Or, your instructor may not recognize you to let you into the room and record your participation and attendance.

Practice Good Netiquette

Netiquette refers to the unwritten etiquette rules for communication in online courses, virtual study groups, or any other online community. Some guidelines include being concise in your message, exercising judgment when using emojis, and not using excessive capital letters which sometimes is considered shouting.

In addition, avoid using offensive language or personal attacks, just like you would in person. A good rule of thumb is that if you wouldn't say it to someone in the room with you, you probably shouldn't say it online.

Also, be mindful of your grammar and punctuation. Poor punctuation or phrasing can lead to miscommunications or unintentionally offending a classmate.

And, of course, be sure to follow any specific etiquette rules or preferences your instructor clues you in on as the class progresses.

Be on Time and Ready



Just like you would in an in-person class, be punctual and prepared. Have plenty of desk space for note taking and have any materials you need close by. You never know when your instructor might call on you!

Keep in mind, too, that technology can cause unexpected complications. Always check your connection in advance, make sure you have all necessary login information, and have a back-up plan in case you accidentally get kicked offline.

It also never hurts to have questions written down in advance. Often instructors allow time for questions before the session begins. Chiming in with inquiries then, rather than later, mid-lecture or mid-conversation, can help keep the class running smoothly.

Listen Up



Just like in an in-person setting, online students are expected to be engaged and practice active listening. Keep your camera on if possible. Also be sure to participate in discussions, ask thoughtful questions, and respond when your instructor asks for opinions and input.

Active listening also means taking notes, paraphrasing the speaker's key points when responding, and showing respect by not interrupting.

On top of this, it's important to be mindful of your nonverbal cues. Nodding your head, having an attentive posture, and using facial expressions to show understanding or interest indicates to the speaker that you're engaged and encourages them to continue.

Emojis (Can Be) Your Friends



As stated above, you should use emojis judiciously in the classroom, as they can clarify tone, but also be misinterpreted. That said, there are several emojis that can be helpful in a classroom setting. "Raise hand," "yes," "no," "like," "clap," and "away," are some examples. And of course, make sure you understand all possible interpretations of an emoji before using it.
If you follow the advice above, you'll be on your way to creating a positive learning experience in your online classrooms.
Learn more about CTU's many exciting online degree programs.
---
1 Table 311.33. Selected statistics for degree-granting postsecondary institutions that primarily offer online programs, by control of institution and selected characteristics: Fall 2020 and 2019-20. NCES. (Visited 9/2023).
2 Table 311.15. Number and percentage of students enrolled in degree-granting postsecondary institutions, by distance education participation, location of student, level of enrollment, and control and level of institution: Fall 2019 and fall 2020. National Center for Education Statistics (NCES). (Visited 9/2023).
3 Oza, Preeti, Digital Etiquette in Online Teaching Learning (September 13, 2022). Available at SSRN: https://ssrn.com/abstract=4217177 or http://dx.doi.org/10.2139/ssrn.4217177
4 Hammond, Tracy; Lightfoot, Robert; Ray, Samantha; Thomas, Shawna (2020). Creating and Implementing an Online Course Etiquette Appreciative Agreement: Recommendations and Insights For Updating Course Material and Social Expectations to Aid in the Transition to Online Learning During the COVID-19 Pandemic. https://oaktrust.library.tamu.edu/handle/1969.1/188237