Online Master's Degree Programs
CTU's On-Campus and Online Master's Degree Programs
Colorado Technical University's on-campus and online master's degree programs are designed with flexibility and convenience in mind, making it easier to take your education to the next level without putting your busy life on hold. Students here benefit from our faculty's real-world experience, knowledge, and familiarity with industry-relevant trends and challenges within their respective fields. We offer more than 30 online master's programs in a variety of subject areas, from business to nursing to information technology and beyond, and many of our programs can also be taken as hybrid or traditional programs at our Aurora (Denver area) and Colorado Springs campuses.
Benefits of CTU's Master's Degree Programs
Traditional, hybrid, and online master's degree programs can allow you to fit classes and coursework around your busy schedule
CTU's intellipath® learning tool can help recognize what you already know and anticipate what you're ready to learn,1 allowing for a more personalized educational experience
With CTU Mobile and CTU's Virtual Classroom, you can access course assignments, use our extensive online library, listen to live chats, read discussion boards, track your grades, and more, whenever and wherever you have an Internet connection
Qualifying students may be eligible to transfer-in up to 75 percent of the program credits required to complete their master's degree program2
Our Doctoral Advantage Program allows qualifying students to substitute up to two graduate courses for two undergraduate courses
Current and former military members (and their families) may be eligible for a variety of military education benefits that could help cover the cost of on-campus and online master's degree courses and textbooks
Current students and alumni have access to career-search tools and resources, networking opportunities, and Student Success Coaches who are available provide career advice and guidance
Business & Management
Master of Business Administration (MBA)
Colorado Technical University's Master of Business Administration program is designed for professionals who wish to further develop skills needed to meet business challenges in the real world. Our MBA program, accredited by the Accreditation Council for Business Schools and Programs (ACBSP), can be completed in as few as 12 months, and is offered in 9 concentrations and a general track so that you have the freedom to focus your business studies on the area that best suits your interests. Concentrations in accounting, data analytics and finance are offered as fully online master's degree programs, while concentrations in entrepreneurship, healthcare management, human resource management, marketing, operations supply chain management, project management, and the general track are available in traditional, hybrid, and online attendance options.
Master of Science in Management
Today's global business environment provides a number of opportunities for individuals who can lead and manage technical initiatives and business operations. By earning a Master of Science in Management at CTU, you could work to acquire skills to help you succeed in modern technical management professional roles. Core courses cover research methods, leadership, managerial decision-making, and operations management, all with respect to the mission and vision of organizations, and the curriculum aligns with the professional standards of the American Management Association. With five concentrations and a general track, you can choose which management program best fits your career aspirations, current job responsibilities, or general interests.
Engineering & Computer Science
Master of Science in Computer Science
From software engineering to network security to database analysis, computer science specialists possess a diverse set of skills that can be utilized across a range of industries. Colorado Technical University's Master of Science in Computer Science program is designed to provide students who already possess a solid background in computer science with an opportunity to advance their understanding of operating systems, network architecture, and software system engineering processes. We offer fully online master's programs with a concentration in cybersecurity engineering as well as online, hybrid, or traditional attendance options for the software engineering concentration and the general track.
Healthcare
Master of Science in Healthcare Management
The Master of Science in Healthcare Management program is offered either as a general track or with a concentration in informatics. Students pursuing this online master's degree can explore how to develop strategies for delivering quality healthcare using principles of healthcare finance, marketing, and economic indicators, and they are encouraged to utilize healthcare management and leadership principles to influence the delivery of quality health care. The MSHCM curriculum covers a range of key subjects including human capital, finance, information systems, strategic planning, policymaking, ethics, and legal and regulatory principles.
Information Technology
Master of Science in Information Technology
Students pursuing a Master of Science in Information Technology at CTU have an opportunity to explore the increasing challenges faced by enterprises and the critical information technologies that are used to manage those challenges. The program provides coverage of various skills students may need to develop IT strategies that are in alignment with an enterprise's business goals and processes, and to help them develop the technical and strategic leadership skills necessary to design, build, integrate, and manage information technology systems. Students in this Master of Science online program can choose from concentrations in network management or security management or opt for the general track instead.
Nursing
Master of Science in Nursing
Like our bachelor's program, the online master's degree program in nursing has been designed by nurses for nurses—students must be actively licensed Registered Nurses (RNs) in order to gain acceptance to this master's program. Additionally, applicants to the Master of Science in Nursing program must already possess a bachelor's degree in nursing (CTU offers a Bachelor of Science in Nursing (RN-BSN) for those who would like to complete their undergraduate nursing degree). Our online master's in nursing is offered with three concentrations—family nurse practitioner, nursing administration, nursing education—and can be completed in as few as 18 -24 months depending on the concentration chosen.
Security Studies
Master of Science in Criminal Justice
Colorado Technical University's Master of Science in Criminal Justice program is designed for current criminal justice professionals interested in acquiring more expertise in policy development, planning, and decision-making within the field. The curriculum aims to provide students with skills they may need to pursue more advanced leadership positions within the criminal justice sphere. The general track is offered on-campus and online, while the concentration in homeland security, which covers various legal, policy, and social trends in criminal justice, is offered as a fully online master's degree program
Master's Program Admissions Criteria
Colorado Technical University's traditional and online master's programs have no GRE or GMAT prerequisites; however, all applicants to our master's degree programs must participate in an interview with an Admissions Advisor and submit a completed application. The Master of Science in Nursing has its own distinct undergraduate educational requirements for admission—students interested in this online master's degree program should refer to the Master of Science in Nursing degree program page in the University Catalog for specific requirements. For all other Master of Science online and on-campus programs, CTU accepts baccalaureate degrees earned with a cumulative GPA of 2.0 or higher (on a 4.0 scale) from any accredited U.S. institution of higher education. Please see the University Catalog for additional details.
Accredited Degree Programs
Colorado Technical University is institutionally accredited by the Higher Learning Commission (hlcommission.org), and our business degree programs are programmatically accredited by the Accreditation Council for Business Schools and Programs (ACBSP). The Master of Science in Nursing degree program at CTU is accredited by the Commission on Collegiate Nursing Education (http://www.ccneaccreditation.org).3
U.S. News & World Report's ranked Colorado Technical University's master's programs on many of its 2023 "Best" lists*, including:
Best Online Master's Criminal Justice Programs (9th consecutive year)
Best Online MBA Programs (8th consecutive year)
Best Online Master's in Business Programs—Excluding MBA (8th consecutive year)
Best Online Master's in Computer Information Technology Programs (9th consecutive year)
Best Online Master's in Nursing Programs (5th consecutive year)
In 2022, CEO Magazine ranked CTU's online MBA among its Tier One Global Online MBA rankings for the third time.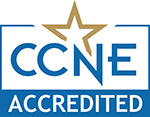 Earn Your Master's Faster than You Think
Many of CTU's online master's degree programs can be completed in 18 months, and our MBA program can be completed in 1 year or less. However, a number of factors can affect program length, including transfer credits, qualifying work and life experience, and military experience.2
CTU accepts transfer credit for up to 75 percent of the required credit-hours for a given master's program.2 Submission of a successful Experiential Learning Portfolio (ELP), which demonstrates how prior non-collegiate experience meets the objectives of a given course within the student's selected academic program, could also shave time off the completion of your master's program. Active and former military members may qualify for military credit programs that translate your experience in the armed forces into educational credit that can count toward completing your degree.
Earn Your Degree for Less
Taking fewer courses means saving more money. Transferring credits, submitting successful Experiential Learning Portfolios, and earning educational credit for military experience are just a few of the ways to save on tuition and costs. Colorado Technical University also offers various scholarships and grants, which do not need to be paid back, and you may qualify for other types of financial aid as well.4 We know many applicants are interested in affordable online master's programs, which is why we provide helpful tools to help you better anticipate costs. Our tuition and graduation date calculator can give you a better idea of how our various credit programs may affect your total tuition and expected graduation date, and our net price calculator can provide an estimate of your costs and possible grant aid.
Why CTU?
At Colorado Technical University, our wide array of on-campus and online master's degree programs are built with busy adults in mind. Whether you want to advance your current education, pursue a different career path, or simply increase your knowledge and expertise in a given field, all our degree programs are designed so that you don't have to put everything on hold to achieve your academic goals. In addition to providing various attendance options, we offer special programs and other resources that could result in more affordable on-campus and more affordable online MBA programs and MS programs. If you're looking for a supportive community of fellow students and faculty, where the innovative use of technology means you're always just a few clicks away from connecting to your coursework or with each other, then CTU could be the right fit for you. Our community is made up of both current and former students who have decided to try to improve or enrich their lives through education. Take the next step and reach out to an Admissions Advisor to learn more.
---
1 intellipath® is not available for all courses.
2 Transfer credit is evaluated on an individual basis. Not all credits are eligible to transfer. See the University Catalog for transfer credit policies.
3 https://www.coloradotech.edu/about/accreditations
4 Financial aid is available for those who qualify.
What Students Are Saying About Their CTU Experience
CTU offered courses structured in a way that would allow for success as a person working full-time with a family.

Rodney B., Former Student Graduate 2022, Master of Business Administration
Program details are provided lower on the page.
Get More Details
Complete the form and:
An admissions advisor will contact you shortly

Get scholarship and financial aid information
Learn about specific degree programs