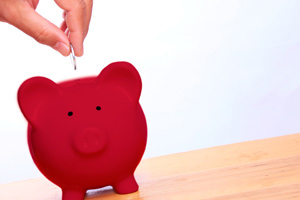 When deciding to pursue a college degree, you will likely take a number of factors into consideration. How will you balance your academic responsibilities with work and family? How will your job prospects change once you've graduated? What school is best suited to your specific interests and needs? For many students, the question that looms the largest is the simplest - How will you pay for it?
Paying for college may seem like a giant hurdle standing between you and your degree, but in fact there are several opportunities for financial aid that may alleviate the cost burden. Here is an overview of the financial aid process, as well as a few resources that can help move you one step closer to your diploma.
Where To Start
When trying to determine the potential costs of a college education it's important to consider both the direct and indirect costs. In addition to your tuition, the direct costs will include books, course-related equipment and fees. The indirect costs will differ depending on your situation, but may include housing, transportation or childcare. Take the time to itemize your potential indirect costs. Even if it's just a rough estimate, knowing this amount will give you a head start when applying for federal grants or student loans.
CTU has a Net Price Calculator that can help you determine the direct costs of your undergraduate degree in less than 10 minutes. Make no mistake: Starting with a realistic estimate of your overall costs will take the mystery out of the financial aid process.
Fill Out Your FAFSA Early
The Free Application for Federal Student Aid (FAFSA) will determine your eligibility for a variety of financial aid opportunities. It is essential that you fill out this form as early as possible so that you have a clear picture of which federal grants, loans and work-study opportunities you qualify for. The sooner you know how much federal aid you can receive, the sooner you can apply for additional financial aid to cover any remaining costs.
The online FAFSA application form takes about an hour to complete, and the process starts by signing up for an FSA ID that allows you to electronically sign your application. Make sure to gather all of the pertinent financial and identification documents you'll need, such as your social security number, W-2's, and recent bank statements, beforehand. If you are having trouble filling out the FAFSA, don't hesitate to contact your financial aid advisor at CTU for guidance. Additionally, military students should speak to their Educational Service Office before filling out a FAFSA, as they may be eligible for military education benefits.1
Know Your Options
Financial aid opportunities typically fall into one of three categories: loans, scholarships and grants. The option (or options) you choose may depend on your level of financial need, your previous military or academic experience, or your chosen degree program, but you'll want to be familiar with each before you start developing a plan for paying for school.
Loans: Completing your FAFSA will provide you with several different options for federal loans and grants. Both options are typically set aside for students who can demonstrate a financial need. However they differ from one another in that a loan typically needs to be repaid with interest once you've completed your degree. The government offers unsubsidized loans, which may cover the full cost of tuition, and subsidized loans, which lowers the initial tuition cost and may reduce your repayment amount.
In addition to federal loans, many students may pursue a private loan from a bank or credit union. Whether you choose a federal or private loan option, it's important to fully understand its terms and conditions beforehand.2 For example, federal loans typically offer lower interest rates, no credit check, and flexible payment plans. However, they may not always cover the cumulative direct and indirect costs of your college education.3 A private financial institution may offer you more money, but these types of loans are never subsidized and you may have to start paying them back before you complete your education. In general, the overall expense of a private loan often greatly exceeds that of a federal loan.4
Grants: According to the Office of Federal Student Aid, grants and scholarships both fall into the category of "gift aid", meaning they never have to be repaid. Unlike scholarships, which are awarded on the basis of merit, grants are made available to any student with a financial need. The FAFSA plays a large role in who receives the federal government's two largest grants, the Federal Pell Grant and Federal Supplemental Educational Opportunity (FSEO) Grant.
The Pell Grant is typically set aside for any undergraduate student who is pursuing or completing their first college degree.5 An FSEO grant is awarded by participating universities who have received a certain amount of funds from the US Department of Education's Financial Aid Office.6 The pool of FSEO funds is often very limited, meaning it's especially important to apply early. There are also grants available through state and local governments, private organizations and even your college of choice. If you are currently employed, your employer may offer tuition reimbursement grants that cover part or all of your continuing education. CTU even offers a grant through a partnership with nearly 250 of the nation's largest employers and associations. Download the complete list of our Educational Alliance Partners to see if your employer qualifies.
Scholarships: Unlike grants, scholarships are typically awarded on the basis of merit. Receiving a scholarship involves meeting certain criteria and then applying directly with the organization or institution that is offering it. There are innumerable private organizations who offer scholarships to students who stand out academically, athletically, or as active members of a community or culture. It can be overwhelming to sift through all of the scholarship opportunities that are available, but you can start your search at CareerOneStop, which can work to match your personal experience and attributes with a number of scholarship opportunities. You also want to be on the lookout for scholarships that may be offered in your community by your church, workplace or any number of civic organizations. And once you've selected a college or university, speak with a financial aid representative to learn about school and degree-based scholarships and grants.
Making sense of your financial aid options can be an overwhelming experience, but it's essential to the process of going back to school. The important thing to remember is that you aren't alone when deciding which option to choose. The Financial Aid Advisors at CTU are more than happy to walk you through the process and to answer any questions you might have about loans, grants or scholarship opportunities.
For a complete listing of financial aid resources available to CTU students, view our Tuition and Financial Aid portal or speak with an admission advisor.
---
1. http://www.coloradotech.edu/resources/white-papers/september-2014/financial-aid-guide (visited 3/24/16)
2. http://www.coloradotech.edu/resources/white-papers/september-2014/financial-aid-guide (visited 3/24/16)
3. https://studentaid.ed.gov/sa/types/loans (visited 3/24/16)
4. https://studentaid.ed.gov/sa/types/loans/federal-vs-private (visited 3/24/16)
5. https://studentaid.ed.gov/sa/types/grants-scholarships/pell (visited 3/24/16)
6. https://studentaid.ed.gov/sa/types/grants-scholarships/fseog (visited 3/24/16)