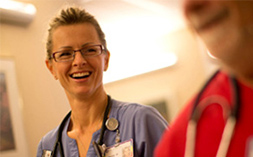 Nursing can be a demanding profession, and for all the preparation you gain while pursuing your RN license or during an RN-to-BSN program, there are certain professional skills needed to be a nurse that aren't as easy to learn in the classroom. Beyond just the nursing and process-oriented knowledge nurses need to manage a heavy, rotating patient load, it's also important to know how to work with many different types of people in fast-paced, high-pressure situations.

Mastering these six professional skills can help nurses stay at the top of their game during long and busy shifts.
Communication
This is the most vital quality required in an RN because he/she has to interact with patients, coworkers and doctors.1 Developing strong communication skills can be an incredible asset when you need to gather information from sick patients, relay urgent news about a patient's condition to doctors or shift managers, or interact with doctors' offices or clinics over the phone. Additionally, understanding how to communicate with patients and their families during times of stress and anxiety can help you provide better, more efficient, and faster care.
Detail-Oriented
Because nurses often gather initial information about a patient's condition, current medications, family health history, and any relevant symptoms they're experiencing, it's essential to get all the details recorded accurately the first time. Therefore, nurses have to be very agile, focused and detail oriented.1 A strong attention to detail and the ability to quickly catch mistakes or inconsistencies can go a long way to preventing hold-ups in patient care down the line. It may help to develop a consistent system for gathering and recording key information the same way every time.
Critical Thinking
Nurses use critical thinking skills every day to assess, plan for, and provide quality patient care.2 Critical thinking is an essential element of the nursing process as nurses assess patients and make nursing diagnoses, make decisions and set goals, and then implement a plan of care. Critical thinking includes identifying a problem, determining the best solution and choosing the most effective method of implementing that solution. After executing the care plan, critical thinkers may reflect on the situation to figure out if the solution was effective and if it could have been done better.
Strong Multi-Tasking and Organization
From juggling patient loads, overbearing doctors, nervous families, and navigating hospital bureaucracy, multi-tasking is a nurse's superpower.3 Therefore, it's important to stay focused and organized as much as possible. Being able to fit new patients, lab work orders, and other tasks into your existing responsibilities is every bit as important as knowing how to prioritize certain duties over others. Learning how to multi-task effectively can help you stay on track and reduce stress.
Stress Management
A nurse has to go through continuous mental and physical trauma and stress.1 Dealing with patients' strong emotions all day can take a toll on many nurses, and stress management is essential to keeping your own mental health a priority. Just as with any other profession, nurses need to know how to compartmentalize and keep their calm during conflicts, as well as when to leave the work day behind them. Finding ways to decompress and refocus after stressful encounters while also keeping safe emotional distance from your work can help prevent burnout.
Teamwork
Teamwork is an essential skill for providing quality patient care, whether you're working with a team of nurses to care for an entire unit, or you're part of a multi-disciplinary care team that collaborates with doctors, dieticians, pharmacists, and other specialized care providers. Teamwork has other benefits as well. Effective nursing teamwork has been linked to higher job satisfaction, less nurse turnover, better patient satisfaction, and better patient outcomes.4
While some of these professional skills may be introduced while pursuing a bachelor's degree or completing a pre-licensure program, many can be further developed with some extra attention while on the job. Those interested in honing and expanding their skills and clinical knowledge even further may consider pursuing a Master of Science in Nursing.
---
Important Disclosures
The content of any linked material reflects unique opinions and views of the authors. No representation or warranty of any kind, express or implied, is made concerning accuracy, completeness, correctness, timeliness, or appropriateness.
REQ1072958