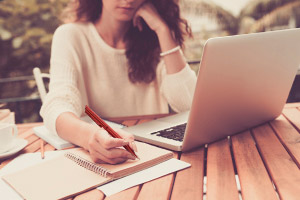 Hybrid learning is something that has only recently become possible with the advent of online education. A hybrid approach to learning involves pursuing your education both in person and online. While such an approach could be taken within a single class, it also commonly involves taking some classes entirely in person and taking others entirely online. There are benefits to both online-only and in-person-only approaches to education, but the flexibility afforded by doing both — known as hybrid learning — may be ideal for you.
Learning on Campus vs. Learning Online
Taking classes online certainly has plenty of appeal for adults that are revisiting their education while working, and that flexibility is the chief draw. With online courses at Colorado Technical University, you can take classes wherever you have a reliable internet connection, and you can do it on your schedule. And with CTU's intellipath® technology, online education is especially alluring.
Of course, the in-person experience, while it may not be as convenient as taking online only classes, offers a variety of unique benefits. Small class sizes (CTU's average class size on campus is 12), face-to-face time with instructors, and the ability to network with your classmates are huge draws for in-person classes. On-campus students at Colorado Technical University can also take advantage of onsite job fairs with local employers.
Ultimately, whether online or in-person classes are your preference will depend on your circumstances. But you can enjoy both by taking a hybrid learning — or blended learning — approach.
The Best of Both Worlds
Hybrid learning involves participating in a class both online and in-person. It offers the flexibility of the former with the networking opportunities of the latter, making it an ideal choice for those who can take advantage of the opportunity.
Hybrid learning requires some additional planning on the part of students. While you can do the online component of your courses at your own pace, it's important to be caught up with the material when it comes time to attend a class in person. This will allow you to make the most of your time with your classmates and your professors, allowing you to pose any questions you may have about the material to that point and ideally engendering lively discussion.
Students who live near a CTU campus in Denver or Colorado Springs are able to take classes in person, online, or enjoy the best of both worlds. A 2010 U.S. Department of Education review concluded that hybrid learning approaches can be more effective than traditional face-to-face methods, while a 2011 review by Kaplan found that blended learning has the potential to offer classes and learning approaches that are more personalized, student-focused, and flexible than traditional instruction.1
Is Hybrid Learning Right for Me?
Whether a hybrid approach to learning is right for you will depend as much on its availability — depending on where you live — as on your preference. Find out more by talking to an admissions advisor today – or if you're in Colorado, considering visiting one of the campuses.
---
1. U.S. News and World Report, "Decide Between Online, Blended Courses" on the internet at http://www.usnews.com/education/online-education/articles/2015/03/04/decide-between-online-blended-courses (Visited on December 11, 2015)