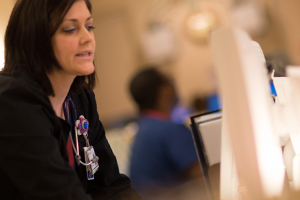 Being a great nurse is about more than stethoscopes, blood pressure cuffs, and a pair of comfortable shoes; in addition to those tangible tools, a nurse needs to be equipped with the right tools for success.
Below, we've highlighted 9 emotional assets to add to their tool box. Learn more about CTU's dedication to the continued success of nurses.
9 Qualities of Great Nurses
Truly exceptional nurses are truly exceptional people; they take generally good personal qualities and utilize them to help others. Qualities that every nurse needs include:
Adaptability: Being able to deal with a rapidly changing situation is critical not just because of the high-stress scenarios nurses find themselves in, but also due to the quickly-changing technology of the medical field. Great nurses excel at picking up new skills with ease.
Fortitude: Any experienced nurse will tell you: If it can happen, it will happen. At the end of a long shift, it's normal to feel a little run down. But great nurses know not to give up; they're able to de-stress and be their same awesome self by the next shift.
Sharpness: Meaning a sharp mind - not a sharp syringe, though great nurses use quite a few of those, too. Nursing is a detail-oriented position in every sense of the term; nurses are expected to be incredibly diligent with forms and to be the first eyes to identify a less-than-healthy patient.
Leadership: Even for nurses not in a leadership or management position, the ability to lead is essential. Nurses are often confronted with high-stress situations; in these cases, leadership can be defined as maintaining a cool head and effectively communicating what needs to happen. Great nurses can make something that difficult look easy.
Professionalism: Because so much of nursing is patient-facing, it's important to always maintain composure and professionalism. Patients lean on nurses to help them through medical problems both simple and complex, and professionalism goes a long way in providing comfort and stability.
Communication: In hectic environments, clear communication is key. Great nurses act as a funnel, getting the right information to the right people right on time. Excellent nurses are also adept at talking earnestly and honestly with patients.
Knowledge: There are two major ways that nurses expand their knowledge base: With education and with experience. Both are important; a great nurse continually seeks to learn more about new methods of nursing, new technology, new medicines, and much more.
Compassion: Nurses often forge the most direct emotional relationship with patients at a hospital or office. That's what makes compassion so essential; a few moments of kindness and understanding can make an often-difficult time for a patient a little easier.
Hope: Most of all, great nurses need to be a beacon of hope. Not just for patients, but for colleagues as well. In such a high-stress, high-intensity career, positivity can go a long way.
These 9 qualities are inherent in all great nurses, they're what drive nurses to the profession and make them such a great asset at the hospital or office.
Considering an RN-to-BSN program? See what RN-to-BSN is all about here and learn why program accreditation is crucial.