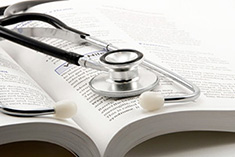 As the population ages and chronic conditions – like diabetes, obesity and dementia – continue to affect a growing number of people each year, the need for qualified healthcare professionals has increased, specifically nurses. According to the Bureau of Labor Statistics, the profession is expected to grow 19 percent through 2022, which is faster than average across all occupations.

If you have an interest in assisting with the treatment of a variety of healthcare concerns and enjoy providing patient care, nursing may be the career for you. But nurses do more than just care for patients. Many are also strong healthcare advocates, seeking quality services for individuals, families and communities. Nurses may additionally use their knowledge to educate and prevent healthcare problems. Regardless of your specialty, the pathway to a nursing career can be varied and rewarding. This article provides information to help you get started in this fast-growing field.
INSIDE THE JOB
A nurse's job can vary depending on his or her specialty, but the primary responsibility is to help assess patient health problems and needs, and administer nursing care for ill, injured, convalescent or disabled patients1. Nurses may also perform these additional tasks, according to the American Nurses Association, including:
Perform physical exams and health histories
Provide health promotion, counseling and education
Administer medications, wound care and numerous other personalized interventions
Interpret patient information and make critical decisions about needed actions
Coordinate care in collaboration with a wide array of healthcare professionals
TYPES OF NURSES
It's important to know there are a variety of nurses in the field, from the Registered Nurse (RN) to the Licensed Practical Nurse (LPN), also known the LVN (Licensed Vocational Nurse) in some states. Here is a brief explanation of commonly recognized nurse designations2:
Registered Nurse (RN) practice healthcare in a wide-range of settings, from hospitals, nursing home and medical offices to schools, homeless shelters and prisons.
Nurse Practitioners (NPs) have the authority to diagnose and treat common conditions and prescribe medicine.
Certified Nurse-Midwives (CNM) provide gynecological care and low-risk obstetrical care.
Certified Registered Nurse Anesthetists (CRNA) administer anesthetics given to patients in various healthcare procedures.
Licensed Practical Nurses (LPNs), or Licensed Vocational Nurses (LVNs) in California and Texas, provide basic and routine care under the direction of an RN or MD.
WHAT YOU NEED
Nursing is a people profession, which means a basic interest in the care of others is important. In addition, you will need the following knowledge, skills and abilities:
Knowledge
Nurses are trained to assess and treat human injuries, diseases and other ailments. You will need to have a comprehensive knowledge of3:
Medicine, and depending on your specialty, dentistry to ensure proper diagnosis of patient concerns.
Psychology to not only support mental health concerns, but also better understand human behavior and interaction.
Science and mathematics to support your administration of healthcare procedures.
Customer service to effectively communicate with patients and their family members, who are likely in distress.
Computers to properly enter healthcare directives and instructions into electronic patient records.
Skills
Since nurses have high interaction with people, the ability to effectively communicate with others in a clear, compassionate manner is important, in addition to these skills4:
Active listening. You must give your full attention to patients and your professional peers, taking time to thoroughly understand a situation from a variety of perspectives.
Social perceptiveness. Nurses have a keen awareness of others and their behavior, understanding why people react and how to best manage a given situation.
Service orientation. Nursing is also a helping profession, so having an innate desire to serve others and improve lives is critical.
Other Necessary Attributes
Nursing professionals must have strong critical thinking skills to accurately assess a patient's state of health. This means knowing when to take correction action and when to refer the patient elsewhere for additional support. Given the complexity of healthcare and the unique differences between patients, nurses must also be detailed oriented and organized. These skills help ensure patients receive quality care. Finally, nursing can be a physically demanding career. You may be required to assist, lift or move patients, and it's likely you will be on your feet for the majority of your shift.
EDUCATION REQUIREMENTS
In all states, nurses must have a nursing license. A nursing license helps to ensure consistent and proper care of patients, but also ensures nurses meet minimum state standards for healthcare providers. Licenses are granted at the state level once you have met the requirements for education and professional competency.
To be eligible for licensure, you will need to complete a program of study. The specific educational path you take can vary depending on your ultimate career goal. Here are some options:
Nursing diploma: Hospital-based schools of nursing offer a diploma, which is a common approach for future RNs5.
Associate's degree: Community colleges and some hospital-based schools offer a two-year degree program in nursing.
Bachelor's degree: Colleges and universities offer a four-year nursing degree that typically offer a deeper understanding of nursing theory, as well as the cultural, political, economic and social implications of healthcare.
Graduate degrees: Nurses who want to advance their career, and potentially move into nurse management or administration, consider advanced degrees in nursing, including a master's or doctoral-level degree.
JOB OUTLOOK AND SALARY
Most nursing professionals work full-time in a hospital setting6, but this depends on your specific role. Nurses can also be found in community clinics, professional offices and schools. As a whole, the nursing profession has a strong positive job outlook. Registered Nurse positions are expected to grow 19 percent through 2022, while Nurse Anesthetists, Nurse Midwives, and Nurse Practitioners roles could see an as much as a 31 percent growth in the same time period. According to the Bureau of Labor Statistics, RNs earn a median salary of $65,470 while Nurse Anesthetists, Nurse Midwives, and Nurse Practitioners earn a median salary of $96,460*.
GETTING STARTED IN NURSING
If you think nursing is the career for you, finding a program of study is your first step. Visit the American Association of Colleges of Nursing (AACN) to find accredited programs of study. If you already hold an RN license and want to build upon your existing knowledge and skills, CTU offers a bachelor of science in nursing that can help you prepare for leadership and administrative roles in the nursing field.
---
*CTU cannot guarantee employment or salary