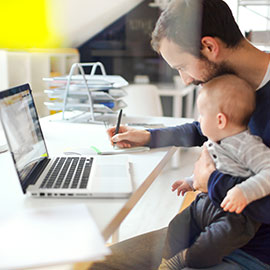 Creating a custom study routine can help you maximize your time and enjoy learning. Streamline your process and understand which learning methods motivate you. Follow these four steps to build the best study routine for you (and fine-tune your strategy along the way):
Plan and focus on one goal at a time

Before the start of a new class session, review your assignments and due dates and set aside blocks of time to complete your tasks each day. For example, set aside 1-2 hours every day to do coursework. Be realistic about time management and what you can accomplish in a day by:

Developing your own schedule.
Identifying what you will complete every day.
Prioritizing the work that is the most important and tackling it first.

Identify how you learn best

Everyone has a different learning style. Some of us are visual learners, while others learn better by listening. Some people are tactile-kinesthetic learners.

If you are a visual learner, then you remember what you read, write or see. You might remember text or pictures best. Visual learners can take these steps to remember new material better:1

Take detailed notes when reading.
Re-write your notes.
Create flashcards.
Highlight the main ideas and important concepts.

Auditory learners remember what they hear and say and may benefit from live group, video and classroom discussions. As an auditory learner, you could:1

State your goals out loud.
Read to yourself out loud.
Record yourself reciting important test details and listen to them.
Study with a friend or classmate and discuss the information.

Tactile-Kinesthetic learners remember what they do or experience with their hands and bodies, often through movement or touch. These physically active learners might retain information better while moving. If you are a tactile-kinesthetic learner, you might:1

Create learning activities to help retain information.
Take detailed notes during class discussions.
Create visual aids.
Pace while you study if sitting still is difficult.

Limit procrastination

As best as we plan, unexpected things come up that take our time away. Start working on assignments early instead of right before they're due so you can complete a little at a time and minimize risk.

Believe in yourself

When you need inspiration, remember why you are here on your educational journey. You have a goal, and you can achieve it if you keep going. CTU has several resources available to help you, including your instructors, your Student Success Coach, and CTU Technical Support. You are not alone! Tap into the CTU community as soon as you feel you need help.

For more student success tips, check out CTU's blog.
---
1 "Principles of Adult Learning & Instructional Systems Design." NHI Instructor Development Course. National Highway Institute Office of Technical Services . Accessed January 4, 2021. https://www.nhi.fhwa.dot.gov/downloads/freebies/172/pr%20pre-course%20reading%20assignment.pdf.