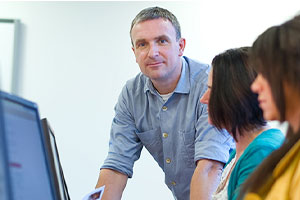 Transitioning to college student lifestyle can be a challenge, especially as an adult learner. You adjust your routine to attend classes while balancing life, family and work commitments, but the transition can be worth it! You can take the skills and knowledge gained in the classroom and apply them to real-world workplace experiences. When you add mentors or advisors to the mix, your experiences can become much more valuable.
Having mentors while you're in college can help you on the path toward your academic and career goals. Influential mentors can be knowledgeable and share experiences with you through your education and professional journey. So, where can you find mentors at CTU to help set personal career goals and guide you in defining how to achieve them?
Establish a relationship with your student success coach.
If you're a new student, connect with your CTU student success coach if you haven't done so already. This is one step in building an initial support team that can encourage you to achieve your academic and career goals. The support of a success coach who acts as your advocate can aid in helping you maintain a balance between your educational pursuits and your work and family life.
Your student success coach is available to assist you when challenges arise during the beginning phase of being a student and promote relationships between you and your instructors. If you have questions about picking or changing degree programs or have concerns about your academic progress, your success coach can address them. Your student success coach, however, is just one piece of your school community who is there to help you.
Connect with your professors inside and outside the classroom.
Your professors know you have a life outside the classroom and they want you to succeed despite any obstacles you face. Talk to your teachers regularly and allow them to be a part of your journey. Build your relationships by introducing yourself before classes start. Read the syllabus for each class, ask questions, and stay on top of your assignments. Taking these steps shows your interest and dedication to improve and succeed.
Once you've established the initial foundation, you might feel more comfortable reaching out to your teachers for support, requesting letters of recommendation, or inquiring about ways to further build your professional network. Your professors are experienced professionals who can be great resources. Don't let the opportunity to learn from them escape you!
Rely on your fellow students for support.
As an adult student, you have a unique lifestyle and it can be hard to find others who can relate. The CTU online GetSet Student Community can help guide you through schooling and you may even find a peer mentor to connect with. Building a mentoring partnership with someone who understands the challenges of maintaining a work/life balance and online schooling. Embrace every opportunity to develop your communication skills and viewpoints through these relationships.
Are you ready to take the next step? Connect with CTU student advising which can direct you to resources to help manage your education, connect with peers, and prepare for life after graduation.