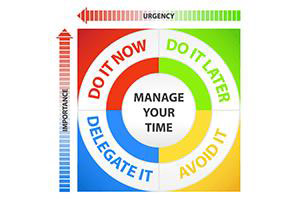 Time is a precious commodity, but how you manage your time is a different story. You manage it or it manages you. There are only 24 hours in a day – it is advantageous to get an early start in case something unforeseen happens. At times, you must reposition yourself to take on additional or new challenges; after all, life happens!
"Don't say you don't have enough time. You have exactly the same number of hours per day that were given to Helen Keller, Pasteur, Michelangelo, Mother Teresa, Leonardo Da Vinci, Thomas Jefferson and Albert Einstein" (Brown, n.d.). In essence, there are 24 hours a day and it starts all over again.
Everyone should get into the habit of starting early and working in small windows as it relates to your assignments, particularly if you are taking two classes. It is recommended that you get a head start on putting together a schedule, designed by and for you, in order to stay on track.
Keeping things simple is the best method to approach time management. Being a good steward over your time ensures that you never fall short of your target. Covey (2003) urges us to strike a balance and to carve out time every day to attend to the important and take care of the urgent.
The Bad News is: time flies. The Good News is: You are the pilot. Using the S.I.M.P.L.E. approach outlined below may be a helpful method to successfully manage time.
S – Schedule the events of the day and ensure you leave time to relax and release. Feel free to jot notes down during the day. Keep your iPad, iPhone, tablet or your pen and paper (the old fashioned way) handy to keep you accountable and on track. As you complete a task, simply cross it off and move to the next one. Simplify things by making a decision to work on the most challenging issues first, since it may take more time or you may decide to work on the less challenging ones first.

I – Imagine the light at the end of the tunnel. Always remember: Though the light might appear dim from a distance because there is a lot to do – the closer you get to the light, the brighter it becomes.

M –Manage your time wisely. Maintain a list of specifics to be done on a daily basis and incorporate others as they come about.

P – Procrastination is never – nor will it be – an option. Put a plan together and stick to it. Even though you have a plan in motion, there will always be the unexpected. Prioritize, possibly via a color-coordinated system, plan your day and whatever you do: Have a purpose in mind. The more persistent you become, the more likely you are to reach your potential.

L – Listen to your gut! If it doesn't feel right, then it probably isn't right. There is an old cliché that states, "Take the cotton out of your ears and put it in your mouth." In other words, be silent and listen. When we listen attentively, we are able to process more fully.

E – Enjoy yourself and receive satisfaction knowing that you are getting things accomplished.
Utilizing the S.I.M.P.L.E. method to approach time management may assist in keeping you accountable and on track. Celebrate your victories for getting things accomplished.
Time Management Tips from CTU Students
CTU students and alumni understand the necessity of time management. A recent informal survey gathered some great time management ideas, tips, and tricks from real CTU students, including:
Use a planner: Several students highlighted the usefulness of a planner to map out a schedule, to write down important deadlines, and more.

One student described how a planner fits in to their daily routine: "Each night before I go to bed, I take a few minutes to check off tasks that are completed – and then create a whole new list for the next day or week, depending on how busy I really am."
Set time aside each day: Scheduling time each day is essential, according to several CTU students. Even more important is ensuring that time is respected as a safe, quiet space for studying, working, and completing assignments. As one CTU student put it: "At 7 p.m. every night, it's mom's study time and everyone respects that. At 8p.m., it's dad's study time."
Leverage the CTU app and portal: There are numerous built-in advantages to being a CTU student, not the least of which are the CTU portal and app. These tools are great for providing an overview of upcoming lectures, assignments, and more.

"Make sure to, at least, log on to the portal 5 to six times a day, keep all dates and assignment schedules prioritized," reported one CTU student.
Break up your work: "Chip away at your assignments everyday and you'll always be on target," responded one CTU student, highlighting a crucial aspect of time management. If you feel overwhelmed by a long list of tasks in front of you, break up that list into more manageable chunks – it will seem more easily surmountable that way.
Don't forget to rest: Several CTU students noted the importance of getting some good R&R. When you're dealing with a busy schedule of work, assignments, lectures, and more, it can be all too easy to put off sleep and relaxation. You might get more done in the short term that way, but your work and life will suffer in the long term.
Instead of pulling all-nighters and stressing yourself out, use the other time management tips to ensure you always have enough time to reset, relax, and recharge.
Additional time management tips include:
There must be balance in your life
If taking public transportation, use your commute to your advantage
Don't procrastinate
Use small breaks at work or home to your advantage
Learn how to say "No"
Delegate responsibilities
Prioritize (high, medium, low)
Plan ahead for the unexpected. Make adjustments and keep moving forward.
Be flexible and adaptable
Reward yourself and celebrate your victories
You Can Do It (YCDI) – Yes We Can (YWC)
Dr. Rae Denise Madison is an Adjunct Professor at Colorado Technical University (CTU) in the Doctorate of Management program serving as a professor, mentor and student advisor. She is a retiree formerly employed by two airlines with over 30 years of service. What she has learned and has been able to apply has been incredibly rewarding. She is humbled and honored to be able to continue this process by instructing students who are beginning their doctoral journey.
Contact Dr. Madison: rmadison@coloradotech.edu
---
Resources:
1. Brown, H. J. (n.d.). The Ultimate Guide to Time Management (Part 2): Add More Time to Your Day. Retrieved from http://technori.com/2012/10/2615-the-ultimate-guide-to-time-management-part-2-add-more-time-to-your-day/
2. Covey, Stephen (2003). The Time Management Matrix. Retrieved from http://www.positive-change-tools-for-success.com/Time-Management-Matrix.html