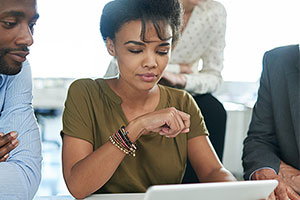 As a college student, you've taken steps to invest in yourself and your future by pursuing your online degree and a career path of interest. Before you apply for the job of your dreams, it's important to take the time to prepare a cover letter and resume before reaching out to a potential employer.
An employer's first introduction to who you are as a person and an employee is your cover letter. Therefore, the document should communicate your qualifications, highlight your skills, cover your experiences, and show your personality. Use the letter to your advantage and show why you're the most qualified candidate for the job.
Consider the following cover letter and resume development tips:
Avoid Outdated Salutations
There once was a time when addressing a cover letter with "To Whom It May Concern" was adequate. But, that time has passed. Recommendations now say that job candidates should do their research and get the name of the person being addressed in the letter's salutation.1 Refer to social media platforms like LinkedIn or Facebook, or check a company's website site to locate specific names. If your research doesn't lead you to an actual name, make a phone call to the business or organization and ask to whom you should address your letter.
Produce a Noteworthy Body Section
Begin your letter with something original. For example, tell your reader why you chose your profession and what it means to you. Then, acknowledge your intent and where you discovered the job listing.2 The body of your cover letter is where you address why you're interested in and qualified for a position. So, highlight how your skills and accomplishments — those listed on your résumé — will benefit the employer and the future of the company or organization. Consider why the employer should select you over the rest of the candidates.
Incorporate Keywords
Throughout the second paragraph of your letter, connect your abilities to the employer's needs.3 Look at the employer's website and "About Us" page to learn their philosophy and culture. Also, refer to the actual job listing.
In your letter, include words specific to the company's brand as well as ones used to describe their ideal candidate in the position's advertisement. Also, incorporate keywords — words that refer to your skills, accomplishments or achievements, and results you've produced. Keywords may include:4
Started
Generated
Promoted
Selected
Recognized
Leave Out Errors, Repetition and Personal Information
Edit your document to ensure it's free from grammar, spelling, and punctuation errors before submitting your cover letter to a potential employer. Did you spell the company's name correctly? Did you address your letter to the right person?
If you rehashed any information noted on your resume, like restating your bulleted skills, get rid of it. Instead, highlight how you apply your skills in the workplace.5 Connect your skills to the job's specifications to engage your reader. Describe your experiences and explain why you'd be a valuable asset to the employer's team. Refrain from stating your financial expectations and don't get too personal. Rather, focus on what you can bring to the table and not how the position will benefit you.
Remember the Closing
As you end your cover letter, close with professionalism. Pick a formal word, such as "sincerely" or "regards," to conclude your document. If the word is suitable, then it won't attract the reader's attention. You want the employer to remember your qualifications, not your closing.5 In the end, include your signature below your closing and then type your name underneath. If you're emailing your letter, a typed signature should be sufficient.
Introduce yourself to a potential employer with a well-crafted letter each time you apply for a job. If you focus on your accomplishments and how they may potentially enhance the employer's business, then you just may advance to the next step and prepare for an interview.
For more information on how CTU students and alumni can get help with cover letters, resumes, interview prep, and career planning, contact careerservices@coloradotech.edu or call 866-813-1836 (option 5).
---
1. Doyle, Allision. "How to Address a Cover Letter." Updated December 20, 2018. Accessed February 7, 2019. https://www.thebalancecareers.com/what-to-include-in-the-body-section-of-a-cover-letter-2060306
2. Doyle, Allison. "How to Show Your Personality in a Cover Letter." Updated September 04, 2018. Accessed February 7, 2019. https://www.thebalancecareers.com/how-to-show-your-personality-in-a-cover-letter-4174695
3. Doyle, Allision. "What to Include in the Body Section of a Cover Letter." Updated December 15, 2018. Accessed February 7, 2018. https://www.thebalancecareers.com/what-to-include-in-the-body-section-of-a-cover-letter-2060306
4. Doyle, Allision. "How to Use Keywords in Your Cover Letters. Updated August 30, 2018. Accessed February 7, 2019. https://www.thebalancecareers.com/cover-letter-keywords-2060289
5. Doyle, Allison. "What to Include in a Cover Letter for a Job." Updated December 08, 2018. Accessed February 7, 2019. https://www.thebalancecareers.com/what-to-include-in-a-cover-letter-for-a-job-2060315