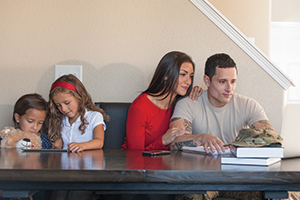 If your military service is winding down, you've likely started thinking about the upcoming transition to civilian life. What will it be like? Will you have a new career? How can you best utilize the skills you learned in the military in your everyday life? These are all complex challenges, but ones that you can meet and exceed with the right preparation. Here, we'll illustrate some key tips for life after military service.
5 Actions You Should Take
When thinking about the transition to civilian life, begin by refining the steps you want to take into a few direct actions can help get you on track for a successful civilian life.
Here are a few actions we suggest you take when you begin making your transition:
Prepare: Start thinking about your transition as soon as possible and begin making preparations. This can include identifying possible career paths, learning skills that may be useful, asking other veterans for advice, or refreshing your most recent résumé.
Research: Choosing a career or vocation for your civilian life is a major step, but one that should be made deliberately. A great way to do this is to focus on the skills that you currently have, or would like to acquire, and identifying careers for which they are a good fit. Also take time to familiarize yourself with the process of job interviews, applications, and career development.
Network: An important part of building a career as a civilian is leveraging your connections with both other veterans and civilians in your desired job field. Professional social networking sites like LinkedIn are a great way to strengthen your connections and reach out to those who can help you along the way. Veterans' organizations may have career or transition resources available, as well.
Learn: Have you considered earning a degree? The Bureau for Labor Statistics reports that the employment rate of those with a bachelor's degree is higher than those without.1 Enrolling in a degree program is a good way to develop new skills and enhance prospects in nearly every field.
Leverage: It's crucial to recognize that your military service is one of the greatest assets you have. When networking, preparing your resume, and researching potential career or education options, make sure to note the specific skills that you picked up during your service. Additionally, place an emphasis on the general discipline, work ethic, timeliness, and leadership that come naturally for members of the military.
Learn More a Military-Friendly University
Colorado Technical University is proud to be a military-friendly institution. Read about one of our students, a veteran, Andrew, and how CTU's Wounded Warrior Scholarship impacted him. We also have quite a few students that are spouses of service members, like Amanda – check out her story. Ready to go back to school? Here are five tips to get you started.
---
1. Bureau of Labor Statistics, U.S. Department of Labor, The Economics Daily, Unemployment rates by educational attainment in April 2015 on the Internet at http://www.bls.gov/opub/ted/2015/unemployment-rates-by-educational-attainment-in-april-2015.htm (visited January 07, 2016).