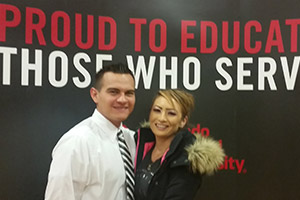 For Andrew R. Chavez, a recently-retired US Army Staff sergeant, joining the military was just the "right thing to do." Enlisting immediately after he completed high school, Chavez served his country for nine years before critical injuries caused him to be medically retired from active duty. Chavez reflects positively on his time in the military, but knew that he had to push himself further.
That's why Chavez, a recipient of the Purple Heart, decided to apply for the 2015 Colorado Technical University Wounded Warrior Scholarship. His drive and dedication caught the attention of the Wounded Warrior Selection Committee, and was ultimately part of the deciding factor to grant Chavez a Wounded Warrior Scholarship.
Dedicated Veteran Succeeds
As soon as he starts talking, it's clear that Chavez is brimming with self-assured confidence. That confidence is certainly earned; Chavez was deployed three times in his nine years a member of the US Army, including tours of duty during Operation Iraqi Freedom and Operation Enduring Freedom. Chavez showed no signs of stopping, fully intending to spend 20 years in the military. While that dream was cut short by combat-related injuries, Chavez saw opportunity in the CTU Wounded Warrior Scholarship.
After receiving the award, which he described as "a blessing," Chavez decided to pursue a Bachelor of Science in Business Administration. On the benefits that this degree will bring him, Chavez said: "I believe this degree, on a personal level, will help me by raising my confidence, and looking at myself with the attitude to never give up. On a professional level, this degree will help me obtain a better career…"
Even a strong person like Chavez can't do it alone. Like many wounded warriors, Chavez relies on his loved ones to support him as he works toward personal success: "My wife was my biggest inspiration," he said. "I'm going back to school to make a life better for both of us."
After connecting with CTU faculty, Chavez immediately noticed the military-friendly nature of the program; he highlighted that the staff respected the strong work ethic, responsibility, and dedication to success that's common in veterans.
As a Wounded Warrior Scholarship recipient, Chavez received full tuition, a new laptop, textbooks, and access to CTU's specially-trained education advisors.
A Simple, Powerful Message
When discussing the scholarship, Chavez seems overcome with emotion: "Now I'm being honored for [my service] and it's an emotional thing. I thank everybody for the chance, and I won't let anybody down," he said. However, it's not long before Chavez' trademark confidence and infectious smile reappear: "Because I've never failed anything, and I'm not going to start now."
Chavez's message to others considering higher education after their military careers is simple: Don't give up. Specifically, Chavez noted that "As long as you have that backbone to not give up, nobody can stop you."
CTU is honored to provide education for wounded service members, veterans, their spouses, and their caregivers: Learn more about the CTU Wounded Warrior Scholarship.