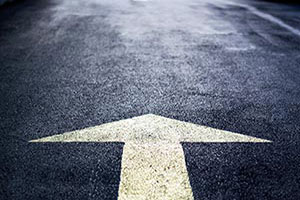 You've crossed one hurdle by deciding to return to school. Now it's time to choose the degree program that will best fit your ultimate goals, and that's not an easy decision. As you narrow down your choices, you may be receiving advice from your boss, co-workers, friends and family. Their input can be valuable, but it's up to you to choose the degree path that puts you in the direction you want to be.
Choosing a college degree starts with assessing yourself – pinpointing what you enjoy and how you anticipate translating that into a career path. Of course, there are many other variables to consider, but a good place to start is by identifying your skills, experience, interests and values. Combined, these indicators can help you pick the degree that you're best suited for.
Skills: What do you already do well? For example, maybe you already have a knack for numbers, making mathematical calculations a breeze. How might you leverage that ability in school? Of course, if you lack the natural skill in an area, that doesn't mean you can't develop the skill. Knowing where you are skill-wise will help you identify the areas that may need attention when you're working toward a degree.
Experience: Do you already have work experience in a specific field? If so, consider how you might parlay that professional know-how into a degree. If you're new to your career or you're goal is to make a career change, then think about the transferable skills that might be applicable to a degree program in a new area of study.
Interests: Now that you're clearer about your core skills, it's time to think about what interests you. Consider areas that naturally draw your attention. For instance, do you find yourself leaning into television news reports on global terrorism? Perhaps a Security Studies degree is a possibility. Or maybe you spend hours reading about new computer technology and dream of launching your own tech company one day. A Computer Science degree might be for you.
Values: Simply defined, values are beliefs that drive your actions, your decisions, your behavior and, ultimately, your satisfaction in life and in work. Choosing a degree that honors your values can put you on the path to a more fulfilling career. For instance, if you value financial security, you might choose a degree program that is more likely to lead you toward a higher paying career path.
Putting it All Together
CTU offers more than 100 degree programs from Associate degrees to Doctoral. That means you have choices! It also means that you need to spend a bit of time narrowing down those choices.
Start by reviewing the personal assessment of your skills, experience, interests and values, and then crossing off the areas of study that don't interest you. Continue to review your personal assessment until you have a short list of five, but no more than 10, potential degree programs.
Chances are you won't make your final decision right away. You'll need time to consider the possibilities. It may be a good idea, after this initial effort, to put your short list aside for a few days and return to it with fresh eyes later.
Once you're ready to make your final choice, these tips can help ease the process:
Conduct independent research. Go online to learn more about the degree options on your short list. Start with the CTU website, but also expand your research by considering potential post-college degree paths. O*NET OnLine, a site sponsored by the U.S. Department of Labor, is a useful place to look up possible occupations along with data on salary potential. Try to narrow your degree choice to a top three list.
Talk to CTU admissions advisors. Get to know more about the degree programs on your top three list by speaking with an admissions advisor who can tell you more about what to expect as a student. Come prepared with questions that will help you make a final decision.
Interview CTU alumni. It's useful to connect with CTU alumni who have been where you are. Their real-world experience can help put your degree choice into perspective, and also offer you valuable insight into what it will be like to study at CTU.
Finally, remember that choosing a college degree program is a learning process, and your decision is not set in stone. If you begin a degree program and decide later that it's not the right fit, you may be able to transfer to another program. Keep in mind that doing so may extend your studies, so it's definitely helpful to start a degree program with confidence in your choice. But ultimately, you want to graduate with a degree that will lead you to a career that you will enjoy, so be open to the possibility of change.
Begin exploring CTU degree options today. Visit us online to learn more about the over 100 degree offerings and get on the path to meeting your career goals.