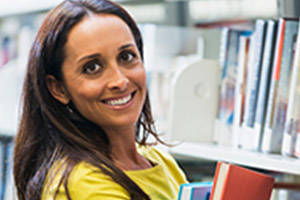 According to the National Center for Education Statistics, there are more than 4,500 degree-granting institutions in the United States1. And while each can potentially help forward your goal to earn a college degree, choosing the one that you'll one day call your alma mater can be an overwhelming decision.
As you begin the task of choosing a college, be sure to add "Speak with an Admissions Advisor" to your list of things to do. Most universities make their admissions advisors, or counselors, available to prospective students. Depending on the school, you may meet with your admissions advisor in person, over the phone or through a live Web chat.
Prepare for that conversation by asking your college admissions advisor these questions:
1 - What can you tell me about students who succeed at your school?
Like people, a university will have its own distinct personality that is often revealed through the student body. This question helps you gauge whether the school's personality is a fit for your learning style, but also gives you insight into the characteristics of the school's most successful students, so you can compare those against your own strengths and weaknesses.
2 - What does your school offer in my area of interest?
You may have decided on the degree you want to pursue. Of course, you may also be juggling a few degree programs that have piqued your interest. Whether you're on the fence or have made a firm decision on your degree path, get specifics on the courses and degree programs that you find most compelling. Some colleges shine in certain areas of study, while others do not.
3 - Who teaches the classes I'll be taking?
Get to know the background and experience of the professors and instructors. It may be important to know whether you'll be learning from teachers who have mostly academic knowledge or those who have relevant, real-world experience to help you prepare for a career after college.
4 - What kind of academic support is available?
Don't be afraid to ask about the resources available to support your success once you've started the coursework. The depth of resources can vary from school to school, but most offer academic counseling, tutoring and a career services center.
5 - Is this school the right fit for me?
At the end of the day, only you can determine whether a school is the best fit for you and your goals, but an admissions advisor can definitely offer valuable insight. They should have first-hand knowledge about students who succeed. After getting to know a bit more about you, your background and your goals, they can help you decide whether you would be a good fit for the college and the degree program.
6 - How do students make college expenses affordable?
Most colleges and universities offer financial aid to help students make tuition and other educational expenses more affordable. Ask about scholarships, grants, loans and other financial aid options that you may be able to take advantage of while you're in school. Your admissions advisor can provide preliminary information, but you may need to speak directly with the school's financial aid office for specific details.
7 - What is the admission process?
Now it's time to get to the nuts and bolts of getting into college. Admission steps can vary, but most will require an application along with proof of prior education, like a school transcript or diploma. You'll also want to know more about deadlines that can affect when you can begin classes and whether you'll be eligible for financial aid.
---
1. Source: Fast Facts on National Center for Education Statistics: https://nces.ed.gov/fastfacts/display.asp?id=84 (retrieved 12/1/14)