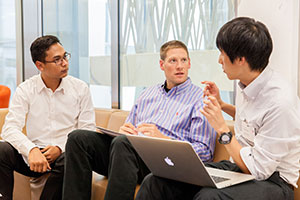 Marketing and advertising have changed drastically over the past decade. Traditional media outlets are no longer the obvious choice to reach today's myriad consumers—from baby boomers to millennials. The needs and preferences of different demographics vary and skilled marketers understand how to reach their target audience with the right message, at the right time, and through the vehicle that resonates most effectively, whether it's a viral video, experiential campaign or direct mail.

A marketing degree can take you in a multitude of career directions in a plethora of industries and types of companies, from Fortune 500 corporations to small non-profits. With a marketing degree, it's easy to tailor your marketing career to your personal passions.
Choose an Industry
Marketing careers require business acumen, creativity and vision. Some marketing jobs overlap with sales functions, so you'll want to decide if you're comfortable selling to clients or if you'd prefer to work more on the strategy and planning side. Are you a numbers and data person? Marketing jobs vary from company to company. Some require marketing managers and business analysts to generate performance reports, gather consumer intelligence, forecast earnings and write marketing and sales plans.
Other marketing positions focus more on advertising and identifying areas of a business that need marketing support, and coming up with creative ideas on how to execute them.
So as you're thinking about marketing career options, one of the most important questions to ask yourself is what's your specialty? Or, what do you want it to be? The more experience you gain in one sector or skills set, you become an in-demand expert with a competitive edge over other marketing professionals vying for the same opportunities.
What's Your Passion?
Is there an area you're passionate about? Do you love traveling? A career as a marketing manager or sales director for a hotel brand could be a good fit. Want to make a difference in people's lives? Consider a career in the healthcare or pharmaceuticals industry. Have a thing for gadgets and technology? Consumer electronics or IT could be for you.
The options are virtually limitless, as every industry needs marketing specialists. Here are some examples of industries to consider:
Consumer – The B2C industry is about as diverse as it gets. Many types of companies fall under this umbrella, including:
Consumer Packaged Goods (CPG) – These include food manufacturing companies like General Mills, home goods producers, personal care and hygiene brands, beauty companies and many more.
Retail – Companies like Target, Nordstrom and Best Buy fall under this category. Retail marketing requires specific knowledge about the in-store (and online) shopping experience, merchandising and sales cycles. You can choose to specialize in ecommerce and work for companies like Amazon. You have many options.
Apparel – Have a flare for fashion? Clothing brands offer an exciting opportunity for individuals with a marketing degree. Jobs in the apparel industry are often based in exciting, larger cities such as New York, LA and San Francisco, or overseas if you want to live abroad.
Hard/Durable Goods – Hard Goods, as opposed to soft goods like cosmetics, have a much longer shelf-life. Think cars and appliances. Technology can also fall into this category.
Services – Types of marketing careers in the consumer services industry fall under hospitality companies (such as hotels) and restaurants, banking, real estate, travel, etc.
Business to Business (B2B) – The B2B category also is extremely comprehensive including, but not limited to, marketing jobs in manufacturing, industrial supplies, government, pharmaceutical, consulting, IT, engineering, and many others. If the customer is another business, it falls into this bucket.
Healthcare – While healthcare is a service, it really deserves its own category, as it's very specialized. Marketing professionals who understand the nuances and needs of healthcare workers, patients, their families and public perception are in high demand, providing a potentially rewarding career for those who choose it.
Academic – Academia is another area that calls for its own category. Marketing education services is much different than selling household products. If you're passionate about continued learning and have a good head for understand diverse customer needs, a marketing career in an educational institution or service provider may be for you.
This list is by no means exhaustive but gives an idea of the different jobs with a marketing degree that are available to you.
Name Your Dream Job
Once you've identified a specialty and industry, you will need to decide what kind of marketing role you want to play. Here are some of the possible job titles available for marketing degree holders:
Marketing Assistant (entry level)
Sales Assistant (entry level)
Marketing Coordinator (entry level)
Marketing Specialist (mid-level)
Marketing Manager
Shopper Marketing Manager
Email Marketing Manager
Ecommerce Marketing Manager
Consumer Insights Manager
Brand Strategist/Planner
Content Marketing Manager
Marketing Analyst
Marketing Consultant
Brand Manager
Product Manager
Sales Manager
Realtor
Because every company has its own definition of what each of these jobs entail, it's difficult to list one job description for each. However, you can search job descriptions at sites like Monster.com to give you an idea of what to expect. They offer general descriptions or you can look for actual jobs posted within the industries you're most interested in pursuing after graduation.
As for salaries, they vary depending on industry, size of the company, location, and your education level and years of experience, among other criteria set by individual employers.
According to the Bureau of Labor Statistics, listed the median income for a Marketing Manager is $115,7501. The actual salary you could earn might be lower or higher, depending on a host of factors. Spend a little time researching specific companies and industries that interest you most, which you can use to find out salary ranges for marketing jobs that match your interests.
Big, Small or Somewhere in Between?
What kind of company do you want to work for? A large conglomerate? A start-up or non-profit? Maybe a college or university or an international consultancy. Whatever industry you choose, think of your ideal working environment. If you're more autonomous, a field marketing job or a traveling consultant position might suit you better than working as a marketing manager in an office with 3,000 other employees. If you're not sure, ask your professors or search online for local networking organizations that can help connect you with people in your desired industry who are willing to give you informational interviews or mentor you during your studies.
An internship also is a great way to get your feet wet and learn what you like and don't like in terms of marketing careers. You're typically eligible for internships in your junior or senior year of undergraduate school and throughout a graduate level program. Every company has different guidelines. It's worth the time to identify companies where you might like to work and finding out if they offer an internship program.
Location, location, location
Another important consideration in your career planning efforts is deciding where you want to live.
Planning for your future
Any steps you can take now will set you up for success later when you enter the workforce. Here are some helpful questions to ask yourself when creating your action plan:
What's your passion?
What industries interest you?
What role do you want to play?
What size company do you want to work for?
Where are you willing to live?
What steps do you need to take to reach your goal?
If you're not already enrolled in a marketing degree program, a Bachelor of Science in Business Administration with a concentration in marketing degree from Colorado Technical University can help you develop the skill you need to take advantage of a wide range of fast-paced business opportunities. Learn more about CTU's online marketing degree programs and start planning for your future today.
1Bureau of Labor Statistics, U.S. Department of Labor, Occupational Outlook Handbook, 2014-15 Edition, Advertising, Promotions, and Marketing Managers, on the Internet at http://www.bls.gov/ooh/management/advertising-promotions-and-marketing-managers.htm (visited June 08, 2015).