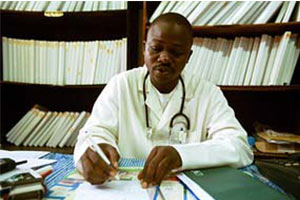 By Ken Vance, MBA, Senior Vice President of the Specialized Industry Group at Bank of America Merrill Lynch and CTU Faculty
In August 2012, we launched Colorado Technical University's Distinguished Lecturer Series with Amy Powell, Director of Operations for Starbucks Coffee Co. The CTU Distinguished Lecturer Series continues on March 28th with Ken Vance, Senior Vice President of Bank of America Merrill Lynch in their Specialized Industry Group focusing on health care. With more than 33 years in the financial and health care industries, Ken shared his insight on the future of health care management and its opportunities.
There have been many changes over the last decade to the health care industry. Employers and employees are expected to do more with fewer employees and less revenue. This creates an environment in which technology must be utilized to capture and analyze data for more effective decision-making. Mobile technology is also managing best practices, and health care managers need to be aware of how to implement them within their organizations.
With the impending Affordable Care Act, managers will need education that integrates quantitative and analytical skills, leadership processes, entrepreneurship and more to stay current with the changes. A manager's role will require improving quality, while simultaneously improving bottom-line performance.
For decades, numbers drove the direction of treatment of diseases like asthma, heart disease, diabetes, and arthritis. Public health officials focused on reducing mortality rates and hitting targets like blood-sugar levels for diabetics and cholesterol levels for those with heart disease. But now health care providers are adding a different, more subjective quality measure by asking questions of how people feel about their condition and their overall well-being. They're reaching for programs where nurses and trained counselors ask patients personal questions such as whether their condition inhibits their lifestyle, or makes them unhappy and unable to cope daily. Counselors offer advice to patients on managing health problems and following up regularly.
Take Advantage of Potential Opportunities
Students pursuing an education in healthcare management should familiarize themselves as much as possible with the field. Hospitals and physician practices are just a portion of the career opportunities available. For example, the aging population continues to increase in high numbers each year, with growth expected to continue. This opens up the world of long-term care and a variety of healthcare-related positions.
If you enjoy working with technology, health informatics may be the field to look into. Or if you excel at math, specialize in banking within the healthcare industry. Broaden your experience within the company, and don't limit yourself. Assume responsibility for your career growth by taking advantage of the educational opportunities offered by your employer and professional groups. Professional certifications give you an advantage over someone with the same education and skill set, but who lacks the certification. Join professional organizations too, paying particular attention to those that offer reduced or free student memberships. Network by volunteering and meeting with others in the industry. When you're ready for a job, you'll have your best resources at hand.
What's Necessary for Quality Health Care Leadership?
Skills that will be needed in health care management include critical thinking, interpretation and synthesis. Managers must excel in service – they have the opportunity to make or break the patient experience. Managers need to understand the interrelationships of departments impacting the revenue cycle and how it impacts strategic planning. Leaders should foresee and be willing to always reinvent themselves following new regulations and technology.
The healthcare industry runs as a team effort like no other. Each player has to be willing to share information and work together to help patients achieve their best possible wellness outcomes. Managers must engage themselves in continued training to become the best possible in their field. When processes, and people, are working poorly, employees will look to managers to lead them through to something better: improvement. Healthcare leaders must make that difference.
Be sure to join us for Ken Vance's Distinguished Lecturer presentation on The Healthcare Transformation: Skills to navigate the changes on Thursday, March 28, 2013.
Ken Vance, MBA, has more than 33 years financial experience and currently serves as Senior Vice President of the Specialized Industry Group at Bank of America Merrill Lynch. He also manages a healthcare practice in the Carolinas. Ken received his MBA from the University of Richmond and holds a bachelor's in education from Virginia Tech. Connect with Ken on LinkedIn.