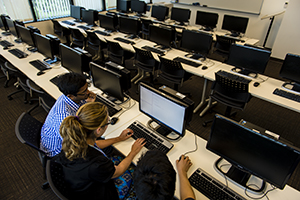 Deciding to pursue a bachelor's degree in engineering can be daunting. After all, you can learn how to design, build, and fix complex equipment, systems, or processes. If you think you want to become an engineering student, it helps to know ahead of time what you could face in college. Here are five things you can expect in a bachelor-level engineering degree program.
A focused curriculum. In any engineering program, you could take courses in physics, advanced math, and computer science in addition to completing your general education requirements. When you enroll in an engineering program, however, you have to choose a specific type of engineering. Your choices can include electrical, computer, software, and systems engineering. Often you can take general education courses during your first year. As you progress in the program, you can take engineering courses, and take and choose your specialty to begin classes that are focused on your field.
An intense time commitment. Engineering programs include rigorous class schedules and intensive projects. Most students complete their engineering Bachelor's degrees in about four years. The length of your program depends on the number of required credits and how many you complete each semester.
The support of faculty. Find out what kinds of support are available from the faculty and staff at the school you choose. Don't forget to check out the faculty's credentials as well.
An emphasis on building practical skills. Engineers are analytical, creative, open-minded, and diligent enough to complete difficult programs. These qualities can help them acquire skills that could help them in their professional development. Some of the skills you could develop in an engineering degree program are conducting experiments, analyzing and interpreting data, and designing systems or components that meet certain specifications.
Preparation for engineering license exams. In the United States, it's necessary to become certified as Professional Engineers in some, but not all, fields. If you're interested in taking licensing exams, research the licensing or certification requirements in your state.*
This article is presented by Colorado Technical University. Contact us today for information about how you could learn knowledge and relevant skills with an industry-current degree program from Colorado Technical University.