Classes start May 15, 2018!
General Education Mobile Program (GEM)
CTU is proud to be a part of the Community College of the Air Force (CCAF) General Education Mobile (GEM) program. The GEM program allows you to build a core curriculum through the flexibility and convenience of CTU's online courses. GEM allows you to take online courses through CTU that may count towards your degree with CCAF.
The following list of CTU general education courses are matched to specific CCAF education course objectives. By taking one or more of these classes, you may fulfill a requirement(s) for your degree through CCAF.
| | |
| --- | --- |
| COMS203 | Speech Communication |
| ENGL101 | Composition and Critical Thinking |
| ENGL103 | Composition: Writing and Research |
| MATH112 | Analytic College Algebra |
| MATH102 | Introduction to College Math |
| HIST112 | Western Civ I: From its Origins to the Renaissance |
| SOCL102 | Introductory Sociology |
| HIST101 | Modern American History: 1950 to the 21st Century |
| ECON210 | Principles of Macroeconomics |
| ECON212 | Principles of Microeconomics |
| LITR201 | Literature: A Reflection of Life |
| COMS220 | Critical Interpretation of Documentary Film |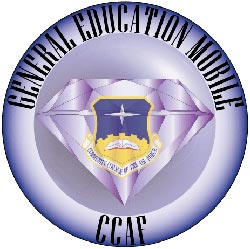 Online classes are 5.5 weeks long and are offered 8 times a year. See our academic calendar here.
To understand your unique GEM eligibility, contact CTU's Prior Learning Assessment team by calling 1-866-813-1836, or to begin the enrollment process contact the Non-Degree Seeking admissions department by calling 1-800-416-8904, ext. 38410.
Requirements of the CCAF GEM program are not controlled by CTU and are subject to change without notice to CTU. Therefore, CTU cannot guarantee that completion of the courses above will fulfill CCAF GEM program requirements at the date of completion CTU cannot guarantee employment or salary. Financial aid is available for those who qualify. Find employment rates, financial obligations and other disclosures at www.coloradotech.edu/disclosures. North Chestnut Street Colorado Springs, CO 80907.