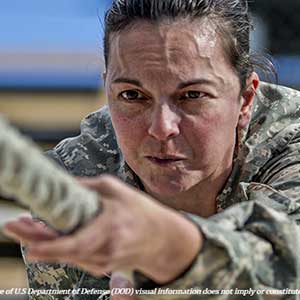 CTU is a proud military-centric school, and has been since our inception by veterans in 1965. Because of this, November is of extreme importance to our university. Not only is it the month in which we celebrate Veterans Day, it is also the time of year when we announce the recipients of our annual CTU Patriot Scholarship.
Giving Back to Those Who Serve
Each year, CTU® awards 50 well-deserving service members, wounded veterans, spouses, caregivers, or college-ready dependents full-tuition scholarships to an eligible CTU degree program of their choice. As of December 31st, 2022, CTU has awarded 750 scholarships totaling over $18 million with support from the following partners:
Elizabeth Dole Foundation
Guardian Angels Medical Service Dogs, Inc
Yellow Ribbon Fund
Aurora Chamber of Commerce
Dixon Center
Luke's Wings
TBI Warrior Foundation
Congratulations to this year's 50 recipients. Thank you for your service, and welcome to the CTU family!
Applications Opening Spring 2024
While the application period for this year's CTU Patriot Scholarship has closed, the 2025 application will open in Spring 2024. Scholarship-eligible individuals include active-duty or veteran service members who obtained medical treatment for service-related disabilities. Spouses, non-medical attendants, caregivers, and college-ready dependents of wounded service members are also eligible to apply.
For more information on eligibility for this scholarship visit the CTU Patriot Scholarship webpage.
Flexible Degree Programs to Accommodate Busy Military Students
At CTU, we offer flexible degree programs and different degree pacing options. A range of education benefits and financial aid options for military spouses and dependents are also available for those who qualify.
The following degree programs may be of interest to veterans and active-duty military members:
Business and Management – We design our bachelor's and master's degree programs to present relevant, real-world scenario-based education to our students. We offer a general track as well as concentrations that focus on specific areas of interest.
Information Technology (IT) – Our IT degree programs focus on providing critical thinkers with an opportunity to advance their professional skills as they pursue their bachelor's or master's degree in IT with concentrations and specializations in network management, security management, and more.
Criminal Justice – Within our bachelor's and master's degrees programs in criminal justice, students study the principles and skills in the fields of justice, law, and homeland security while exploring a diverse range of issues in public and private sectors.
To learn more about CTU's degree programs and opportunities, speak with an Admissions Advisor today. Call 1-855-230-0555 or request information online.
REQ1988002 10/2023