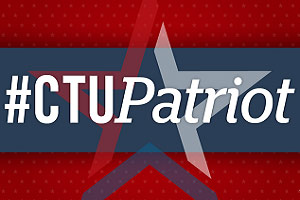 Celebrating our military heroes on Veterans Day is a time-honored tradition at Colorado Technical University. We recognize the call to support those affected by life-altering events and understand the impact of an injury sustained while serving our country is far-reaching.
In response, each year, CTU awards 50 well-deserving wounded veterans, their spouses, caregivers and college-ready dependents with full-tuition scholarships to an eligible CTU degree program of their choice. Since 2008, the CTU Patriot Scholarship has awarded 600 scholarships, totaling over $14 million in education to give back to those whose lives have been altered due to injuries sustained while serving in the United States Armed Forces.
2021 Patriot Scholarship Recipients
We are proud to announce the 2021 CTU Patriot Scholarship recipients – honoring our nation's heroes and their supporters. Congratulations to the following recipients:
Shameka Alejandro, FL
Edwin Almodovar, PR
Killjan Anderson, CO
Danielle Andrade, TX
Melissa Balent, CO
William Banks, CO
Nicolle Barrow, OH
Adam Bradford, LA
Mary Jo Brandt, FL
Adrian Cameron, KY
Zaria Carter, FL
Melida Collins, NM
Arturo Corpuz, CO
Morkey Dove, FL
Victor Favero, CO
Erik Fey, WA
Jason Fitzgerald, FL
Victor Follis, KS
Audrey Green, MO
Sarah Hubert, CO
Richard John, CA
Aaron Johnston, CO
Steven Kendall, VA
Nichoal Knutson, CO
Jaime Kuzio, CO
Eduardo Leardo, VA
Tomas Lopez, CO
Virginia Lynch, AZ
Aurelio Maldonado, FL
Cynthia Milligan, TN
Anna Mlaker, CO
Ralph Morales, VA
Amanda Morris, VA
Margaret Morris, CO
Bryan O'Kelley, CO
Joshua Peters, MO
Tina Powell, NC
Michele Pritchard-Bell, MD
Adam Rodgers, VA
Daniel Ross, CO
Marty Rush, CO
Nicholas Scopellite, VA
Breanna Shields, AZ
Katarzyna Sussman, CO
Amy Taft, NC
Bobby Triplett, GA
Leanna Vargas, CA
Christopher Warhawk, CO
Karee White, NC
Mohamed Williams, DC
While the application period for this year's CTU Patriot Scholarship has closed, the 2022 application will open in Spring 2021. Scholarship-eligible individuals include active duty or veteran service members who obtained medical treatment for service-related disabilities. Spouses, non-medical attendants, caregivers and college-ready dependents of wounded service members are also eligible to apply.
For more information on eligibility, financial aid or military education benefits, visit the CTU Patriot Scholarship webpage.
Patriot Supporters
Since the Patriot Scholarship's founding, the Yellow Ribbon Fund, Inc. has worked with CTU to provide educational opportunities to military veterans and their loved ones. Since 2005, the Yellow Ribbon Fund, Inc., has supplied housing, transportation and support to critically wounded, sick and injured post-9/11 service members.1
In April 2019, the University teamed up with other military and veteran-supportive organizations for the upcoming academic year. The groups involved with the 2021 Patriot Scholarship include the Yellow Ribbon Fund, Inc., The Elizabeth Dole Foundation, and Guardian Angels Medical Service Dogs, Inc.
Degree Program Opportunities
At CTU, we offer various degree programs for students to pursue online. Military students may be interested in the following degree options:
Business and Management – We design our bachelor's and master's degree programs to present relevant, real-world scenario-based education to our students. We offer a general focus or specialized business concentrations.
Information Technology (IT) – Our IT degree programs focus on providing critical thinkers with an opportunity to advance their professional skills as they pursue their bachelor's or master's degrees in information technology (IT) with concentrations in network management, security management, and more.
Criminal Justice – Within our bachelor's and master's degrees programs in criminal justice, students study the principles and skills in the fields of justice, law, and homeland security while exploring a diverse range of issues in public and private sectors.
Pursue Your Educational Goals
CTU aims to make our students' educational journey convenient and rewarding, whether you're military or civilian, and we offer different degree pacing options and financial aid opportunities for those who qualify. A range of education benefits and financial aid options for military spouses and dependents are also available.
To learn more about CTU's degree programs and opportunities, speak with an Admissions Advisor today. Call 1-855-230-0555 or request information online.
---
1. The Yellow Ribbon Fund, Inc. Accessed Oct. 19, 2020. https://yellowribbonfund.org/story/
1606929 11/20