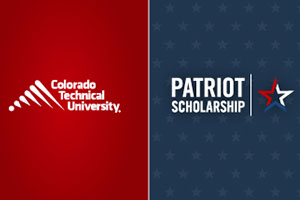 Colorado Springs, Colo. – 4/4/2019 – CTU celebrates 11 years of military scholarships, this year working with The Elizabeth Dole Foundation, Yellow Ribbon Fund, Inc., Guardian Angel Medical Service Dogs, Inc., and Hire Our Heroes.
For over a decade, Colorado Technical University has offered 50 full-tuition scholarship opportunities each year to wounded servicemembers and their families. Through the CTU Patriot Scholarship (formerly known as the CTU Wounded Warrior Scholarship), active-duty military members and veterans with service-connected disabilities, their spouses, dependents and caregivers have the chance to pursue a degree program at no cost.
Since the Patriot Scholarship's inception in 2008, Yellow Ribbon Fund, Inc. has worked with CTU to offer opportunities to military veterans and their families. This year, the University established relationships with three additional military-centric organizations seeking to provide educational support to U.S. Armed Forces members, veterans and their loved ones.
Organizations teaming up with CTU for the Patriot Scholarship include:
CTU continually looks to enhance the University's commitment to our country's most deserving individuals. CTU President Andrew H. Hurst shared, "It's a great honor for our University to form relationships with these esteemed military and veteran-supportive organizations." He continued, "CTU was established by military veterans, and we look forward to working together in the tradition of giving back to those who have sacrificed so much."
As of January 2019, CTU has awarded 550 scholarships, totaling over $11 million to wounded servicemembers and their families. Along with full-tuition to any CTU degree program, recipients also receive a new laptop computer, all course materials (hard-copy book or e-books), a dedicated student success coach and specially-trained military education advisor, and 24/7 tech support and tutoring. CTU Patriot Scholarship students can also choose to pursue their degree online or at one of CTU's Colorado campuses.
The application period for the 2020 CTU Patriot Scholarship extends through June 30, 2019. For more information about eligibility or to apply, visit coloradotech.edu/CTUpatriot.
About Colorado Technical University
Since 1965, Colorado Technical University (CTU) has helped students fit a real-world education into their busy daily lives. With more than 100 degree programs and concentrations, students can pursue a variety of degrees at the associate, bachelor's, master's and doctoral level. CTU offers flexible online classes, accessible through the University's Virtual Campus or the innovative CTU Mobile app. CTU also maintains two ground campus locations in Colorado Springs and Aurora, Colo. For more information about CTU, visit www.coloradotech.edu.
Colorado Technical University is accredited by the Higher Learning Commission (hlcommission.org), a regional accreditation agency recognized by the U.S. Department of Education. CTU cannot guarantee employment or salary. For important information about the educational debt, earnings, and completion rates of students who attended CTU programs, visit www.coloradotech.edu/disclosures. CTU is a member of Career Education Corporation (NASDAQ:CECO). For more information, visit www.careered.com.
Media Contact:
newsroom@coloradotech.edu