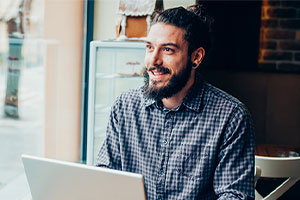 Taking care of yourself while going to school and working might be challenging. You may feel overwhelmed or frustrated, maybe because of obstacles with your online classwork, family life, or your job. You might even struggle to focus on the things in your life that are going well.
The good news is that expressing your gratitude and centering your attention on the positive may be able to help! It can reduce your stress, improve your sleep, strengthen your immune system, and lower your blood pressure. Your optimism, joy, and relationships may even improve.1, 2
Try the following steps to shift your focus and help lift your spirits:
1. Keep a gratitude journal.
Think about what you have, such as your home, your partner, children, an extended family, or your educational or professional accomplishments and growth. Try to get into the habit of writing about the things that bring you joy each day.2 When you practice this method of personal reflection to redirect your negative thinking, you might change your brain's neural connections.3, 4 Then, when you face life's challenges, you might tackle them with fewer feelings of anxiety and fear.3
2. Compose a handwritten note.
Throughout your journey as a student, has someone encouraged you to push forward during challenging times? For example, maybe a friend or a family member has helped you by watching your kids or running errands so you could spend a few, quiet moments completing classwork. Has a teacher given you an extension on an assignment's deadline when you were falling behind? You can acknowledge that person by sending him or her a handwritten note in the mail. Let that person know how much you appreciate their support and encouragement. Explain why you are thankful for having him or her in your life. A personalized note can feel more meaningful to the person on the receiving end.2, 5, 6
3. Celebrate gratitude in the workplace.
Communicating your gratitude for others in your workplace is just as valuable as acknowledging personal gratitude. Think about the people you work with and the relationships you have built. Has a supervisor been flexible and understanding despite your family needs and busy online class schedule? Has a co-worker covered your shift when you or a family member was ill? A simple "thank you" can show gratitude; however, you can make the person on the receiving end feel even more appreciated and important by specifying why you are thanking him or her and acknowledging your thankfulness in person.5
If you let people you work with know you appreciate them and explain why, then you might make their day brighter while also affirming their importance in your life and your work team. You may even increase your own levels of satisfaction while making someone else happy.4,7
4. Challenge yourself.
Participate in a challenge to acknowledge the things for which you are grateful. For example, UPMC My Health Matters offers a 31-day gratitude challenge on their website. You might consider inviting your family and friends to join you. Share your goals with others on a social media platform.1 Performing and sharing simple acts of kindness, such as allowing someone to merge in front of you or calling someone you haven't spoken to in a while, might encourage others to do the same.2
5. Pay it forward.
Consider giving to others in ways you have received. For example, buy a co-worker lunch, bring in an extra coffee, or offer to help with a project or deadline. Be the trendsetter for displaying gratitude and your kindness may also encourage others to pass it on.2, 7
Our need for recognition and the desire to feel appreciated is natural, and it can encourage us to do our best.7 As you continue to balance family, a career, and higher education remember that acknowledging or communicating your gratefulness to others is important. You have the power to potentially enhance the health and happiness of yourself and others with simple expressions of gratitude! 1, 2
---
1. Brambles, Ashley. "31-day gratitude challenge." UPMC My Health Matters. Accessed January 17, 2019. https://www.upmcmyhealthmatters.com/31-day-gratitude-challenge/
2. Vrabel, Jeff. "What I Learned From Keeping a Gratitude Journal." SUCCESS. Published March 29, 2017. Accessed January 17, 2019. https://www.success.com/what-i-learned-from-keeping-a-gratitude-journal/
3. Greenberg, Melanie. "3 Negative Thinking Patterns to Avoid — What to Do Instead." Psychology Today. January 17, 2019. https://www.psychologytoday.com/us/blog/the-mindful-self-express/201708/3-negative-thinking-patterns-avoid-what-do-instead
4. Miller, Janet. "8 Ways to Have More Gratitude Every Day." Forbes. Published July 8, 2016. Accessed January 17, 2019. https://www.forbes.com/sites/womensmedia/2016/07/08/8-ways-to-have-more-gratitude-every-day/#6a49ee2e1d54
5. YEC. "10 Thoughtful Ways to Give Thanks to Your People." SUCCESS Magazine. Published November 24, 2015. Accessed January 17, 2019. https://www.success.com/10-thoughtful-ways-to-give-thanks-to-your-people/
6. Schwartz, Tony. "Why Appreciation Matters So Much. Harvard Business Review. Published January 23, 2012. Accessed January 17, 2019. https://hbr.org/2012/01/why-appreciation-matters-so-mu.html
7. Stahl, Ashley. "Three Ways To Pay It Forward At The Office." Forbes. Published February 26, 2018. Accessed January 17, 2019. https://www.forbes.com/sites/ashleystahl/2018/02/26/three-ways-to-pay-it-forward-at-the-office/#74fb7b51ae9e