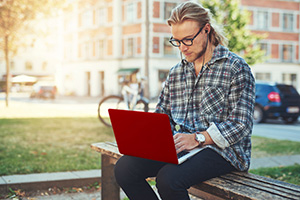 Adults are returning to school in record numbers, often in part-time, evening and online education programs. According to the National Center for Education Statistics, the population of students aged 25 and older is projected to increase to approximately 43 percent of all college and graduate students by the year 2020.1 However, enrolling in a degree program after the age of 25 may present unique challenges. Students may be working full-time in addition to attending classes or they may be raising a family; and in some cases, they may be doing both.
If you're a student raising a family and pursuing a college degree, know that it's okay to have moments where you feel tired and overwhelmed. It's also normal for your family to struggle with the lifestyle adjustment as you go back to school. However, your pursuit of a degree is temporary, not permanent. It can be helpful to take the long-term view and recognize these bumps in the road won't always exist. Then, consider the short-term view and identify realistic ways both you and your family can be successful during this period in time. The following suggestions may help.
Enlist the full support of your spouse/partner/family/friends.
This can be one of the most critical steps to successfully balancing your home and your academic life. Even if you have a spouse who has agreed to take on additional responsibilities in the home, he or she can't carry the entire burden. Therefore, it's best to ask for help from several good resources. When multiple family members and friends understand your goals and how you would like them to support you, you'll have a larger support network to turn to when necessary and this can lessen the chance any one individual will burnout on babysitting, carpooling and meal preparation duties.
Create a calendar.
Maintaining a family calendar that everyone in the family can access is a great way to stay organized even when a parent isn't enrolled in a college degree program. Missed appointments and scheduling conflicts can cause family to be resentful and frustrated, so it's best to take steps to avoid scheduling mishaps. Also, creating quality family time (and time with your spouse or partner) is important, and the best way to make this happen is to schedule the time in advance.
If your children are old enough, make the calendar a family activity. Ask everyone to add his or her schedule to the calendar. You of course will add your classes, coursework deadlines and study time where appropriate. This way your family will be able to see at a glance what your availability is, and they can manage their expectations accordingly.
If your family is online and "mobile," take advantage of some of the user-friendly, inexpensive calendar apps available such as Google Calendar, Cozi and Hub Family Organizer. Many of these apps include features such as to-do lists and the ability to schedule appointment reminders. These apps can be great vehicles for reminding your family of your important exams and papers, and hopefully diminish any unrealistic requests for your time and attention.
Designate a study spot.
Ask your family to help you create a dedicated study space in your home and communicate to them that when you're in the study space, they need to avoid disturbing you. If you don't have access to a spare room for a study space, get creative! Look for unused areas in your available space that could be converted into a study area such as a less used room, corner area in a kitchen or living room, or an enclosed balcony. Kids are great at using their imaginations to convert spaces into areas for play, so enlist their help. You might be surprised at what they imagine on your behalf.
Designate family reading time.
Set aside 30 to 60 minutes a day as "family reading time" where everyone gathers in the same room and reads (or in your case, studies). Make sure you schedule frequent trips to the library so there are always plenty of reading materials on hand. Magazine subscriptions are also a great way to guarantee there's fresh reading material available. If your children are not yet old enough to read, no worries! Picture books, puzzles and other quiet activities such as coloring work just as well.
Share your education with your family.
Be sure to include your family in your experience. If you're learning something you find particularly interesting, share it with your family. Chances are they may be interested too. It's a great way to let them participate in your learning activities and it can go a long way to maintaining their support of your goals, plus you're setting a positive example.
Seek outside help.
Finally, remember you can turn to your college or university for help if you feel you're struggling. School advisors, faculty and other students can be great resources for advice and even sounding boards to whom you can vent your frustration. You're not the first parent to enroll in a degree program or take college courses, and help and resources are available if you ask.
Need more student tips for success? Read "Time Management: What Does It Look Like? Sharing Insight" on CTU's blog.
---
1. Holland, Kelley. "Back to School: Older Students on the Rise in College Classrooms." Retrieved March 23, 2017 from http://www.nbcnews.com/business/business-news/back-school-older-students-rise-college-classrooms-n191246