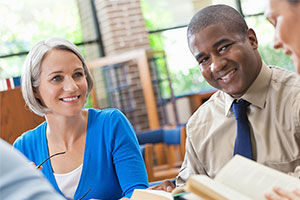 Group collaboration can be a significant part of a business's success. When employees work efficiently, they may meet or even surpass their goals. It's been said that, "There is no greater weapon in a company's arsenal than a great team."1 The same applies in the classroom. When an instructor assigns course projects, students work together to reach a common goal: achieve a passing grade. Yet, when team members do not contribute, or they communicate poorly, everyone can suffer.
To help limit these situations, try the following tips when working as a team to complete an assignment:
1. Communicate
When your instructor assigns a group project, you must work with your classmates to complete the assignment. Discuss each person's availability and meeting times and locations. For example, what time of day works best for each person? Will group meetings take place on campus, virtually, or elsewhere like a library? Establishing these details is important for online courses when students work together remotely. Simplify the process by using various social media platforms to meet with your group. Virtual meetings can take place on platforms such as Google + Hangouts or Skype, and you can share information via Google Docs, in emails, or in a private Facebook group.
Once you establish meeting times and locations, all team members should review the assignment's instructions. Contact your student advisor or your instructor if you have questions to make sure you understand the requirements. Then, brainstorm and develop a plan to complete the project.
2. Coordinate
Your life is busy, and so is everyone else's. However, organizing the different aspects of a group assignment can help ensure your team completes the work on time. During your first meeting, create a calendar and record the project's due date. Also, consider assigning leadership roles, such as a project manager, to divide the tasks needed to complete the project. The project manager may allocate responsibilities based on each team member's abilities and interests.
For instance, some people are strong in their research skills while others thrive in writing or editing. Assign these roles based on each person's strengths. To hold all team members accountable for reaching goals, set task deadlines leading up to the due date and decide when to start, complete, and review each part.
3. Cooperate
Working as a team requires respect, honesty, and welcoming the opinions and suggestions of others.1 However, you may encounter instances of conflict or a difference in opinion. If your team selects a project manager, value his or her recommendations and respectfully voice your concerns if you do not agree with various decisions made. If you are the project manager, listen to your teammates to help determine the most beneficial options for your team. Handling conflict with respect may allow you to meet in the middle and move forward. Remember, the goal is completing the project and achieving a satisfactory grade.
4. Contribute
When working as a group, each person's contribution influences the team's success. If you don't perform your part of the responsibilities, then the entire team might fail. So, give yourself enough time to complete your portion of the project. Start with the challenging parts first. If you have difficulties, communicate with your team and ask for help before you reach your deadline. You may even ask your teammates to review your work for insight or inspiration.
5. Complete
Before your project's due date, connect with your team members to check each part. Ensure you meet all requirements, answer all questions, and make any necessary conclusions. Finally, submit your project on time.
Being assigned to a group project doesn't have to be stressful. Practice the five C's – communicate, coordinate, cooperate, contribute, and complete – to encourage teamwork and accountability. Not only can effective teamwork potentially result in a passing grade, but it may also drive your personal and professional growth.1
---
1. Zimmer, Tim. "Importance of Teamwork at Work." Chron. Updated June 29, 2018. Accessed November 30, 2019. http://smallbusiness.chron.com/importance-teamwork-work-11196.html