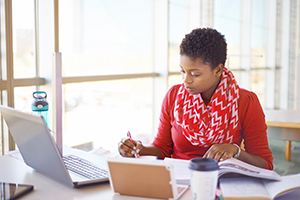 If you feel overwhelmed when trying to meet your daily objectives, you're not alone. Finding the time to work, eat, commute, sleep, exercise, write, clean, or run errands within 24 hours can seem impossible. But when you're managing online classwork on top of everything else, your anxiety may multiply. Take action instead of feeling discouraged.
Don't accept defeat! Rather, try the following six steps to help get yourself back on the path to productivity:
1. Prioritize Your Tasks
Before the start of the week, brainstorm and outline what you need to do each day. Estimate how long each task will take and what you need to begin and complete each one. You might organize your responsibilities from most important or timely and then work your way down the list. While you may have to sacrifice your social time, you can reward yourself with something fun once you catch up.
2. Prepare Ahead of Time
Gather what you need before you begin a task specific to your classwork. Do you have the required textbooks, research, and equipment needed to complete your assignments? Were you given requirements to follow and do you have the instructions within reach? Is your study space free from clutter? Taking the time to prepare and organize might help prevent unnecessary distractions and delays and enable you to fulfill your goals.
3. Unplug From Social Media and Email
The ease to connect to family, friends, co-workers, or teachers through social media platforms and email can be both helpful and hindering. According to one study, Americans check their phones once every 12 minutes.1 Another study notes how the average person struggles to go a little over 10 minutes without checking their phone.1 So, if you're fighting to keep up on class assignments, don't let time-consuming outlets to distract you.
Your time is valuable. Disconnect from your social media accounts and email, and pledge to stay away until you've completed a certain amount of work. But once the work is complete, you might indulge yourself by scheduling a few minutes to scroll through your favorite platforms or respond to text messages or emails.
4. Set Reasonable Time Limits
Don't overestimate your ability to take on one or more tasks in a short amount of time. Instead, be realistic. For example, set deadlines for completing class assignments. Determine when you will start and finish your research, begin an outline, or edit a final draft. But, consider everything else you need to do while also meeting deadlines for classwork. If you have extra time commitments at work or in your personal life, consider these things when creating your schedule. You may want to give yourself a cushion for potential situations that could cause delays. You don't build more stress in your life.
5. Optimize Your Down Time
Are there moments in your day when you're sitting and waiting? Having a plan in place may encourage productivity during this time. For example, online learners can log in to the virtual campus (VC), take part in live chats, check faculty feedback, and review discussion boards through the CTU Mobile app. If you keep a notebook and pen with you in your car or in your bag, then you can jot down ideas for discussion board threads or essay question topics during your downtime.
6. Don't Self-Sabotage
You may face challenges during your journey as a student. For example, a time may come when you feel an assignment is beyond your capabilities. But try to remember why you're advancing your education and that your institution wants you to succeed. Don't sabotage yourself by procrastinating because you fear failure.2 Procrastination is a method of self-handicapping—purposely undermining your own efforts—and it creates a reason to excuse your effort and not your ability.2
Above all else, don't be afraid to reach out for help! CTU student advisors and faculty can direct you to resources and tutoring to help get you back on track.
---
1. SWNS. "Americans check their phones 80 times a day: study." New York Post. Published November 08, 2017. Accessed January 21, 2019. https://nypost.com/2017/11/08/americans-check-their-phones-80-times-a-day-study/
2. Santella, Andrew. "The Real Reason You Procrastinate." TIME. Published March 19, 2018. Accessed January 21, 2019. http://time.com/5203895/why-do-we-procrastinate/