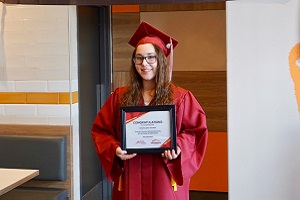 COLORADO SPRINGS, CO – 4/29/2019 – CTU and McDonald's celebrate a student milestone as a second-generation Archways to Opportunity™ funding recipient achieves her personal goal of earning a college degree.
On April 8, Colorado Technical University (CTU) and McDonald's celebrated the graduation of Kay-Cee Antill, a second-generation McDonald's student and recipient of Archways to Opportunity tuition assistance. Kay-Cee utilized her McDonald's funding and resources from CTU to earn a Bachelor of Science in Healthcare Management. The Golden, Colo. celebration marks another educational achievement for a McDonald's student who utilized employment as a means to pursue career and academic goals.
Kay-Cee is the daughter of Sharna Flores, the General Manager at McDonald's in Lakewood, Colo. Over 20 years ago, Sharna put her academic goals on hold as she became a young mother and withdrew from high school. Through her employment at McDonald's, Sharna was able to earn a high school diploma by enrolling in Archways to Opportunity, a McDonald's-funded program offering employees access to tuition assistance, English language courses, high school diplomas and educational planning.
In 2018, inspired by her mother, Kay-Cee became a second-generation McDonald's student to benefit from Archways to Opportunity. "It brings me great excitement and a strong sense of pride to follow in my mother's footsteps, using my employment at McDonald's as the key to unlocking my academic abilities," shares Kay-Cee Antill, CTU graduate.
Kay-Cee's first job was working at the Lakewood McDonald's in 2014 where she received valuable customer service training. She is currently a Department Manager in Lakewood and will be able to carry her experience and skills from McDonald's into a new industry.
Kay-Cee looks forward to pursuing a future in healthcare management, and McDonald's supports her ambitions. "As an owner operator, it gives me a great sense of pride watching employees continue to reach new heights in their educational and professional aspirations through the McDonald's Archways to Opportunity program," says Mike Sandoval, McDonald's Owner Operator.
CTU President Andrew H. Hurst echoes the excitement and offers his congratulations. "Our University is extremely proud that Kay-Cee graduated with a bachelor's degree from CTU and was able to utilize her education benefits offered by McDonald's. Kay-Cee and her mother are both inspirational examples of how, through utilizing an opportunity and hard work in the classroom, students can reach their goals," shares President Hurst.
In 2014, CTU and McDonald's formed an educational alliance to help make pursuing a college degree financially achievable. McDonald's students have the opportunity to earn college credit for their Hamburger University® training and pursue a degree with as little as $0 out-of-pocket.
Through this educational alliance, students can attend classes 100% online and have 24/7 access to the CTU Virtual Campus. Additionally, CTU offers personalized learning technology to help students control what, how and where they learn; faculty with real-world experience; and industry-focused curricula.
For more information on educational alliances with Colorado Technical University, visit www.coloradotech.edu/about/educational-alliances.
About McDonald's of Colorado
McDonald's of Colorado is comprised of over 200 independently-owned and opera>ted McDonald's restaurants. For more information about McDonald's, visit www.mcdonalds.com or download our app at McD.to/GetApp.
About McDonald's USA
McDonald's USA, LLC, serves a variety of menu options made with quality ingredients to more than 25 million customers every day. Recently, the company committed $150 million over five years to extend benefits of its global Archways to Opportunity education program, announced goals to improve its packaging and have recycling in all of its restaurants by 2025 and pledged to reduce greenhouse gas emissions related to McDonald's restaurants and offices by 36% by 2030. For more information, visit www.mcdonalds.com, or follow us on Twitter @McDonalds and Facebook www.facebook.com/mcdonaldsUS.
---
About Colorado Technical University
For 55 years, Colorado Technical University (CTU) has helped students fit a real-world education into their busy daily lives. With more than 80 degree programs and concentrations in which students can pursue a variety of degrees at the associate, bachelor's, master's and doctoral level. CTU provides flexible online classes, accessible through the University's Virtual Campus or the innovative CTU Mobile app. CTU also maintains two ground campus locations in Colorado Springs and Aurora, Colo. With the help of faculty and industry professionals, CTU has awarded over 118,000 degrees to traditional campus and online students since 1965. For more information about CTU, visit www.coloradotech.edu.
Colorado Technical University is accredited by the Higher Learning Commission (hlcommission.org), a regional accreditation agency recognized by the U.S. Department of Education. CTU cannot guarantee employment, salary or career advancement CTU is a member of Perdoceo Education Corporation (NASDAQ:PRDO). For more information, visit www.perdoceoed.com.
Media Contact:
newsroom@coloradotech.edu