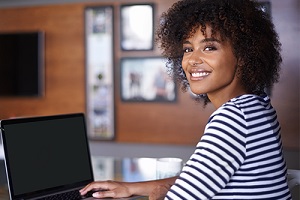 Far too many people walk through life carrying the heavy weight of self-doubt. The first step to overcoming self-doubt is to identify negative thinking patterns. Know that there is a way out, and it will require an adjustment to your current mindset.1 Self-doubt and insecurities can be debilitating and may prevent you from facing challenges, missing opportunities, and above all believing in yourself. It can be especially challenging for returning students to pull the trigger and go back to school. Below, we share six ways to improve self-doubt, pursue schooling, and move forward with self-confidence.
Choose Positive Feedback
All of what drives self-doubt starts in your head. Take a step back and ask yourself – are you repeatedly thinking destructive thoughts? People riddled with self-doubt tend to notice situations or feedback that confirms their lack of value.1 Instead of focusing on the negatives and downplaying your strengths – choose to consciously listen for positive feedback. Stop feeding the doubt.


Redefine Your Values
It can be easy to lose sight of goals and wishes in the midst of self-doubt. Take time to write out your education, career and life goals, and reevaluate what's important to you. Keep them somewhere that allows you to see them every day.2 Recommit to yourself and those closest to you. Focus on the outcome or end goal, and think about the small, attainable steps that will need to be taken in order to achieve it.


Assess Your Skills and Ask Questions
Be kind to yourself, and think about what you enjoy doing. What are your strongest skillsets? Ask questions, and think about the skills you need to start you off on your chosen career path, to set yourself up for success. Don't be afraid to ask for help! Utilize career development resources, such as, resume writing, interview preparation, and career planning and coaching.


Lean on Your Support System
Reach out to previous employers or, if you've previously attended school, an alumni organization to establish connections and build relationships. This, in turn, may help boost your confidence. Join a LinkedIn group or online community; the Internet can be an extremely powerful and positive place for people looking to make personal connections with others.2 Seek out a mentor or therapist to discuss goals and feelings. Share your highs and lows, and allow yourself to be vulnerable. By acknowledging how you feel, you may be able to pinpoint the roots of your self-doubt.


Schedule "You Time"
Engage in activities that you enjoy, and stay positive. Your daily habits have a large impact on your overall wellbeing and the way you feel about yourself.2 Do something nice for yourself every single day, and allocate alone time to read or study. Discuss potential class schedules with your loved ones so that everyone can adjust their schedules accordingly. Get plenty of sleep, adopt a healthy diet, and chances are you'll be better prepared, feel more motivated, and be on your way to feeling like your best self again.2


Take the Next Step
The most important step is the next one you take. Say goodbye to your inner-critic and pursue your education! Your degree may be one of the most rewarding experiences throughout your lifetime, and may help you meet your future goals. Don't let self-doubt stand in the way, and instead – welcome any challenges with enthusiasm.
Self-doubt must be examined if it prevents you from living an enriching life.3 If you feel it wreaking havoc, take a step back to refocus on your overall goals, and encourage self-compassion instead of letting any obstacles get the best of you.3 No one is perfect, and life is too short to not pursue your goals. The road to success isn't without its detours, but there are resources available that support students and their families every step of the way. Go after your educational goals while you keep living the life you love. Feel confident and achieve you own success!
---
1. Becker-Phelps Ph.D., Leslie. "Stop Self-Doubt in its tracks and Build Self-Confidence." Psychology Today. Published January 3, 2012. Accessed January 21, 2018. https://www.psychologytoday.com/blog/making-change/201212/stop-self-doubt-in-its-tracks-and-build-self-confidence
2. Schroll V., Andrea. "10 Things you can do Today to Overcome Self-Doubt." The Huffington Post. Accessed January 21, 2018. https://www.huffingtonpost.com/entry/10-things-you-can-do-today-to-overcome-self-doubt_b_9777824.html
3. Fahkry, Tony. "How to Boost Your Confidence and Overcome Self Doubt." The Mission. Published October 12, 2017. Accessed January 21, 2018. https://medium.com/the-mission/how-to-overcome-self-doubt-and-boost-your-confidence-a10ac6cc912f