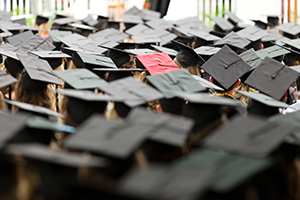 Congratulations, you made the decision to go to college! You can anticipate exciting experiences ahead of you like making new connections with your fellow students, exploring new ideas with your instructors, and achieving new accomplishments to name a few. Yet before you can enroll in that first class, you'll need to answer a few questions, including: "What type of degree are you going to pursue?" and "What will be your major or concentration?" Knowing the difference between college degree levels, majors and concentrations can help as you make these decisions.
A degree is essentially a credential that is given to you by a college or university after you successfully complete a series of academic requirements. These requirements are often referred to as "courses." For each course you successfully complete, you earn a set number of credits. When you earn enough credits to meet your degree requirements, you earn your degree. Degree types focus on specific subject areas such as Business, Computer Science, Nursing, Healthcare and Criminal Justice, which are also known as majors. Depending on a college's offerings, students can further select a concentration or specialization.
Choosing a Major, Concentration or Specialization
A major, concentration or specialization is the area of study — what you choose to focus on in your degree program. Typically, this includes a core group of classes as well as any additional requirements necessary to complete the degree program. This area of study indicates to potential future employers what you studied in school. It may also be applicable for application into a program at the next degree level. For example, a major in business helps indicate to an employer that you have studied the field of business. A concentration in Finance within the Business major shows a further focus on the financial side of the business world. Similarly, a concentration in Nursing Administration or Nursing Education helps inform a potential future employer that you have further defined focus within your Nursing major.
For some students, choosing a major or concentration can be difficult. With so many interesting academic fields to explore, how do you determine which major or concentration is the right one for you? The following tips may help:
Career Preparation — You may choose a major or concentration because it helps you prepare for a specific career or graduate degree program. If you already know you want to be an accountant or a nurse, for example, then you have a good idea of what you would like to study and can choose a major or concentration that aligns with this goal.
Subjects of Interest — Many students choose a major or concentration based on their interests. This can be a smart way to decide on a major or concentration since you may be more likely to do well in a degree program you are genuinely interested in.
Job Growth Outlook — Students may focus on occupations where job growth and an increased demand for employees is anticipated. For example, according to the Bureau of Labor and Statics, some of the fastest growing occupations with the highest projected change of employment from 2014-2024 include occupational therapy assistants, nurse practitioners, statisticians, operations research analysts and personal finance advisors.1
Remember that it's okay if you don't know what you want your major or concentration to be right away. Many general education courses for degree programs overlap between one area of study and the next, and this will give you time to experience different subject matter first hand. Also, depending on what programs your chosen school offers, you could choose a major and then add a concentration or specialization in your program later. It's likely that as you move your way through your required courses, certain subjects will resonate with you more than others, helping you narrow your options.
Choosing a Degree Level
Once a major or concentration (if available) is chosen, it's important to consider what level of degree a student would like to pursue. There are four primary degree levels awarded by colleges and universities, each with a unique set of requirements.
Associate Degree
An associate degree is a postsecondary degree. Students who pursue an associate degree full time can complete their program in as little as two years, although many students pursue the degree at their own pace. The associate degree curriculum typically translates into the first two years of a bachelor's degree. So, it's relatively easy for students who receive an associate degree to transition into a bachelor's degree program within a similar area of study.
Bachelor's Degree
At the bachelor's degree level, a student can expect earning a degree to take about twice as long as an associate degree, around four years. Students with an associate degree can usually apply some of their associate degree credits to their bachelor's degree program requirements and thereby lessen the time it may take to satisfy all the bachelor's degree requirements.
Master's Degree
A master's degree is the first level of graduate study. Students who pursue a master's degree must first possess a degree at the bachelor's level. Master's degrees typically take one and a half to two years to complete, depending on whether the student pursues the degree full time or whether the college or university allows the student to take Master's level coursework during their undergraduate program and apply that credit toward their master's degree requirements (like CTU's Master's Advantage Program). In some fields, a master's degree is considered the terminal, or highest level, degree.
Doctoral Degree
In certain fields, including Computer Science, Business or Management, a doctoral degree is the highest-level degree available. Typical doctoral programs can be completed in about four to six years. However, applied doctorates, like the ones offered by Colorado Technical University (CTU), are designed to include the dissertation in the course work and can be completed in about three years. Research doctorates often take longer. However, this is largely dependent on your field of study, your educational background and the college or university you choose to attend. In addition, holding a master's degree in the same field of study as your doctoral degree may also impact the amount of time it takes to complete.
Whatever area of study you choose and level of degree, you are the biggest factor in your success. Be sure to engage in opportunities both in and out of school, plus engage with classmates and professors to aid you along in your journey. The best is yet to come as you pursue your college education.
Learn more about CTU's degree programs.
---
1. "Fastest Growing Occupations." U.S. Bureau of Labor Statistics. Retrieved from: https://www.bls.gov/ooh/fastest-growing.htm (Visited 8/28/17).