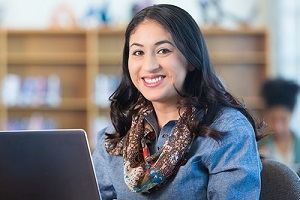 Today's typical student may no longer look like the freshman dorm room resident straight out of high school. In fact, college enrollment for 25 to 34-year-olds and those 35 and over is projected to increase by 17% and 10%, respectively, between 2013 and 2024.1
Often, these "nontraditional" students have full-time jobs, families and additional financial obligations. Also, their experience can be incredibly varied and valuable from past jobs or former stints at school . These students may even be eligible to use that experience to receive credit for their chosen degree program at a new school. Questions relating to these skills and experiences may come up, such as: Did my credits expire? Will I get any credit for the work I've done in the military or my job? What about my certifications?
Fortunately, students can often find the answers to these questions through admissions advisors or other university resources.
Reasons for Credit "Expiration"
Though college credits or degrees never actually expire, sometimes they can lose relevance. Some factors that may contribute to the "expiration" of college credits include:
Continuing Education
There are a number of industries in which workers may be required or would highly benefit from continuing their education. In fast-paced industries, like information technology (IT) or nursing, the scope of work, skills needed and best practices can change quickly. For these students, it can be especially important to talk with a Prior Learning Assessment or similar advisor to see if previous job experiences or continuing education classes are applicable.
Accredited Program or School – One potential barrier to transferring credits may be whether the credits you want to transfer were earned at an accredited program or institution for your desired field of study. Though there are plenty of valuable classes and certifications out there for all types of learners, not all of them come from an accredited institution or program. Be sure to check with the school where you took classes to see if it was accredited.
"Gen Ed" or Core Credits
If you began your educational journey at a traditional four-year college but are looking to go back to school for a different skill, your core curriculum or general education credits may transfer to your new program. However, if you are interested in a more specialized field, such as healthcare or criminal justice, oftentimes the credit you completed previously must directly align with the core curriculum of your new program in order for it to be accepted as transfer credit.
Certifications
Some industries require that employees "re-up" on their skill sets every year, every two years or even constantly. In fast-moving industries like IT, this can ring true. You may have earned a computer science degree back in the late 1960s when it was first introduced;2 however, the credits you earned at that time may not apply now. It's important to check with an Academic Advisor to understand whether your credits will transfer or not.
Who Transfers Credits?
The types of students who transfer credits can vary. They might be military service members looking to get back into the civilian workforce. They might be students who are transferring internationally or people who started their degrees years ago and didn't finish. They might be working professionals who are pursuing new certifications or advanced degrees and want to apply their work experience. Institutions like Colorado Technical University (CTU) offer students the opportunity to evaluate previously completed coursework, standardized tests and qualifying professional experience.
For example, through CTU's MOS Commitment, we provide members of the military with a personalized and comprehensive review of all eligible credit which includes the Joint Services Transcript (JST), all Military Occupational Specialty (MOS) codes held, and any prior education and professional training or certifications. Whether on active duty, inactive, retired or separated from any branch of service, including the National Guard and Reserves, previously completed coursework and qualifying experience can also be evaluated for credit. This assessment can aid in the advancement of studies and potentially help save on tuition costs.
How to Transfer Credits
To have your credits evaluated, students can complete the following steps:
Send a copy of your transcript to your new school as early as possible. A transcript is how your school will evaluate whether the courses you've already taken apply to the outcome of the degree you're pursuing. If you're an international student, you may be required to translate your transcripts into English and pay for an official evaluation to determine their U.S. equivalency.
Earn credit for what you already know. CTU offers the CTU Fast Track™ program, a set of exams that provides students the opportunity to earn credit for what they already know from previous schooling and/or their work experience. Passing these exams offers students the opportunity to graduate faster and potentially save on tuition costs.*
Job experience. For some students, their work experience, previously earned certifications or professional training may directly align with the courses in their chosen program. If that is the case, it may be worth talking to a Prior Learning Assessment Advisor about applying those qualifying professional experiences to your desired degree program.
There are a variety of ways to evaluate whether or not your credits from a previous school or past work experience will aid you in pursuing a new degree program. If you plan to attend school online or on-campus, it's important to speak with a Prior Learning Assessment Advisor who can help you understand if your credits or skills may be transferable.
Learn more about the student admissions process at CTU.
---
1 "Projections of Education Statistics to 2021." National Center for Education Statistics. Retrieved from: https://nces.ed.gov/pubs2016/2016013.pdf (Visited 10/24/17).
2 Rice, John R. and Saul Rosen. "Purdue Department of Computer Science: History of the Department." Purdue Department of Computer Science, Purdue University. Retrieved from: https://www.cs.purdue.edu/history/ (Visited 7/13/17).
*The ability to reduce time in school and/or reduce tuition towards the full cost of a degree program depends on the number of CTU Fast Track™ exams successfully passed. Fast Track program credits are non-transferable. Not all programs are eligible for possible 30% reduction in time and money. Courses eligible are subject to change. Students should not rely on potential Fast Track savings or eligibility when making an enrollment decision.