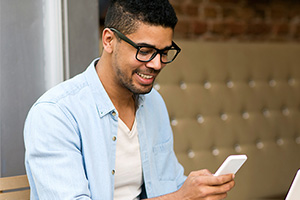 Do you have an exam coming up or online assignments to submit? Maybe you're trying to update your resume? Studying and working remotely as an adult can be challenging and stressful. Temptations and distractions at home are to be expected, and maybe your go-to coffee shops are overcrowded and too packed to be productive.1
Making time to study for your online education can be a lonely endeavor, but it doesn't have to be. Don't be afraid to think outside of the coffee shop! Pack up your belongings and explore some of the top places to study or work remotely for your online schooling.
Museums
Can you think of a better place to foster creative inspiration? Many big cities feature an art or science museum; usually complete with a bakery, restaurant, or public seating area. Most have free Wi-Fi, although some may require a paid admission. Others may offer free entry, as long as you're willing to pay for parking. Look up entry information ahead of time to avoid being distracted or flustered upon arrival—your ability to focus should be a top priority. Need a study break? Take a quick stroll through some of the different exhibits and see what new ideas come to you.
Hotel Lobbies
Trendy hotels can offer cool and unique spaces to study and work. During the week, hotel lobbies or front rooms with fireplaces may be deserted, making them an ideal environment to catch up on online assignments, engage in online discussions, or make networking phone calls. Hotels typically have Wi-Fi; however, you may need to ask the concierge or front desk for the password. Utilize hotel business centers for printing or faxing, or work from the lobby coffee shop (if available). It's a fun and inexpensive way to try something new, while still being proactive in your studies.
Public or University Libraries
If you're craving a quiet environment, a library has you covered. Typically free of phone chatter, local or university libraries have study environments that can help facilitate quiet focus. Most libraries offer free Wi-Fi, detached study rooms, a bounty of books and digital articles, spacious and comfortable seating areas, and a lot of tables to work from. If the local or university libraries near you get too crowded, try looking into a private library membership —membership fees at private libraries are often a fraction of the cost for a spot in a co-working space.
Bookstore
Studying in a public space may not be for everyone, but do your research ahead of time and be intentional about where you set-up shop and study best. Bookstores offer access to a plethora of information, with tons of books and magazines right at your fingertips. Also, most offer a cafe of some kind, so you can grab a snack or coffee to give your brain a boost.
Anywhere Outside
Feeling cooped up and need some fresh air? Whether it's your back patio, your city's botanical gardens, or a park nearby – nature does the body and mind good. If you need Wi-Fi and have the capabilities, try to use a hotspot from your cellphone for access. Otherwise, take the opportunity to disconnect, brainstorm ideas, or do some light reading.
Co-Working Spaces
People can now work remotely from anywhere across the globe. A co-working office is a shared office space where you can rent a desk or workspace with other students or freelancers. They generally provide access to shared communal spaces, such as meeting or study rooms, lounges, and kitchen areas. Investigate to see if it's a right fit for you as prices vary depending on the space.1
Think of your must-haves and work from there! Do you prefer quiet to some background noise? Do you need access to Wi-Fi? Maybe you don't trust yourself around pastries, so you'd prefer a place that doesn't serve food? Check in with your community and ask fellow students, family, or friends where they like to study or get work done. Keep your options open and experiment with different places to see where you study best.
---
1. Crockett, Ryan. "3 Places to Work Remotely Besides Starbucks." DesignStudio. Accessed June 18, 2018. https://designstudio.com/work-remotely/