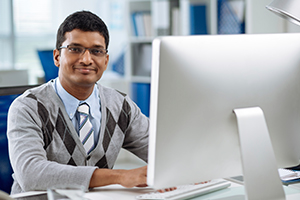 It's not uncommon for recent or soon-to-be graduates to have one question constantly in the back of their minds: Who can help me find a job? Job hunting can be stressful, and the more contacts and resources you have to rely on, the better. While many colleges and universities provide services to help graduating students find jobs, prepare resumes and portfolios, and network through job fairs and professional events, it's also easy to forget all the people already in your life that may be able to help.
Chances are you probably have a number of contacts who can help provide a reference, put you in contact with people in your industry, or help point you toward job opportunities. Consider reaching out to some of these people during your job search.
Professional and Educational Networking
You meet a lot of people at previous jobs, in courses while in school, and at other work and educational events. Try to keep in touch with anyone whose career path and professional goals overlap with yours. It may prove useful reaching out to these people when the time comes to start looking for a job, especially if any of them are already working in entry-level positions and can put in a good word or pass along your resume for you.
Classmates – School friends and classmates can be some of the best sources for job prospects and alerts on relevant openings. These are often the people who will become your industry peers, so keeping a solid, open communication network can be mutually beneficial. If they've landed a job recently, they may be able to offer you a route to positions that open up in the future. If they're also still looking for a job, you can share research and any opportunities you've found and in turn benefit from their job search as well.
Previous Co-Workers – If you worked a part-time job while in school, your co-workers may be able to help keep an eye out for any open positions at their companies. Even if you haven't spoken to them for some time, send a quick email or text may result in a lead on a new role to apply for.
Contacts From Job Fairs – While this may seem obvious, it can be tough to keep track of all the people you talk to at job fairs and professional networking events. Try to keep business cards or contact information for any especially promising prospects, and remember to reach out to them at the start of your job search. Spending a little time on a professional letter inquiring about any openings or internships may provide valuable leads on a future job.
People Who Can Provide References
While job searching, you may forget that you also need strong references to make the most of the opportunities you apply for. Be sure you have a solid group of people who can speak to your work ethic, personal character, and anything else employers may be looking for in a job candidate.
Family Friends – Often family friends or parents of friends can be great sources for recommendation letters. Especially if they've known you since childhood, being able to speak to how you've grown and developed over time can be a valuable perspective to include in your references.
Instructors – Any instructors you've worked closely with can prove to be valuable references as well. Not only can they speak to your academic ability and work ethic, but they may also be able to point to relevant extracurricular involvement within your program or school.
Previous Bosses – Past employers are not just great sources of reference letters—they may be able to put you in contact with colleagues they know who are looking for new employees. Re-establishing contact with a quick phone call or email, even when you don't need a recommendation at the moment, may prove useful in the end.
Social Media Contacts
Generally putting the word out that you're looking for jobs on relevant social media channels can be a quick, easy way to gather information on potential opportunities. Keep in mind that you should only extend such messages to those who may be able to help (so you may want to filter who sees job-related Facebook posts, for example), and you should do so sparingly.
A useful modern job-search website is LinkedIn. This is a professional social media network that can be great for identifying job opportunities and making contacts with those who can point you in the right direction. Just keep in mind that if you're reaching out to someone you haven't met based on a mutual connection, you should keep the correspondence professional and thank them in advance for any response or information they're able to offer.
Don't be afraid to utilize any useful contacts or connections you may have when you enter the job market. Networking is a valuable business skill, and it can never hurt to start practicing early.
Need help job hunting after graduation? We have some helpful tips on the fundamentals of the modern job search.