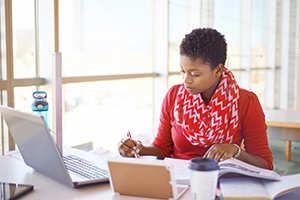 There are several reasons prospective CTU students may want to fill out a FAFSA (Free Application for Federal Student Aid). The FAFSA can help you determine if you qualify for assistance such as federal grants and loans to help pay for college.
Finding Ways to Pay for College
Paying for college is a major financial concern for students and their families. Seven out of 10 college students reported being stressed about their personal finances in a 2015 survey; plus, 60 percent of the college students surveyed worried about having enough money to pay for college. 1 The survey was conducted by a research team from Ohio State's Office of Student Life and College of Education and Human Ecology. The research team surveyed more than 18,500 undergraduate students from 52 four-year and two-year private and public colleges and universities across the country1. Additionally, according to a 2016 Gallup Poll2, "Americans express slightly greater worries than they did last year [2015] about seven financial issues," including retirement, medical and housing costs, credit card payments, and college costs. When it comes to paying for college, 37 percent of Americans indicate they worry about not being able to pay for their children's college; and since Gallup began asking this question in 2007, the range has been consistent between 34 and 43 percent of parents reporting such worries.2
Students and their families may apply for financial aid through the U.S. Department of Education, which may help alleviate some worries and stresses about paying for college. Completing the FAFSA helps students determine their eligibility for types of financial aid funding that may be available to help pay education expenses. The FAFSA is the government application used to determine eligibility for federal student aid programs and other types of state or school-based aid programs. The federal student aid programs are authorized by Title IV of the Higher Education Act of 1965, which offers federally funded grants, loans and work-study programs to eligible students enrolled in eligible colleges or career schools. The free application is available for eligible individuals seeking further education from institutions such as colleges, career schools, graduate schools and professional schools.
No Maximum Age Limit for Receiving Federal Student Aid
When it comes to receiving federal student aid, there is no maximum age limit.3 Whether you are applying to college right out of high school, for another degree while also working, or after serving in the U.S. armed forces, you can apply for financial aid through the federal government. According to the U.S. Department of Education, a common myth about federal student aid and the application process is that "My parents [or I] make too much money, so I won't qualify for aid." However, there is no income cut-off to qualify for federal student aid.4 Additional factors such as family size, marital status, parent age and more can determine your financial aid eligibility – income is not the only factor.4
One more thing to consider is that you are applying for other sources of funding in addition to federal student aid when you complete and submit the FASFA. These other types of aid can include state funds and school-specific scholarships which may be offered. Some schools require you to submit a FAFSA if you want to be considered for their scholarships.5
You May Be Eligible for Financial Aid
Another reason to file a FAFSA is that it's likely you may qualify for some type of financial aid. According to the U.S. Department of Education, "most people are eligible for financial aid for college or career schools."3 Eligibility criteria, the rules to determine who gets aid, varies based on each type of aid available. Some of the basic eligibility criteria for federal student aid programs are as follows:3
Demonstrate financial need, which is determined by the difference between the cost to attend school (varies from school to school) and your Expected Family Contribution (EFC) (which stays the same regardless of the school you chose to attend)
Be a U.S. citizen or eligible noncitizen
Be enrolled in an eligible degree or certificate program at your college or career school
For a quick visual of the basic eligibility criteria, check out this graphic by the U.S. Department of Education. Some individuals are eligible for specific federal financial aid programs based on special circumstances such as serving in the U.S. armed forces or having a parent killed in Iraq or Afghanistan.3 Colleges and universities like Colorado Technical University have financial aid offices and advisors to help assist students with determining their eligibility for federal financial aid and exploring their options in creating a financial plan for paying for school.
Also, once you are in school, it is important that you stay eligible for federal student aid and remember to complete a new FAFSA every year while you are enrolled in school. Your circumstances may change as you progress in your degree program, and certain changes can impact your eligibility for financial aid.
Unfortunately, you can lose federal student aid eligibility. Some common ways to lose eligibility include defaulting on a federal student loan or not maintaining satisfactory academic progress.6 However, there are ways to regain your eligibility. If you are concerned that you are not eligible or may have lost your eligibility for federal student aid, contact the financial aid office at your school to help determine your eligibility status.
From alleviating financial worries about paying for college to qualifying for federal aid programs, there are many reasons to fill out a FAFSA, so avoid the number one common FAFSA mistake: Not Completing the FAFSA.7 According to the U.S. Department of Education, "If you don't complete the FAFSA, you could lose out on thousands of dollars to help you pay for college."7 You are not alone when it comes to figuring out a plan for how to pay for college. In addition to filling out the FAFSA, you can contact Colorado Technical University Financial Aid Advisors, who are committed to assisting you in developing a financial plan to help achieve your education goals.
---
1. Ohio State University. (2015, July 1). 70 Percent of College Students Stressed About Finances: National Survey Finds Students Optimistic, Despite Debt and Stress. ScienceDaily. Retrieved March 8, 2017 from www.sciencedaily.com/releases/2015/07/150701083540.htm
2. Gallup. (2016, April 28). Americans' Financial Worries Edge Up in 2016. Retrieved March 8, 2017 from www.gallup.com/poll/191174/americans-financial-worries-edge-2016.aspx
3. U.S. Department of Education. Who Gets Aid: Basic Criteria. Retrieved March 15, 2017 from https://studentaid.ed.gov/sa/eligibility
4. U.S. Department of Education. (2016, May) Myths About Financial Aid. Retrieved March 8, 2017 from https://studentaid.ed.gov/sa/sites/default/files/financial-aid-myths.pdf
5. U.S. Department of Education. Who Gets Aid. Retrieved March 8, 2017 from https://studentaid.ed.gov/sa/types
6. U.S. Department of Education. Who Gets Aid: Regaining Eligibility. Retrieved March 8, 2017 from https://studentaid.ed.gov/sa/eligibility/regain
7. U.S. Department of Education. 12 Common FAFSA Mistakes. Retrieved March 8, 2017 from https://blog.ed.gov/2016/09/12-common-fafsa-mistakes/