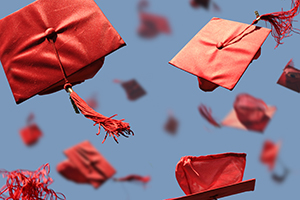 For the tenth year in a row, Colorado Technical University offers full-tuition education scholarships to wounded, active duty service members and veterans. Spouses, caregivers, and new for 2018, dependents of wounded service members are eligible to apply as well. Learn more and how to apply.
Colorado Technical University (CTU) is proud to announce it is now accepting applications for its 2018 Wounded Warrior Scholarship.
The university created the Wounded Warrior Scholarship in 2008 in partnership with the Yellow Ribbon Fund, Inc. to help provide higher-education opportunities to the extraordinary men and women whose lives have been altered as a result of injury while serving in the United States Armed Forces. As of January 2017, CTU has awarded 450 scholarships totaling $7.3 million.
In addition to wounded active duty service members and veterans of the U.S. Armed Forces (including Reserve, National Guard and Coast Guard), spouses, caregivers, and new this year, dependents of wounded service members are eligible to apply for the scholarship.
The application is available online at https://www.coloradotech.edu/military/ctupatriot and requires a letter of recommendation, short answer questions and an essay.
"Over the past 10 years, CTU has awarded scholarships to service members and their families who have sacrificed so much for our country. We are honored to have the opportunity to support them as they prepare for their future after service." said CTU Regional Vice President of Operations, retired Navy Commander Mark Seglem. "The obstacles these individuals overcome and the triumphs they share never cease to move us. They are true heroes and it is our honor to serve them by providing them with an opportunity for continued education free of cost."
Wounded Warrior Scholarship recipients receive a full-tuition scholarship for any Colorado Technical University degree program, a new laptop computer and text books or e-books. Scholarship winners can enroll for their Associate, Bachelor's, Master's or Doctoral degree in Business, Criminal Justice, Engineering, Computer Science and Information Technology (including Cyber Security), Healthcare and Nursing, Project Management or Security Studies. Like all CTU enrolled military students, scholarship recipients will have the option to study online or at one of the university's campuses in Colorado Springs or Aurora and receive a dedicated student success coach, specially-trained military education advisors and 24/7 technical support.
A selection board consisting of representatives from the academic, business, military, and non-profit communities will review the applications and make careful assessments to select the final recipients. "Having served on the selection board since the beginning ten years ago, I have had the pleasure of meeting many of the scholarship recipients and have seen firsthand how this opportunity for an education can help provide direction and purpose to service members and their families during the difficult time of transitioning from the military. I am honored to be part of the selection committee with Colorado Technical University and Yellow Ribbon Fund, and look forward to the opportunity each year", says Vito Pampalona, Vietnam Veteran, Founder of Vito Anthony Homes and Yellow Ribbon Fund board member. "It is truly a remarkable opportunity for those who have sacrificed so much for our country."
To further serve the military community, the university offers the scholarship to military spouses and caregivers. "In the midst of boundless struggles, whether physical or emotional, CTU has been a ray of sunshine on a rather difficult personal journey." says Sara Shaw, a 2017 recipient.
Colorado Technical University (CTU) is proud to have been recognized by several top-ranking organizations and publications dedicated to helping members and veterans of the U.S. Armed Forces achieve their educational goals. For the third year in a row, CTU's online Bachelor's programs received U.S. News & World Report's Best for Veterans designation (2015-17). In 2017 and 2008, CTU received the Council of College and Military Educators (CCME) Institution Award. This award is presented to an organization in recognition of its quality education programs to military and veteran students and their family members as well as the significant contributions to the cause of military education. Also, the university is recognized by the National Security Agency (NSA) and the Department of Homeland Security (DHS) as a Center of Academic Excellence in Information Assurance and Cyber Defense.
Applications for the 2018 scholarships will be accepted through July 31, 2017 at https://www.coloradotech.edu/military/ctupatriot. The university will announce the scholarship recipients on Veterans Day, Nov. 11, 2017, and the winners will begin class in January or February 2018.
---
About Colorado Technical University
For 55 years, Colorado Technical University (CTU) has helped students fit a real-world education into their busy daily lives. With more than 80 degree programs and concentrations in which students can pursue a variety of degrees at the associate, bachelor's, master's and doctoral level. CTU provides flexible online classes, accessible through the University's Virtual Campus or the innovative CTU Mobile app. CTU also maintains two ground campus locations in Colorado Springs and Aurora, Colo. With the help of faculty and industry professionals, CTU has awarded over 118,000 degrees to traditional campus and online students since 1965. For more information about CTU, visit www.coloradotech.edu.
Colorado Technical University is accredited by the Higher Learning Commission (hlcommission.org), a regional accreditation agency recognized by the U.S. Department of Education. CTU cannot guarantee employment, salary or career advancement CTU is a member of Perdoceo Education Corporation (NASDAQ:PRDO). For more information, visit www.perdoceoed.com.
Media Contact:
newsroom@coloradotech.edu